3D Classroom at Kaunas School Is Like Cinema
3D Classroom at Kaunas School Is Like Cinema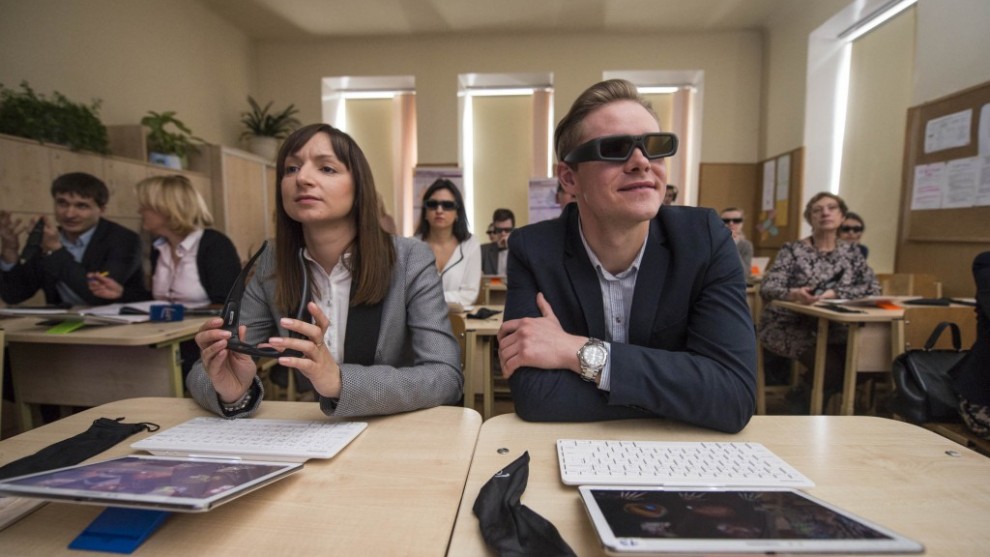 Paskelbta: 2016-02-15 (Monday)
From now on senior pupils at Kaunas "Saulės" Gymnasium will learn in a different way. The pupils will study various phenomena of Chemistry, Biology, and other subjects virtually in a new 3D classroom. Two socially responsible companies helped to equip a modern classroom at the gymnasium.   
"It is positive that now education often goes hand in hand with business. School frequently used to lag behind a modern life. Today such things as a pencil, pen or paper are changed by completely different things. I'm happy to be at one of the best Kaunas region schools which develops its philosophy and sets ambitious goals," Kaunas Vice-Mayor and representative of Liberal Movement Simonas Kairys said.
"The fact that this gymnasium classroom was equipped on the initiative of the school community is an excellent example. Recently these future technologies have been discussed at the conference and it has been emphasized that it is very important for teachers to apply modern technologies in the teaching process," Kaunas Mayor's Advisor Prof. Dainius Pavalkis stated.
"Technologies at today's school must be an integral part of education process. The technologies open up a possibility not only to improve knowledge but also to ensure quality of cooperation with the pupils, at the same time expecting better learning achievements," Sonata Drazdavičienė, Director of Kaunas "Saulės" Gymnasium, claimed.
The pupils will be able to study Mathematics, Informatics, Biology, and Chemistry differently in the smart 3 D classroom. Two socially responsible companies, "TeleSoftas" and "Kitron", based in Kaunas, helped to implement this project.
"Six years ago I visited schools in Madrid and children already had such 3D classrooms. Today we have taken a step forward and caught up with Europe and the world," Algirdas Stonys, Director of the company "TeleSoftas", emphasized.
"We are happy that the company "Kitron" also had a possibility to contribute to the improvement of learning processes. I have no doubt that studying will be more interesting for the pupils," Vita Staniukynaitė, Head of Personnel Projects of the company "Kitron", stated.
The research on efficiency of such classrooms in Europe and the USA has shown that they bring considerable benefits both for pupils and teachers.