Performance of the Hungarian Folk Dance Group "NYÍRSÉG"
Performance of the Hungarian Folk Dance Group "NYÍRSÉG"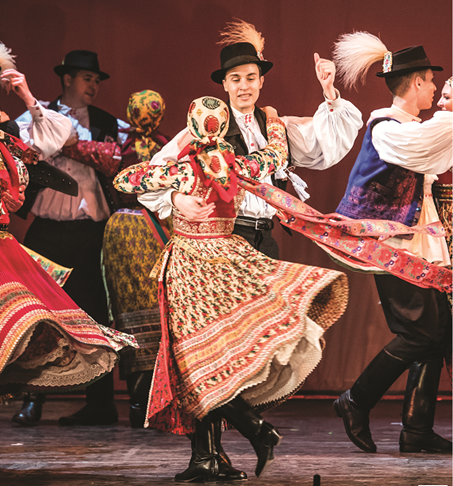 The Embassy of Hungary invites to the performance of the Hungarian Folk Dance Group "NYÍRSÉG" which will take place on 18th October at 7 p.m. in the Great Hall Vytautas Magnus University, Kaunas (address S. Daukanto g. 28. Kaunas).
This event is free and open for public.
The repertoire of the Ensemble – embracing the dance tradition of the whole Carpathian basin – gives an authentic picture of Hungarian folk art, the dance characteristics of Hungarian and other people. The dancers strive to achieve the different dance styles (dialects) thoroughly and to develop their skills of improvizing continuously, which helps this authenticity. For the sake of showing this colourful folk culture, they take great care to present the specific regional dances in original costumes (appropriate to that region) on stage.
The Ensemble's accompanying band is the Szikes Band. They play high level authentic folk music, which naturally includes their own repertoire in addition to the repertoire of the Dance Ensemble.
The Ensemble often takes part in different festivals and competitions in Hungary and abroad. They won the grand prize of the National Folk Dance Festival. They won a national competition series organized by the Hungarian State Television. Over the years on the basis of their achievements at festivals they were presented with Outstanding Achievement Awards and "Excellent Group" Prizes on several occasions. In the Hungarian folk dance qualification system they were awarded "Excellently Qualified Ensemble" qualification, which is the highest level a group can achieve in Hungary.
They have been on tour to Slovakia, Poland, Ukraine, Belgium, Italy, England, Holland, Germany, France, Turkey, Egypt, Israel, Spain, Romania, Greece, Thailand, Mexico, Tunisia and Switzerland. The members of the group organize international festivals themselves, to which they invite dance groups from all over the world.
Several of its members have proved their talent as solo dancers, winning the title of "Golden Pearl" (for women) and "Golden Spur" (for men) and some of them can boast the possession of the award "Young Artist of Folk Art".
The Ensemble takes great care to bear the responsibility of educating the young for generation replacement. These groups together make up 100 children and adult dancers who try to absorb the most beautiful and noblest traditions of folk culture from its roots to "high" arts.