Military vehicles exhibition ("Saber strike")
Military vehicles exhibition ("Saber strike")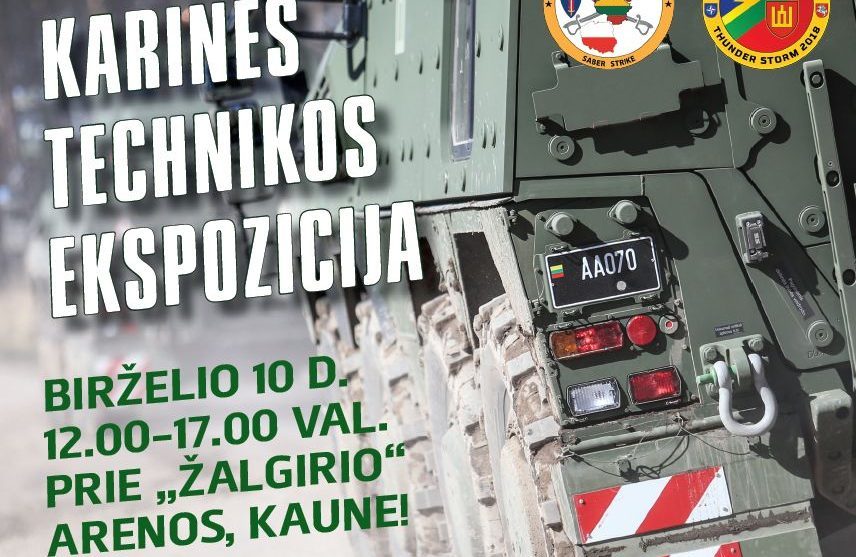 Did you know what is artillery's "eyes and ears"? How does one of the most commonly used armored vehicle in the world look like? What distance can one of fastest tanks "Leclerc" drive with a full tank of fuel? Which armored vehicle is faster "Stryker" or "Boxer"?
Lithuanian armed forces invites citizens and visitors of Kaunas on June 10th (12:00–19:00) to come near Žalgiris Arena where the biggest military exercises in Lithuania history "Perkūno griausmas" and international military exercise "Saber strike" military equipment and vehicle exhibition will take place.
During the event you will have a great opportunity to take a look into military vehicles used by Lithuanian Armed Forces and get familiar with NATO offensive forces battalion and US military used armored vehicles.
In addition, you will be able to test your strength in military exercises which will be prepared by soldiers and Lithuanian Riflemen's Union. Military marches will be played. Will there be porridge? Only those who will come near Žalgiris Arena will find out.
Invite your friends, prepare a good mood and let's meet in Kaunas near Žalgiris Arena!
More information: https://www.facebook.com/events/1771601602934829/