23rd International Film Festival "Kino Pavasaris"
23rd International Film Festival "Kino Pavasaris"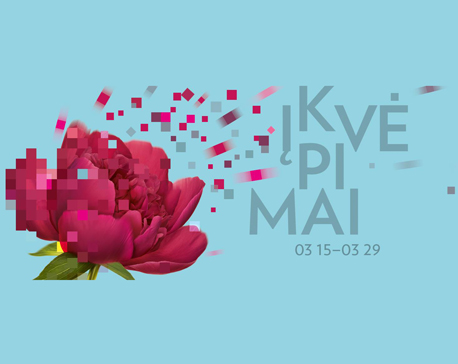 The biggest and most significant film event in Lithuania is going to invite the audience to cinema theatres for the 23rd time in 2018. Every year the festival in two weeks presents more than 200 cinematographic feature films and TV films, among which strong debuts and acknowledged masters' works are included. Every year during the festival the most significant film premieres take place.
"Kino Pavasaris" is a unique possibility to get to know the tendencies of film world, to see the most popular movies, to communicate with acknowledged film makers, to meet like-minded people and exchange impressions.
This year visual identity "Inspirations" announced by "Kino Pavasaris" in Kaunas and other cities takes place on March 15-29 and promises more acknowledged movies by international festivals and their audience, and unforgettable meeting with their makers.
Cannot be missed
Aistė Račaitytė, together with Audrius Ramaška presented the programme of Film Festival to Kaunas citizens, and she advises not to miss animated story about famous artist Vincent van Gogh "Loving Vincent" (director Dorota Kobiela, Hugh Welchman) which was nominated for the Oscar. "It took 7 years for 125 artists to paint 65 thousand film rushes and to revive Van Gogh's paintings." – she said.
Acknowledged by the critics sensitive movie "Call Me by Your Name" (director Luca Guadagnino) which is nominated for four Oscars will be presented this year, the newest drama of "Perfect Strangers" director Paolo Genovese "The Place", Canes director Thierry Frémaux movie about brothers "Lumière!", Michel Hazanavičius biographical movie "My Gorard" in which famous director Jean Luc Godard was played by Louis Garrel, awarded at Canes festival named as this year's Cesar energetic "120 Beats per Minute" (director Robin Campillo).
Famous actors will be seen in emotional movie "Racer and the Jailbird" (director Michaël R. Roskam). The main roles were created and passionate couple were played by actors Matthias Schoenaerts and Adèle Exarchopoulos. Another famous couple of actors is Emma Stone and Steve Carell in "Battle of the Sexes" (director Valerie Faris, Jonathan Dayton).
"Kino Pavasaris" festival will be opened with movie "Custody", which is considered as strongest and the most significant debut of last year. At Venice Film Festival Xavier Legrand's movie awarded for the best direction attracts viewer and maintains its seriousness until the last shots and reminds about public duties which save lives.
The movie of Mindaugas Survila "Sengirė" will close the festival, in which you will see impressively recorded Lithuanian forest and its population. This movie was evaluated very good at the biggest document movie festival in Amsterdam, it gave a lot of emotions to the viewers.
Meetings with movie makers
"Maria Callas: In Her Own Words" – the story of Tom Volf about the best prima donna of all times Maria Callas. The director will share the experience with Kaunas viewers how he was creating the life story of this incredible person which movie tells about.
Movie premier "100 years together" dedicated to the centennial will take place at "Kino Pavasaris". The director Edita Kabaraitė will come to Kaunas to present her movie on March 17. It is a cheerful story about Lithuanian unique people who are hundred years old.
The guest from America Sean Baker will present his movie "Florida Project" in Kaunas and will answer the questions from the audience on March 19. Together with him is coming Lithuanian woman who across the Atlantic is known as an Instagram star Bria Vinaitė. In "Florida Project" she created the main role. This movie was also mentioned among Oscar nominees.
The guest from Turkey Michael Önder will meet the audience of the movie "Taksim Hold'em" in Kaunas on March 26. The director humorously speaks about political upheavals which are significant to his country, in this way reminding us of our civic duties.
On March 16 Kaunas will hold a session of the Lithuanian Music Clip Competition, and on March 24 – a night of feature films.
More information at: http://kinopavasaris.lt/lt/repertuaras