New guest on the public transport: electric bus "MAN Lion's City E" rolled into the streets of Kaunas
New guest on the public transport: electric bus "MAN Lion's City E" rolled into the streets of Kaunas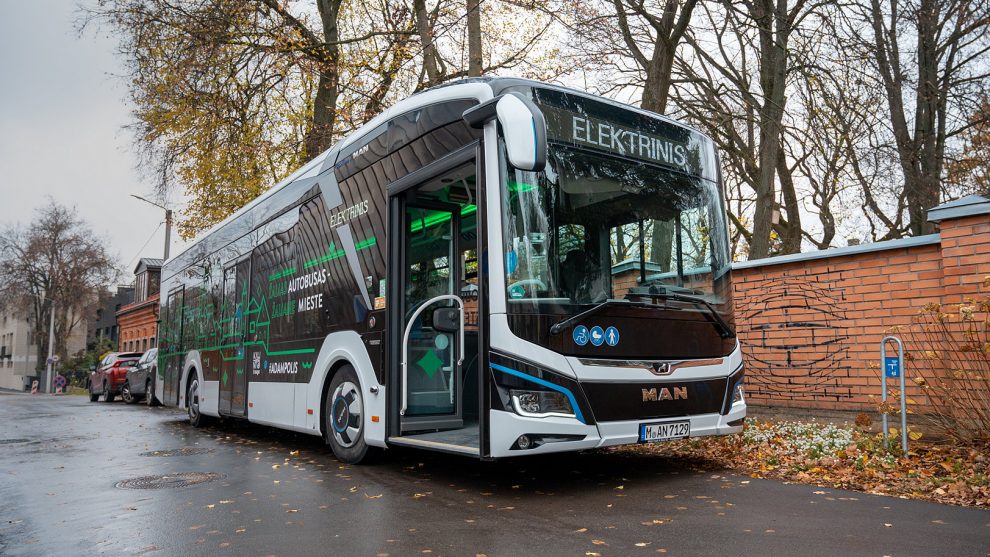 Paskelbta: 2021-11-19 (Friday)
During the past five years Kaunas has invested more than 70 million into the improvement of public transport services and the renewal of the bus park and further continues to look for ecological and most important long-term solutions. Over the next two weeks, the brand new electric bus "MAN Lion's City E" will be tried out on the busiest routes of the city.
Will be tried out by the passengers themselves
"In recent years, the city has been successfully pursuing a green course strategy, investing in sustainable solutions. The bus park has recently been supplemented by 100 new hybrid buses "MAN Lion's City 12" hybrid buses, which are up to seven times more environmentally friendly than the average car.
Kaunas has been monitoring the electric bus market and the development of these vehicles for quite some time. Up to now such buses have not been able to meet the minimum daily mileage or other technical requirements. However, electric buses, like all other technologies, are being developed and such vehicles may expand our public transport park in the near future", claimed the director of Kaunas Municipality Administration Vilius Šiliauskas.
The German electric bus "Man Lion's City Electric" is not the first electric bus to be tried out by Kaunas City. During the last three years electric buses of such manufacturers as "Solaris", "Karsan", "Scania" and "Yutong".
For the next two weeks "MAN Lion's City E" decorated with an exclusive design including the motives of Kaunas City, will take passengers across the city along the most difficult routes 3, 37 and 40. The buses on these routes are used by the biggest number of passengers in the city.
Innovations selected responsibly
According to the general director of "Kauno autobusai" Mindaugas Grigelis, electric buses need especially powerful battery charging infrastructure and more expensive daily service logistics. Moreover, according to preliminary calculations, the busiest routes would require more electric buses offered on the market before due to their slightly smaller passenger capacity and limited mileage.
"Other cities and towns have already acquired one or more electric buses. However, "Kauno autobusai" chose a slightly different path by managing responsibly with the earned income. It is not a cheap investment, furthermore, each new vehicle brand requires a warehouse of spare parts of the appropriate parts and requires specific driving as well as repair knowledge and additional administrative work.
In bus park we strive for economy of the minimal scale, so it is updated as much as possible in pre-estimated parts, and bus technology is selected only after being convinced of its reliability and life cycle cost analysis. Fuel diversification is also of high significance, therefore it is possible to invest into new technology only after it has reached the appropriate level of reliability", assured M. Grigelis.
The innovation has been tried out abroad
The electric bus "MAN", which rolled down the streets of Kaunas on Wednesday, was tried out in May in Munich, Germany. He covered 550.8 km in 24 hours on a single charge. In order for the journey of the vehicle to meet the actual conditions, the average number of passengers was simulated by additional weights.
During the last year, "Lion's City E" was also successfully tried out in Spain at temperature higher than 35 degrees. The electric bus travelled 284 kilometres on a public transport operator route during the 16-hour shift.
This public transport vehicle can be equipped with 480 and 640 kWh batteries.
"During the trial performed under actual conditions in Munich, the electric bus "MAN" managed to travel as much as 550 km on one charge, therefore, it will be very interesting to receive the results of Kaunas city trial. "MAN Truck & Bus" pays special attention to Lithuania, consequently this is not the first time that similar tests have been carried out. We can confidently state that this new bus already technologically meets all the needs of the city and can serve all existing city bus routes.
UAB "Adampolis" also offers advanced infrastructure and service solutions, thus, we are ready to assist and provide pieces of advice to the bus parks for finding the best solution for a specific city bus park", claimed the commercial director of UAB "Adampolis", which is the representative of the German manufacturer "MAN Truck & Bus" in Lithuania, Ričardas Tverijonas.
Investments into modern solutions
Currently, there are over 250 new vehicles in the bus park of "Kauno autobusai" purchased during the last five years. The biggest number among them is comprised by 100 new hybrid buses "MAN". 85 "Solaris" trolleybuses and more than half a hundred of smaller capacity "Mercedes-Benz" buses and 25 "Temsa" are also rolling down the city streets.
The main carrier in Kaunas, which takes care of the convenience of its passengers, has recently updated the electronic ticket system and composters, therefore, the marking of tickets in public transport has become more convenient than ever before. In addition, more and more people are using mobile application "Žiogas", which is also expected to undergo certain changes.
Representatives of "Kauno autobusai" introduced their innovative solutions and shared experience up-to-date and the entire public transport ticket system to colleagues from other cities. According to the residents of Kaunas platform "Žiogas" is attractive both in terms of price and efficiency, therefore it could be applied much wider outside Kaunas.
A few years ago, "Kauno autobusai" presented a smart application for the blind "Transport Voice", which is being successfully used in other biggest cities of the country.
Information provided by Public Relations Division