Visit in Grenoble: Delegates from Kaunas agreed on terms of future cooperation
Visit in Grenoble: Delegates from Kaunas agreed on terms of future cooperation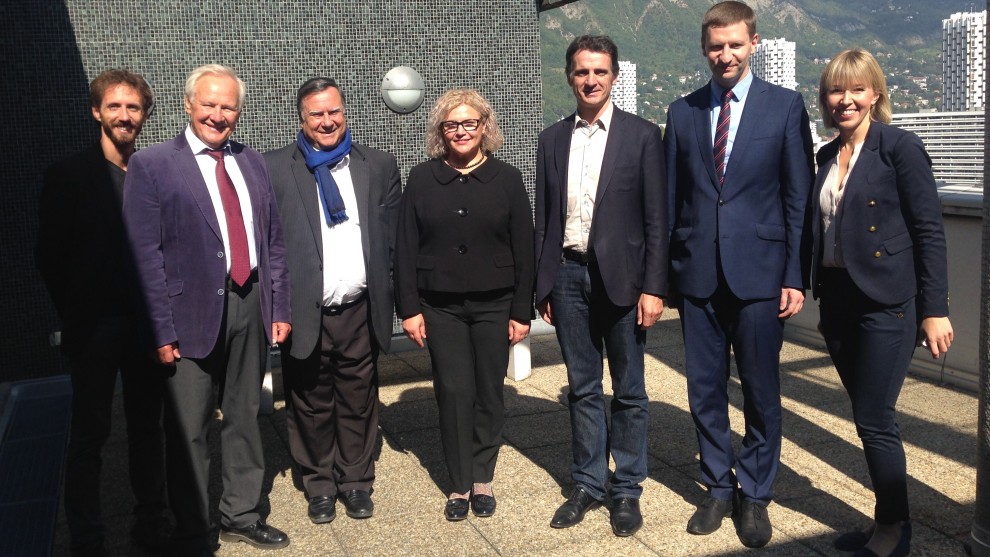 Paskelbta: 2015-09-28 (Monday)
On September 24-27, 2015 delegation from Kaunas city consisting of Deputy Mayor Simonas Kairys, Council Member Rasa Šnapštienė, Chief Specialist of International Relations and Protocol Division Emilija Šakalienė, Director of Environmental Engineering Institute of Kaunas Technological University (KTU) prof. habil. dr. Jurgis Kazimieras Staniškis and Director of Endocrinology Institute of Lithuanian University of Health Sciences (LUHS) prof. Rasa Verkauskienė visited Grenoble (France) which is one of our most active twin cities.
During the meeting with the Mayor of Grenoble Mr. Eric Piolle the guidelines of future cooperation were discussed and it was agreed to renew and prolong our twinning agreement which was initially signed in 1997 and since then every 3 years is updated according to the needs of both cities.
Grenoble Institute of Technology is one of the strongest technological universities in Europe which has laboratories in MINATEC European leading scientific research center with 300 million EUR annual turnover. It was agreed to have joint master studies programme with KTU in the field of Environmental Management and Cleaner Production with the purpose to have double diploma of both universities as partners.
Lithuanian University of Health Sciences already has a longterm successful cooperation with Grenoble University Hospital which is the main trauma Center in the Alps, where the world famous racer Michael Schumacher was hospitalized right after his accident in the mountains.  Grenoble University Hospital also benefits of use of the most modern research labs and neurosurgery operating rooms in CLINATEC, which is a part of MINATEC center. LUHS shall continue the cooperation with this partner in the areas of traumatology, emergency medicine, endocrinology and infectology by providing internships both for medical students and doctors, as well as implementing joint research projects.
Grenoble will also help Kaunas city to promote our Interwar Architecture which we seek to be included in UNESCO world heritage list by presenting photo exhibition thereof in the beginning of 2017. The cooperation between artists from both cities is planned for implementation of joint project to commemorate the centenary of Lithuania's statehood in 2018 and many other projects in the field of culture, education and sports.