Vaccination Bus Stops: July 19th – July 25th
Vaccination Bus Stops: July 19th – July 25th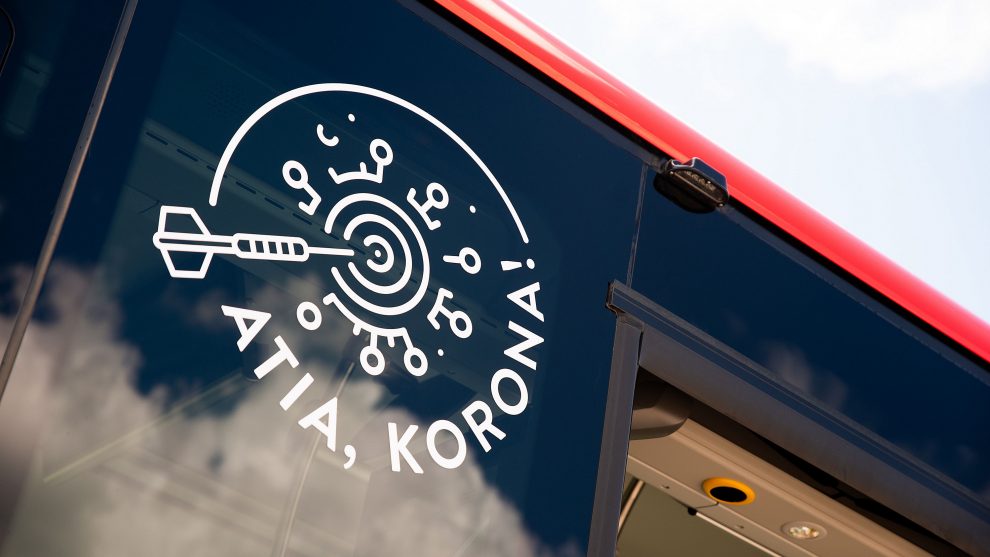 Paskelbta: 2021-07-22 (Thursday)
All Kaunas residents and guests who want to get vaccinated can do so without prior registration. On July 19–25, the mobile vaccination centre will return to its favourite places: Laisvės av., Rotušės a. and near the shopping centres – 'Akropolis', 'Mega' and 'Urmas'. Two new routes are also planned to the city districts – Kalniečiai and Žaliakalnis. We share the next bus stops and vaccination team opening hours.
July 19   | 3 p.m. to 7 p.m.   | P. Lukšio St. 60, Shopping centre 'IKI' parking site
July 20   | 11 a.m. to 6 p.m.  | Laisvės Av., in front of Kaunas city municipality building
July 21   | 11 a.m. to 7 p.m.  | Shopping and leisure centre 'Akropolis'
July 22   | 11 a.m. to 7 p.m.  | Hyper Maxima Shopping Centre, Savanorių Av. 255
July 23   | 11 a.m. to 7 p.m.  | Mega Shopping and Leisure Centre
July 24   | 9 a.m. to 3 p.m.   | Shopping town 'Urmas'
July 25   | 9 a.m. to 1 p.m.    | Kaunas Town Hall
Citizens who want to be vaccinated must have an identity card with them, no need to register in advance. Minors, children and adolescents aged 12 to 16, must come to the vaccination centre with their parents or guardians. The mobile vaccination room on wheels will have 'Vaxzevria' (AstraZeneca) and 'Comirnaty' (Pfizer-BioNTech) vaccines every day.
Kaunas residents who come to get vaccinated here can also shorten the time interval between the first and second COVID-19 vaccinations. Revaccination with' Vaxzevria' is possible after 28 days and with 'Comirnaty' after 21 days.
The mobile vaccination centre is located on one of the 100 'MAN Lion's City 12' hybrid buses circling in the city. A team of four people from Kaunas City Polyclinic works here, which ensures that the vaccination goes properly. It is estimated that one person is vaccinated in just 3 minutes, after that it is recommended to spend 15 minutes under the supervision of doctors.
We remind you, that companies operating in Kaunas are invited to take the opportunity to immediately vaccinate all employees who wish to be vaccinated. Representatives of interested organizations can contact us by e-mail [email protected], indicating the number of people willing to vaccinate, the name and location of the company.
The vaccination centre of Kaunas Ice Palace will also be open to residents without prior registration Mondays to Fridays from 3 p.m. to 7.30 p.m. Kaunas residents will be able to choose from all the vaccines available in the city at that time. In the first half of the day, the Ice Palace Vaccination Centre will be operating normally, accepting registered residents no earlier than 10 minutes before the scheduled visit.
Departments of Public Relations Information