V. Matijošaitis came back from Kiev: "Vytis" will be the most powerful sculpture in Lithuania
V. Matijošaitis came back from Kiev: "Vytis" will be the most powerful sculpture in Lithuania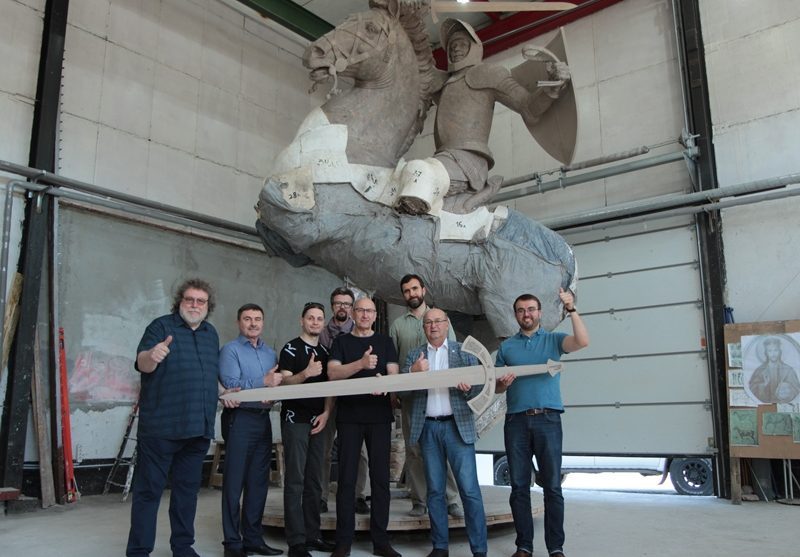 Paskelbta: 2018-05-15 (Tuesday)
The construction of the sculpture of the legendary warrior – "Vytis" – that will stand near Kaunas castle is halfway finished. It is planned to be finished by middle of June, and the sculpture is scheduled to be opened on July 5th.
 "On July 5th in Kaunas we will have a big celebration, when "Vytis" sculpture will be unveiled. We saw the greatness of the "Freedom Warrior". Perhaps this will be the largest bronze sculpture in Lithuania," said Visvaldas Matijošaitis, Mayor of Kaunas city, who visited Ukraine earlier this week.
At present, one of the most important stages in the production of sculpture – the casting of bronze parts – has begun. After the removal of the gypsum forms and wax transfer into them, waxes are transferred to the bronze molding hands.
In the middle of work
"More than 500 individual parts will be molded from bronze, from which the entire sculpture will collapse. It's like a mosaic, which we will have to put into one wonderful piece, "- said sculptor professor, winner of the National Art Award, sculpture production professor Arūnas Sakalauskas.
"We made sure that the work was going on throughout day and night. Additional casting professionals are hired to make the process as smooth and fast as possible. The work is in accordance with the schedule, therefore, we expect the best result, "said the architect, professor, who visited the Ukrainian art sculpture – Jonas Audėjaitis.
Urging to donate
The aim is to create a bronze monument designed by sculptor A. Sakalauskas from funds raised by people and companies that are being collected by the "Vytis Support Foundation". More information about the possibilities to contribute to the implementation of "Vytis"  monument  can be found on the website: http://vytis.kaunas.lt/