Kaunas City and Kaunas District municipalities were connected by the bicycle trail: from the city centre to Kačerginė just an hour long drive
Kaunas City and Kaunas District municipalities were connected by the bicycle trail: from the city centre to Kačerginė just an hour long drive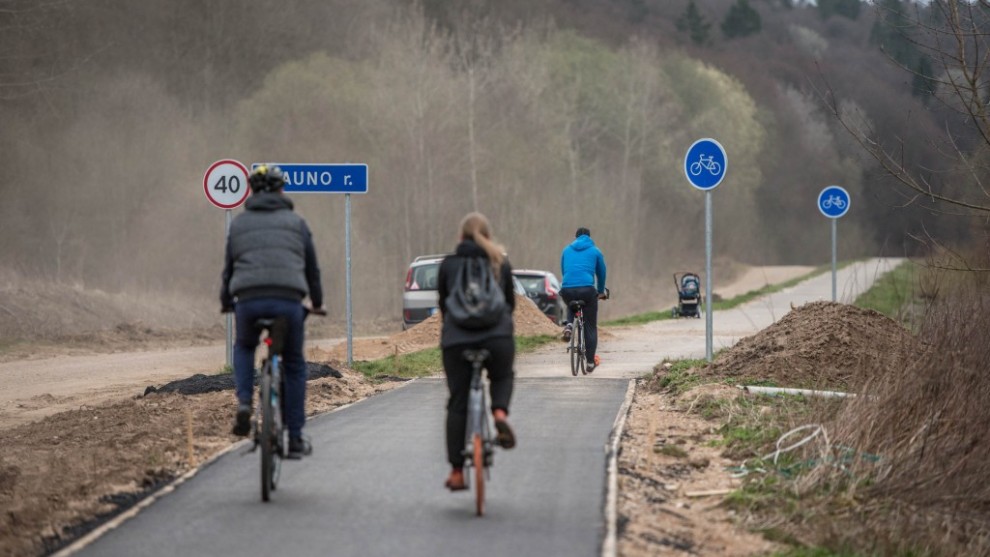 Paskelbta: 2016-04-21 (Thursday)
Marvelė bicycle trail paving works have already been completed. This bicycle trail connecting Kaunas City and Kaunas District will allow the citizens of Kaunas to continuously bike tens of kilometers.
,,Cyclists from Lampėdžiai, Šilainiai urban districts or City centre, from now on, can easily and comfortably reach from Kaunas District. Especially now, when a lot of people are suffering from immobility caused ailments – bicycles are a great measure to improve health. Driving in a slow pace from Kaunas centre you can reach Kačerginė district in just one hour",- said cyclists' community representative Linas Vainius.
,,It is symbolic, that bicycle trail finally connected Kaunas City and Kaunas District. Now we can see that this route is very popular between citizens. In this summer, we are planning to start works of Veiverių street bicycle trail. We are striving to make the bicycle a daily vehicle of citizen of Kaunas'', – said Kaunas Vice-Mayor, Povilas Mačiulis.
Installation of bicycle trail section cost 115 thousand Euros with the 5 year warranty given for the performed works. One more bicycle trail is planned to connect Kaunas City and Kaunas District this year. In this summer, paving works of the bicycle trail from Vytautas Magnus bridge to Garliava will start. The bicycle trail will be located on the right side of Veiverių street (when driving in the Garliava direction). Its length will reach about 5 kilometres.
Almost in all the street length, the bicycle trial will be separated from the footway – only in some places, where the sidewalk is very narrow, a joint bicycle and pedestrian trail will be installed. The bicycle trail will be asphalted. Along all the trail a new lighting will be installed.
In preliminary estimates, installation of the bicycle trail of Veiverių street will cost about 1,08 million of Euros. Electricity networks reconstruction and installation of a new lighting should cost for about 500 of thousand euros. These works will be financed by the European Union and Kaunas City Municipality budget.
Public Relations Department information