Toruń Has Become a Partner of Kaunas City
Toruń Has Become a Partner of Kaunas City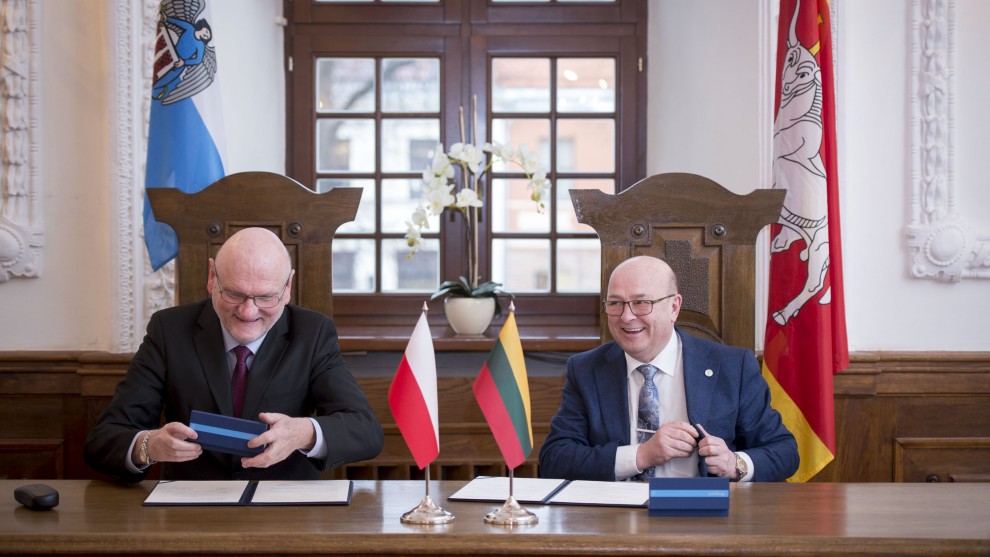 Paskelbta: 2016-03-02 (Wednesday)
From now on Kaunas has one more city partner. Having signed a cooperation protocol, Toruń, the city in the northern part of Poland, has become the partner of Kaunas. It is already the fourth city of Poland which Kaunas officially cooperates with.
On Friday Kaunas Mayor Visvaldas Matijošaitis and Toruń Mayor Michał Zaleski signed the cooperation protocol.
"Today is a historical day for Kaunas and Toruń cities. I believe that we have begun good and meaningful cooperation. In 2009 President of Lithuania Valdas Adamkus opened Lithuanian-Polish Home in Toruń. It was an important step which has contributed to the fact that today we are here. I hope that we will soon meet in Toruń," Kaunas Mayor V. Matijošaitis said.
"I am happy about the beginning cooperation between our cities. While walking along Kaunas streets, I have become convinced that we are similar both in the Old Town and abundance of academic youth. I am sure that we will meet again in Kaunas and Toruń," Toruń Mayor Michał Zaleski said.
On Friday Mayors of Kaunas and Toruń opened an exhibition of Toruń's Centre of Contemporary Art "Laiko ženklai" (Signs of Time) at Mykolas Žilinskas Art Gallery. The collection includes the works of famous Polish artists who have already become Polish art classics and works of internationally recognized foreign artists. This is the first presentation of this collection abroad and the first detailed exhibition of Polish art in Lithuania over the past 14 years. The exhibition will run until 3 April.
Toruń is the city-county in the northern part of Poland on the Vistula River. It is an industrial city with the developed chemistry, textile, equipment, furniture, and timber industries. Toruń is famous for Nicolaus Copernicus University; this scientist was born in this city.
It is already the fourth city partner in the neighbouring country. Up to present Kaunas has officially cooperated with Wroclaw, Mysliborz, and Bialystok.
Information of Public Relations Subdivision