The public transport system is changing in Kaunas: convenient and interactive improvements are waiting
The public transport system is changing in Kaunas: convenient and interactive improvements are waiting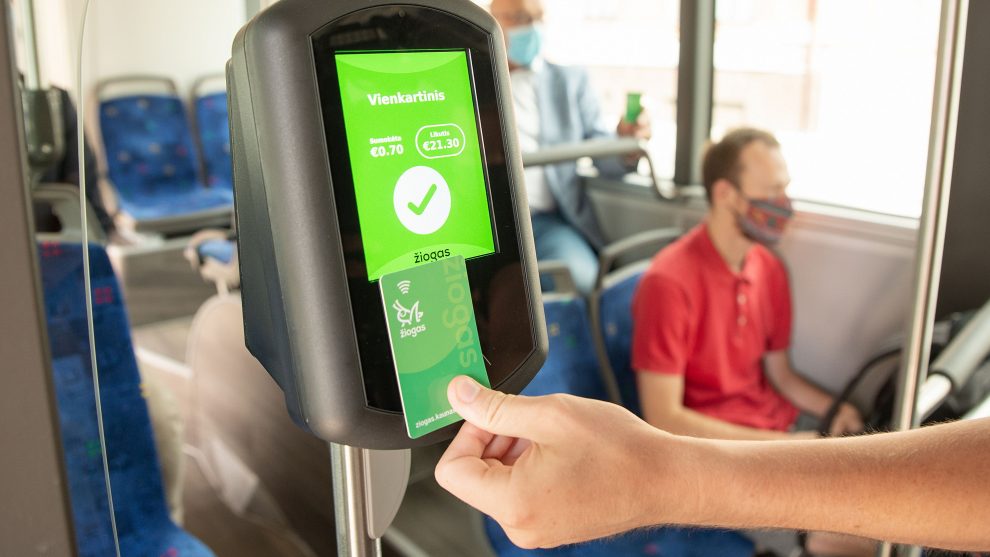 Paskelbta: 2021-08-09 (Monday)
Starting August, Kaunas city public transport will be welcoming passengers renewed: the improved ticket system will start working and interactive composers will be inseparable from it. It will operate on a similar principle to the smart app 'Žiogas', which has won many sympathies. Thanks to the improvements, from now on, no matter how much you travel by public transport, you will not spend more than a monthly ticket price per calendar month.
The changes will make traveling easier
The future of Kaunas public transport is inseparable from sustainable and innovative solutions. The projects implemented by 'Kauno autobusai' over the last few years ensure that transportation costs, environmental pollution are reduced and trips of Kaunas residents and city guests are as comfortable as possible.
The first coup was the 'Transporto balsas' – an innovative solution for the visually impaired that provides real-time audio information on incoming public transport. Another step in the field of public transport modernization was taken with the launch of the mobile ticket purchase and marking app 'Žiogas' to use in city buses and trolleybuses. On August 1st the third project will be launched – the ticket system is being renewed, innovative composters are being installed in public transport, and the 'Žiogas' app is being moved from the virtual space to the real card.
'Encouraged by the city municipalities, after the creation of 'Transporto balsas' and 'Žiogas', we realized that we can also make an innovative, new ticket system. It was created not only by technology experts who have accumulated a lot of experience, but also by representatives of the transport sector, so it is not only technologically advanced but also practically convenient.' – said Karolis Dekeris, Marketing Manager of 'Kauno autobusai'.
According to him, passengers with old cards and a valid fixed-term ticket or a sufficient amount of money to mark a one-time ticket will not need to do anything. The cards will be valid.
For the convenience of residents, it was decided to leave three-month and annual fixed-term tickets, which the most loyal passengers will be able to purchase at the customer service center or online self-service.
Composters will also be updated
Not only the ticket system will be renewed, but also 800 new, interactive composts with large color screens will be installed in Kaunas public transport in just one night. Along with these devices, the complicated activation of electronic cards, buttons that have caused many confusion and ticket marking will be forgotten.
'This system will be easy for the traveler. There is no complicated purchasing, no buttons left, because at any distribution point you will be able to top up the card with any amount of money wanted. The composter will know what discount belongs to the traveler, so purchasing errors will be avoided, and if the card is touched to the composter a second time, no extra money will be deducted.
The new system is friendly even to those who, due to certain circumstances, can no longer travel on public transport. The money does not disappear anywhere, but stays safely on the card until other trips.' – said K. Dekeris.
Another important improvement is that the new devices will provide information in Lithuanian and English. The composer will 'find out' this information as soon as you register at the 'Žiogas' self-service online and select the desired language.
On buses and trolleybuses, about a successfully marked ticket passenger will be informed not only by an audio signal, but also by colours. A green screen will indicate that the ticket has been successfully marked. A yellow colour will alert you about the 2€ limit reached, and a red screen will indicate that the ticket is unmarked, has an insufficient balance, or the card is not recognized.
Replenishment will be even more convenient
One-time tickets for 70, 35 or 14 cents, depending on which of the possible discounts is chosen, are marked at the expense of the 'Žiogas' app where you can top up your money balance. The cumulative monthly ticket is obtained automatically as soon as the monthly ticket amount is reached – 28 (full), 14 (with a 50% discount) or 5.6 (with an 80% discount) euros.
Both new and old cards will be available at all Kaunas 'RIMI' and 'MAXIMA' cash registers, as well as at the regular kiosks 'Kauno Spauda', 'Lietuvos Spauda' and 'NARVESEN'. Here, customers will be able to contribute the desired amount of money to the cards. As before, tickets will also be available to purchase from the bus driver.
It will also be possible to top up the cards and see the information relevant to users online. A new customer self-service website ziogas.kaunas.lt has been created, where it will also be possible to top up the card with three-month and annual fixed-term tickets.
Public Relations Information