The president of FIFA Gianni Infantino praised the stadium under construction in Kaunas: "It will have everything you need for victories"
The president of FIFA Gianni Infantino praised the stadium under construction in Kaunas: "It will have everything you need for victories"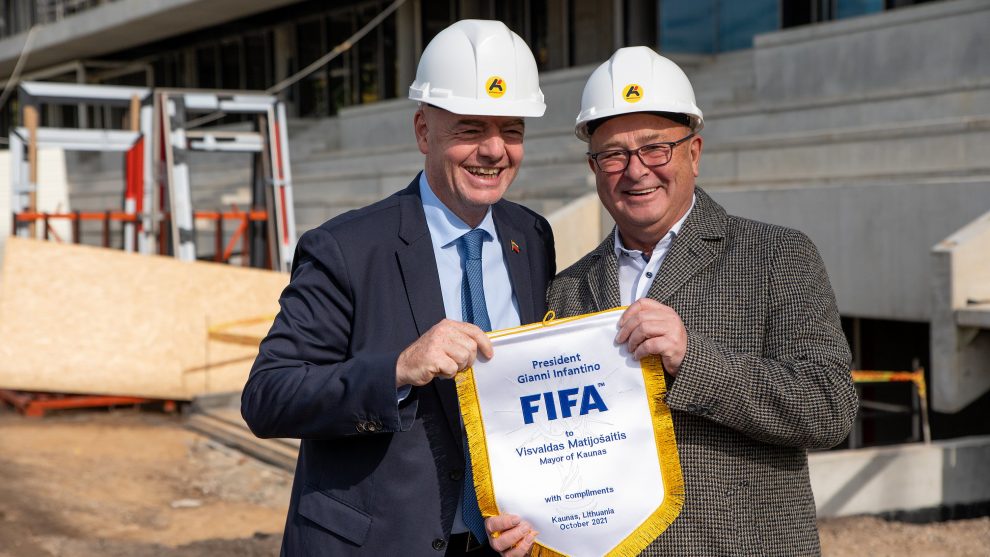 Paskelbta: 2021-10-11 (Monday)
The president of FIFA Gianni Infantino, who arrived in Lithuania on weekend and watched the final matches of Futsal World Cup at the Žalgiris Arena, began his visit to Kaunas from Žaliakalnis. The guest visited the multifunctional S. Darius and S. Girėnas that is under construction here. Sharing his impressions, he highlighted the importance of infrastructure for sport, adding that other cities in the country should follow suit. 
According to the president of FIFA, after the reconstruction of S. Darius and S. Girėnas Stadium, Lithuanian football will have everything it takes to win.
"Such a stadium was exactly what Lithuania was lacking during the recent years. Old fields, dating 50 or more years back alone are not enough. New arenas are necessary to make the country, the city and the people proud. With the suitable infrastructure, we can develop top-level sports."
Lithuania is already hosting the Futsal World Cup, which is amazing. High-level football matches will take place here as well. In May next year, Kaunas and the entire country will have a new stadium. Thus, you will have all it takes to win", such were the thoughts of the President of FIFA shared on Sunday afternoon.
A promise to come back
According to the Mayor of Kaunas Visvaldas Matijošaitis, who welcomed the guests, the reconstruction of S. Darius and S. Girėnas Stadium in Žaliakalnis is taking place according to the plan, therefore, it is expected to be officially opened next summer.
the highest requirements
The construction of legendary S. Darius and S. Girėnas Stadium is coming to an end fast. The multifunctional object is surrounded by reinforced concrete structures; thus, the interior finishing works will be commenced soon.
The sports zone, which has undergone major changes, will accommodate 15 thousand spectators. The stands for fans will be roofed, therefore, it will be cosy to watch the events even under the harshest weather conditions.
After the renovation, the athletes will also feel comfortable, because the stadium will meet the highest UEFA requirements. It will be possible to organise football matches at any time of the year, since the green lawn will be equipped with watering and heating systems.
Moreover, the field will be surrounded by treadmills for athletes and other necessary high-level infrastructure. It is expected that in the future the stadium will be able to host international track and field athletics championships. The renovated multifunctional sports centre will also be suitable for concerts and other large-scale events.