The Month of Francophonie returns to Kaunas
The Month of Francophonie returns to Kaunas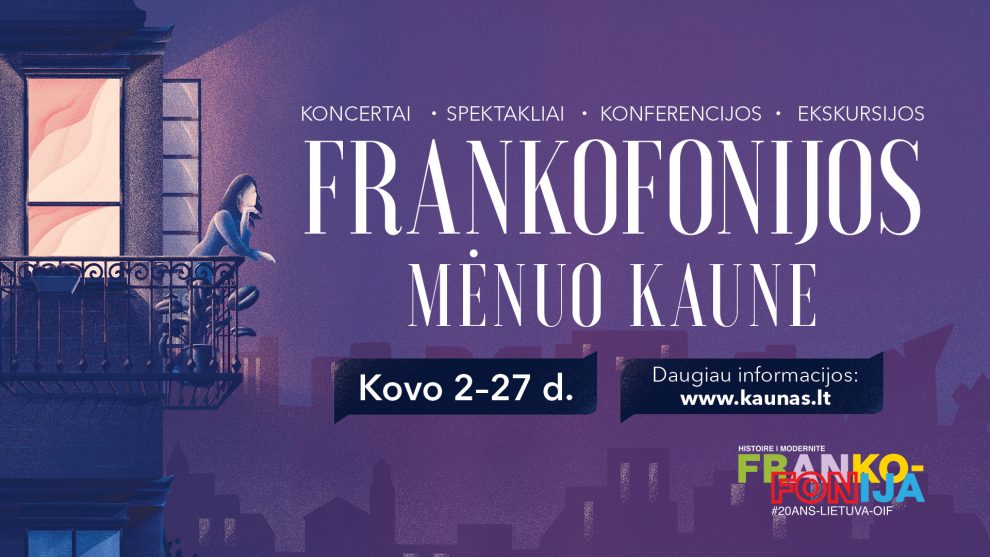 Paskelbta: 2019-02-28 (Thursday)
March for Kaunas city citizens traditionally gives possibility to feel culture of francophonical countries. Francophonie unites countries and regions, in which the main language is French. Kaunas city citizens will have possibility to closely feel France, Canada, Greece and other francophonical countries 2nd-27th of March.
More than 20 events – starting from music, poetry, movies, performances to excursions, lectures, conferences and even gourmet dinner.
"Recognition of other countries' culture is the best possibility to enrich yourself and to spend good time by expanding a view. Such international events as days of Italy, week of Sugihara and many others have huge interest among people of Kaunas city. I would like to highlight 19th of March, 15:00 o'clock International conference "Emanuel Levin: life and creation work" that will be in Kaunas Artists' House, where you will understand one of the most XX c. philosopher who lived in Kaunas", – said Deputy Mayor Simonas Kairys.
According to Deputy Mayor, events that take place in Kaunas will invite many authoritative guests from abroad. On 19th of March during the conference one of speakers will be Danielle Cohen-Levinas, who is a head of Research Institute for Jewish and Contemporary Philosophy at the Sorbonne University of Paris – Emanuel Levin Center.
First event "Oskaras Milašius and Pranas Gailius" will open the events cycle 2nd of March. During it, Caroline Paliulis and Lithuanian University of Health Sciences gymnasium pupils will be reading poetry.
All the detailed information can be found on website http://bit.ly/frankofonija2019. Large part of Francophonie events are free of charge.
Francophonie country unites French language, but cultural differences are visible. Francophonie – it is 84 countries in the world and more than 890 million people who speak French.
Organisers – Lithuanian Ministry of Foreign Affairs, France institute in Lithuania, Kaunas City municipality, Center of Francophonie of Vytautas Magnus university, French Cultural Center of Kaunas University of Technology, Lithuanian University of Health Sciences and other partners.
Information by Division of Public Relations