The Highest standard rowing track repair works almost at a finish line: over 11 tons of scrap metal have been removed
The Highest standard rowing track repair works almost at a finish line: over 11 tons of scrap metal have been removed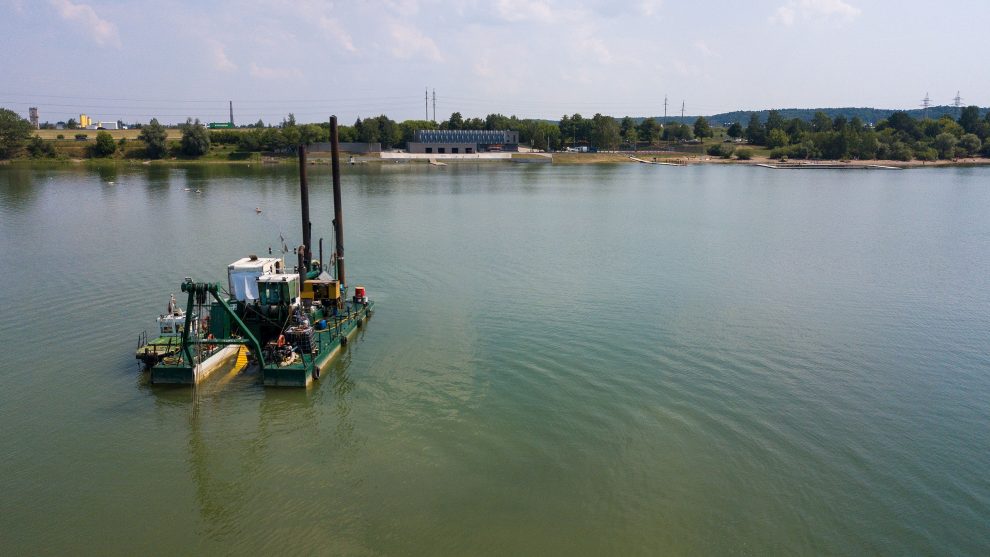 Paskelbta: 2021-07-26 (Monday)
The rowing base of the 'Bangpūtys' Sports School, which opened  doors on the Lampėdis lake coast last year, will soon be supplemented by a 2 km long track that meets international requirements. In this complex, water sports athletes will be able not only to train, but also to compete in high-ranking competitions. After the renovation, the holidaymakers will also feel more comfortable and safer here – the cleaning and levelling works of the lake bottom are coming to an end. According to the Mayor of Kaunas, looking at this year's Lithuanian Olympic team confirms that such an object is especially necessary for our country – as many as a quarter of the LTEAM delegation consists of rowers.
Deserving of better conditions
"Only in a few days all of us we will be rooting for Lithuanian representatives at the Tokyo Olympics. For Kaunas residents and beyond, I suggest paying special attention to rowers. I am sure that very soon these athletes will become more and more frequent guests in Kaunas."
The numbers speak for themselves: out of the four dozen Olympics in this year, even ten of them are rowers. This is living proof that we need to support these athletes not only with kind words, but also by actually doing something. I hope that Kaunas efforts to create the best possible conditions for them will contribute to future victories, which will make the name of our city and the whole of Lithuania known to everyone." – Kaunas Mayor Visvaldas Matijošaitis spoke, wishing the Olympians successful starts and productive finishes.
The dredger started working in Lake Lampėdis in October last year. Until then, excess gravel and sand deposits, sludge and stones had been successfully removed from the water body.
"Dredging works in Lampėdžiai are rapidly approaching the end. Rowers will have the entire necessary infrastructure package which will help their progress to be faster and better quality. The complex is located in a geographically convenient location – the water body is characterized by neither large waves nor sudden changes in wind direction. We believe that the rowing base, which has undergone such significant changes, will help a lot of great talents to unfold." – said Deputy Mayor Mantas Jurgutis.
In the last stage of the works, a 2 km long section will be deepened, which will be available to athletes in kayaks, canoes and academic rowing boats. As planned, the track will be at least 3 meters deep and 150 meters wide after the upgrade. The works are scheduled to be completed by November.
Safer, cleaner, more comfortable
The next bathing season in Lampedžiai will be much safer and more comfortable.
While working on a complex, hollow bottom of a body of water received attention too – the slope was mitigated by spreading the soil drained from the route closer to the shores.
"It's a little secret that so far the shores of Lake Lampėdis have had sharp slopes, which also led to some painful disasters. During the dredging and cleaning of the section, the contractors together with the firefighters removed the long-standing various waste – metal cables, wires, reinforcement bars, pipes, tanks and even pieces of concrete, so now the place will be both safer and cleaner." – added Vigimantas Abramavičius, Head of Kaunas Municipality Construction Management Division.
According to him, all the "finds" have been pulled out, however, the search is ongoing. It is estimated that the total weight of scrap metal found at the bottom of the lake is almost 11.3 tons.
Renovated base
The new 'Bangpūtys' rowing base opened its doors last summer. It was decided to reconstruct it in 2017. After receiving a solid 2 million from the government a year later, part of the buildings were demolished and replaced by a two-storey modern building with spacious sheds next to it.
In the newly equipped spaces, about half a thousand sports school students have access to comfortable changing rooms, showers, saunas, conference and gyms with all the necessary equipment to maintain their sports form at any time of the year.
At 'Bangpūtys' sports school, the residents of Kaunas develop rowing and sailing skills. It not only promotes the self-expression of young people, but also seeks out talented athletes, many of whom have already won the highest trophies in world and European championships, Olympic Games and other international competitions.
Public Relations Information