The Hanging Boat over Laisvės Avenue Will Foster to Look Up
The Hanging Boat over Laisvės Avenue Will Foster to Look Up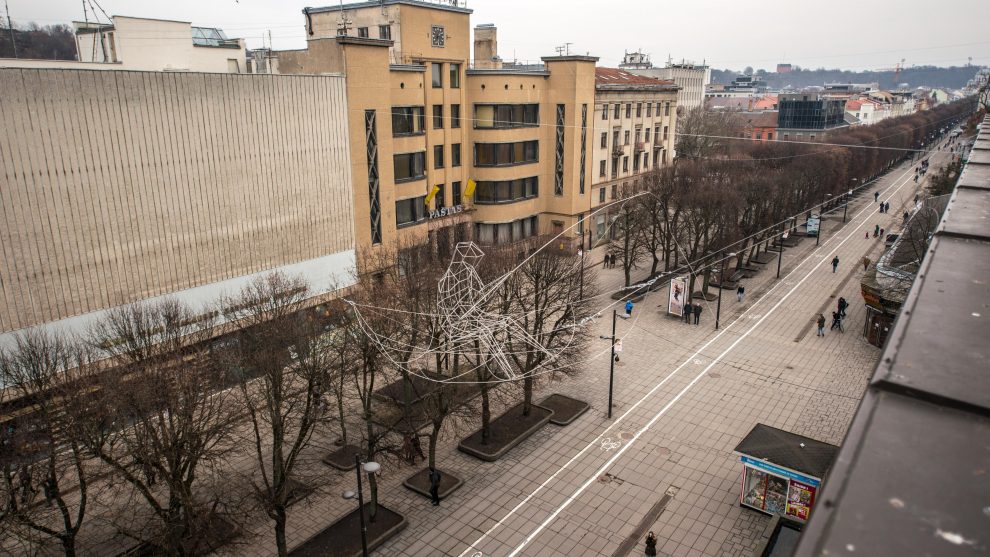 Paskelbta: 2017-03-06 (Monday)
Kaunas meets spring arrayed. The first idea of the contest "Kaunas Highlights" that doesn't have analogues in Lithuania was implemented – the installation "boat", created by the artist, Mr. Tadas Vosylius, swims over the Laisvės Avenue.
Installation is hanging between Tadas Ivanauskas Zoological Museum and Kaunas "Aušra" Gymnasium and is seen not only at the day time but at night as well. The 5 meters long boat is made of stainless steel and is illuminated at night time that creates unexpected version of this installation.
According to the author of the "boat", Mr. Tadas Vosylius, this installation gives a strange feeling that we all are living under the water. He added, that artists have to create and they have many great ideas to offer how to decorate Kaunas City.
During the first year of the contest an independent panel selected ten ideas from 77 submitted projects. Currently the City implements the following projects: "Žvaigždžių sėjikas" (in Eng. "Stars seeder", author –"Inovatyvūs Kūrybiniai Projektai"), "Mačiūno aikštė" (in Eng. "Mačiūnas Scquar", author – Naglis Rytis Baltušnikas) and "Funikulierius" (in Eng. "Funicular", author –  Dominykas Vakaris).
All artists and creative Kaunas citizens are invited to take part in the contest "Kaunas Highlights" for the second time and to decorate their City with original ideas. The budget of the contest is twice bigger comparing with the previous year – almost 400 thousand euros.
Till 3rd of April the applicants are invited to submit applications according to the area "Creation and installation of sculptures that make the public space more attractive and more individual".
All information about the contest "Kaunas highlights" and the submission of the application can be found on the website akcentai.kaunas.lt