The European Capital of Culture Forum will focus on the Human Factor
The European Capital of Culture Forum will focus on the Human Factor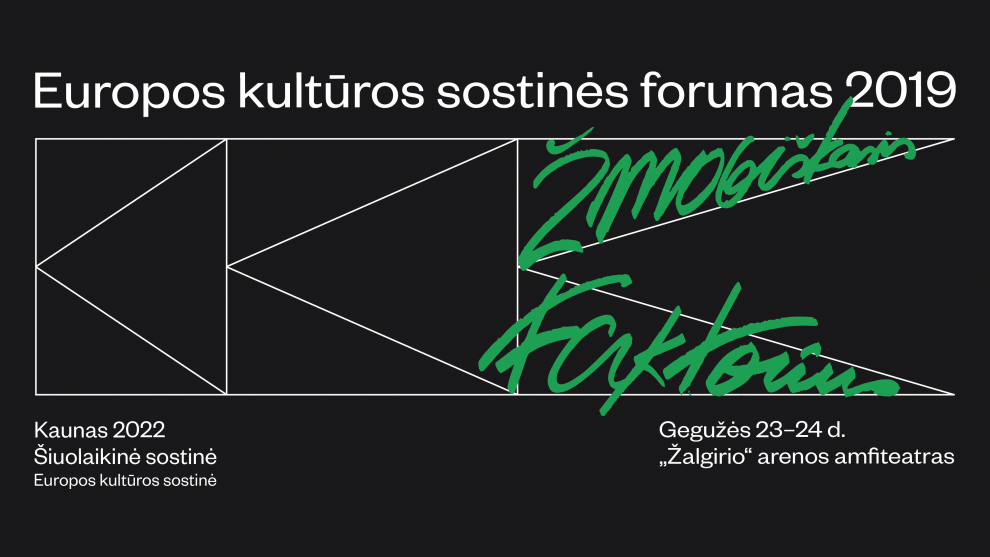 Paskelbta: 2019-05-20 (Monday)
On May 23–24, 2019, the European Capital of Culture Forum will be held in Kaunas (Lithuania), at the amphitheatre in "Žalgirio Arena". The Forum is an annual event initiated and organised by the team of "Kaunas – European Capital of Culture 2022", to which the leaders representing various creative fields from all around Europe come together for gaining and sharing knowledge, getting inspiration, networking and discussing the opportunities for cooperation.
This year, the umbrella topic of the forum will be the "Human Factor". It invites participants to discuss on the welfare of the society and the future of the cultural institutions, cities and Europe as it is perceived by the individuals who constitute our audience.
"Too often we ground our decisions solely on our private experience and attitudes, on convention, habit or simply the assumptions about others. We forget that our own "social bubbles" and other factors determine our very limited ability to really know what other people want or need", says Ana Čižauskienė, Head of International Relations and Programming at "Kaunas 2022".
Besides, she notes, we will strive to better understand the needs of the society and find out the reasons causing, as it seems, the deepening division between the society and institutions, as well as the emerging political or civic conflicts in Europe.
This year, the Forum will be dedicated to the 15th anniversary of Lithuania's accession to the European Union. "It is symbolic that this occasion coincides with another important, yet not as joyful event – Brexit. Witnessing these events, we have decided to dedicate a part of the Forum for the topic of cultural diplomacy, as we believe that the European issues should be discussed not only by the institutions, but also by the cultural operators or the society at large", says Ana Čižauskienė.
According to the Head of International Relations, the event is created not only for the professionals of the cultural sector, but also for everyone engaged in the creative practices – representatives of the business sector, artists, people working in the creative industries as well as other professionals. In 2019, the participants of the Forum will be offered an opportunity to listen to the presentations, take part at the workshops or discussions on different topics, such as applying technological innovations in the field of audience development; the power of intuition in management; social entrepreneurship; the trends in the culture sponsorship. The detailed programme is available at forumas.kaunas2022.eu.
Last year, the European Capital of Culture Forum attracted representatives from more than 80 countries, including the managers of other (past, present and future) European capitals, and representatives of other European bodies. They shared their experiences on different issues such as how the cultural programs contribute to the integration of various society groups, public initiatives, volunteering, creative industries and tourism, cooperation between public institutions as well as building relations among local and foreign organisations.
A free ticket to the European Capital of Culture Forum can be reserved at forumas.kaunas2022.eu.