Start of outdoor cafes in Kaunas: inevitable tax breaks and more under the open sky
Start of outdoor cafes in Kaunas: inevitable tax breaks and more under the open sky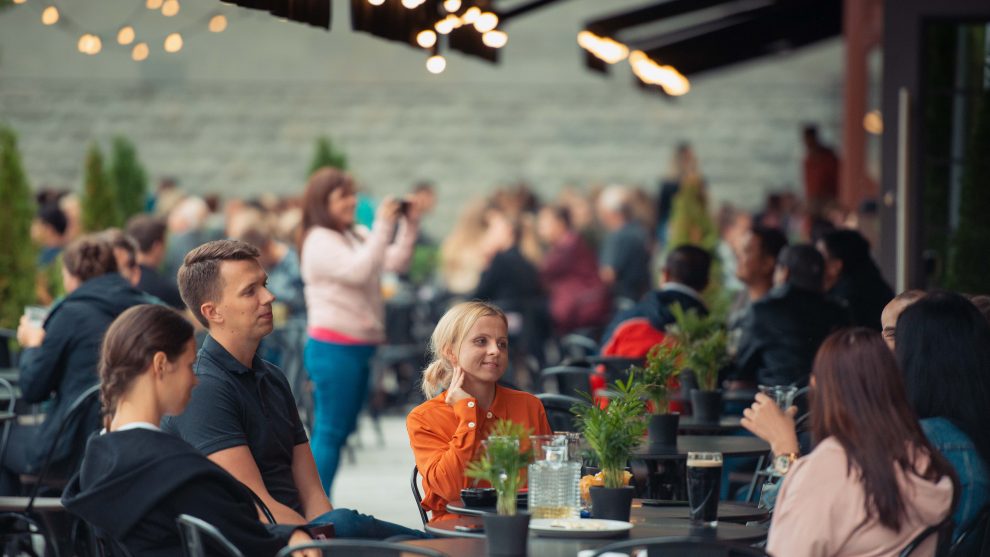 Paskelbta: 2020-04-28 (Tuesday)
Fees for marketing permits in public places will be abolished for all outdoor cafes. Kaunas City Council is ready to confirm such a decision at a remote meeting on Tuesday. The softened quarantine conditions will allow outdoor catering to be provided from this week, and businesses will be able to use the funds saved at the initiative of the city in order to save jobs or to invest in the development of outdoor terraces.
Renewed spaces need action
The pandemic forced restaurants, cafes and other catering establishments to close their doors or reorient to sell food for takeaway. Restrictions imposed in the country affected this sector in the first place, but with the softening of quarantine conditions, some catering businesses may return to work and accept Kaunas residents at outdoor tables again.
The protracted break has posed difficult challenges for many businesses, making the city feel obligated to contribute to mitigating the effects of quarantine. At its next meeting, Kaunas City Council is determined to approve the decision on COVID-19 disease management measures in public catering establishments. It softens the tax burden for all outdoor cafes and terraces operating in Kaunas.
Such an idea came to the city politicians and the municipal administration about month ago, in the very tense moment of quarantine, seeing completely emptied pedestrian streets. As the restrictions on quarantine softened, they simply ask for more Kaunas-like open-air action: the reconstructed Laisvės Avenue., the newly revived Vienybės Square, the beautiful and much more lively space of Independence Sąuare, the streets of the Old Town and, finally – Town Hall Square, which is now even more open to pedestrians.
Permits are already being issued
"Last year we watched the boom of outdoor cafes – as many as 68 licenses were issued, and on a sunny day it was difficult to find a free spot. We want to encourage small and medium-sized enterprises affected by the pandemic to return to work. Applying for tax breaks can be a good start. Although the amount covered by the city budget is relatively small, we hope that such a contribution will also contribute to a faster return to normal rhythm. Today's conditions in themselves dictate the decisions – to move cafes and bars from the interior to the open-air spaces and to do so as widely as possible", said Andrius Palionis, Deputy Mayor of Kaunas.
According to latest provisions, for permits to trade or provide services in public places, the local fee amounted to 1.2 EUR per 1 sq. m. This is one of the lowest prices among major cities. After applying the tax incentives in 2020 for outdoor season, catering businesses should save thousands of euros in terms of the area occupied by outdoor cafes last year.
However, this year the amount of fees could be several times higher, because together this tax relief Kaunas, like other cities of the country, is ready to allow outdoor cafes and terraces to expand in order that businesses providing such services would be able to serve as many customers as possible safely and according to today's quarantine requirements.
The Division of License, Permits and Services is also resuming the permitting processes, which have been temporarily suspended due to quarantine restrictions. Priority is given to pre-quarantine applications and new permits are issued in the usual way. So far, the services are provided electronically: https://epaslaugos.kaunas.lt/
Quarantine responsibilities for employers
Although quarantine requirements are softened, work organization, safety distance and hygiene remain mandatory. Employers will need to ensure that catering staff and customer service staff are healthy and perform daily checks. The provision of protective equipment and disinfectants to staff is also on the list of responsibilities of the establishments.
For outdoor cafes there are usual requirements of flow control and safe distance – a distance of 2 meters must be maintained between tables in open spaces, and at least 1 meter from footpaths, passages to courtyards or staircases, windows of residential buildings.
"We will take into account the needs and possibilities of all outdoor cafes – we will coordinate each case individually. We will strive to make the most of the available space according to real physical possibilities, without dividing it into separate urban areas, but at the same time not forgetting the needs of pedestrians and ensuring the safety of the population. Perhaps this will contribute to another goal – to preserve jobs or even increase their number for catering establishments", said Paulius Keras, Deputy Director of Kaunas City Municipality Administration.
Kaunas residents are also encouraged to remember that no more than 2 people in a group are allowed to visit the public and outdoor cafes, except for the cases when the persons are members of the same family. Visitors to the cafes are still required to wear masks, which are only allowed to be removed while eating or having a drink.