Responses about Conference on Fight against Drugs: Kaunas was Presented as a Very Successful Example
Responses about Conference on Fight against Drugs: Kaunas was Presented as a Very Successful Example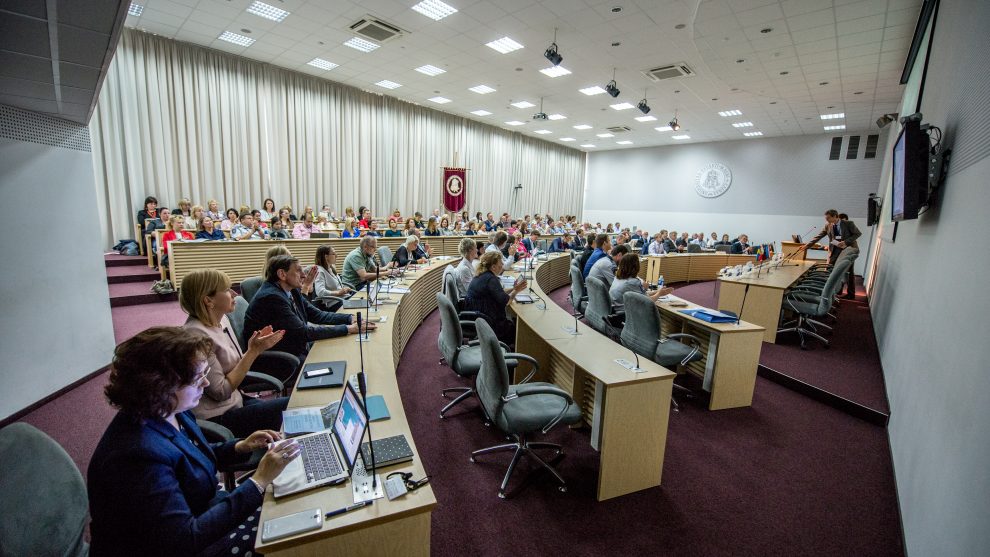 Paskelbta: 2017-06-14 (Wednesday)
It is a merit of the group of institutions operating in Kaunas that a drug problem in Kaunas is not as big as in European cities. This conclusion was made by the participants of the international conference "Safe Cities without Drugs: Preventing, Protecting, Policing" which ended on Tuesday.
The experts who gathered for two days at Vytautas Magnus University stated that a very important role in drug prevention in the cities is played by interinstitutional and intersectoral cooperation, especially among a municipality, police, non-governmental organizations, and communities. Kaunas was presented as the successful example in this area.
Last Monday during the reception of heads of European cities which took place in the city Town Hall Mayor Visvaldas Matijošaitis awarded officers of Kaunas County Police Headquarters and representatives of public undertaking "Blaivi Laisvė" (Sober Freedom), Algis Žikevičius Safe Child School, and Centre for Communicable Diseases and AIDS for contribution to fight against drug use and alcoholism.
"Drugs are near us, they are nearer than we think. Drug dealers are more and more aggressive, especially with respect to youth. Police are effectively fighting against it, but first we need to teach and motivate people not to choose and use them," stated Rasa Šnapštienė, Kaunas Deputy Mayor.
More than 70 guests from the cities of Bulgaria, Estonia, Iceland, Ireland, Latvia, Malta, Norway, Sweden, and Italy came to such a high level conference organized for the first time in Kaunas. The specialized emphasized the most efficient fight against addictions starts at school. Kaunas is implementing two programmes in this area: prevention of pupils' addiction and increase of employment of children from socially disadvantaged families.
During the programmes the pupils participate in practical activities: contests, quizzes, camps (on holidays), campaigns, and conferences are organized. The following social partners actively participate in these activities: communities' officers, non-governmental organizations, paramedics, students, etc.
There are 21 health care institutions in Kaunas which have a licence to provide primary mental health care services. The specialists working in mental health centres provide consultation, group therapy services; here mutual support groups are formed as well. The mental health centres provide day care services: treated people can receive comprehensive psychological and social help; much attention is paid to patients' rehabilitation.
Kaunas County Centre for Addictive Disorders gives treatment for addictive disorders and carries out patients' monitoring. Social workers of the elderships provide consultation and information services. They consult about help, necessary documents, filling in a request form for staying at a hostel, and institutions providing rehabilitation or treatment services.
More information on how to help people suffering from addictive disorders in Kaunas city can be found on the website http://bit.ly/2s6wgVU. The international conference was organized by the international organization ECAD (European Cities against Drugs or European Cities Action network for Drug-free societies) which joins cities for fight against various addictive disorders, Kaunas City Municipality, Vytautas Magnus University and Kaunas County Police Headquarters.
Information of Public Relations Subdivision