Record Was Set in Kaunas Central Post Office: The Largest Toy Mosaic Created
Record Was Set in Kaunas Central Post Office: The Largest Toy Mosaic Created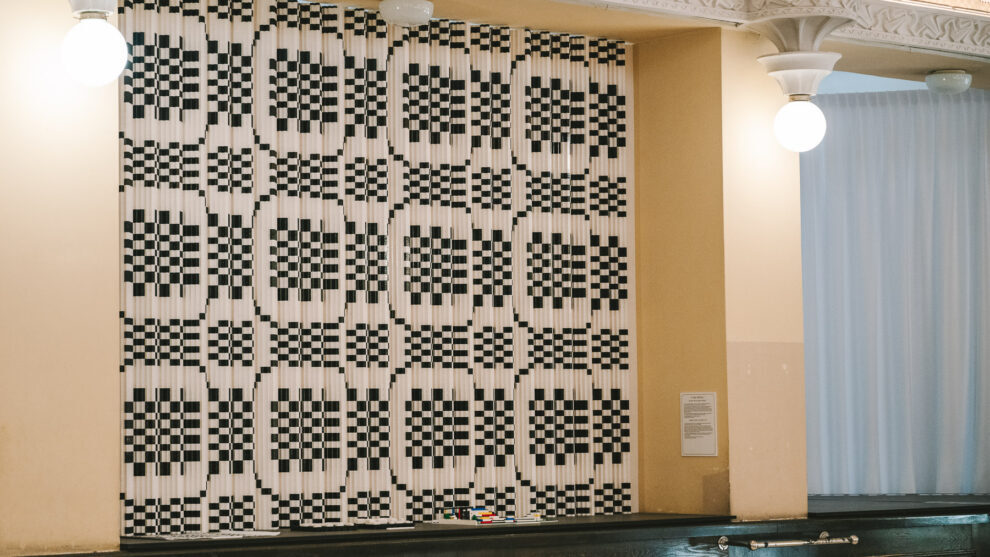 Paskelbta: 2022-02-17 (Thursday)
Last month Kaunas Central Post Office became open to the public again with an international exhibition "Modernism for the Future 360/365" that is revealing the importance of Kaunas architecture and its context. A few days ago, on February 10th, another unique sight related to one of the exhibited works took place in this historical palace – the Lithuanian record entitled "Largest Toy Mosaic" was set here.
The record contender is a mosaic of as many as 70,000 LEGO bricks, which was created by LEGO model maker, architectural and cultural heritage promoter Rokas Mikšiūnas. The unique work pattern echoes the floor of the historic hall of Kaunas Central Post Office. The author did not want the displayed installation to be a simple white curtain, and as a result, created a LEGO wall decorated with national bands.
"Visualization was born in the Excel table, and later its fragments were modeled with a special program for modeling LEGO bricks. Detailed calculations showed that to implement the idea as many as 70,000 pieces weighing about 130 kg. were needed" – said R. Mikšiūnas.
According to the author of the installation, when creating this piece, the original goal was simple – to create an interesting work of art that emphasizes the importance of modernism. Only during the process of building the wall with a large group of Kaunas 2022 volunteers, there was a thought that we could aim for a Lithuanian record. Even with a large team of volunteers, the implementation of the project took almost 3 weeks. For the author Rokas, this is not the first work awarded with a record title, in 2015 based on his idea the longest (20.3 m long) combination of leaflets representation a chain of DNA (deoxyribonucleic acid) were created.
Rokas Mikšiūnas is not a newcomer to this type of work – he has been building since 2018 and has created several modernist buildings with a 3D LEGO model program. His works are exhibited in different museums, one of them being the Venclov House-museum in Vilnius. The creator's plans involve international waters – in May R. Mikšiūnas will interpret and create Max Liebling's house from LEGO bricks in Tel Aviv, Israel. This creation will be the part of the same project "MoFu 360/365".
The Lithuanian record "Largest Toy Mosaic" will be confirmed within a week from the date of fixation and published on the official website of the Lithuanian record agency "Factum". You can see the record-breaking artwork and other exhibits of the exhibition "Modernism for the Future 360/365" at the Kaunas Central Post Office. The exhibition will be available until April.
Author of the photographs – A. Aleksandravičius.
Public Relations Information