Reconstruction of the major street of Kaunas has begun
Reconstruction of the major street of Kaunas has begun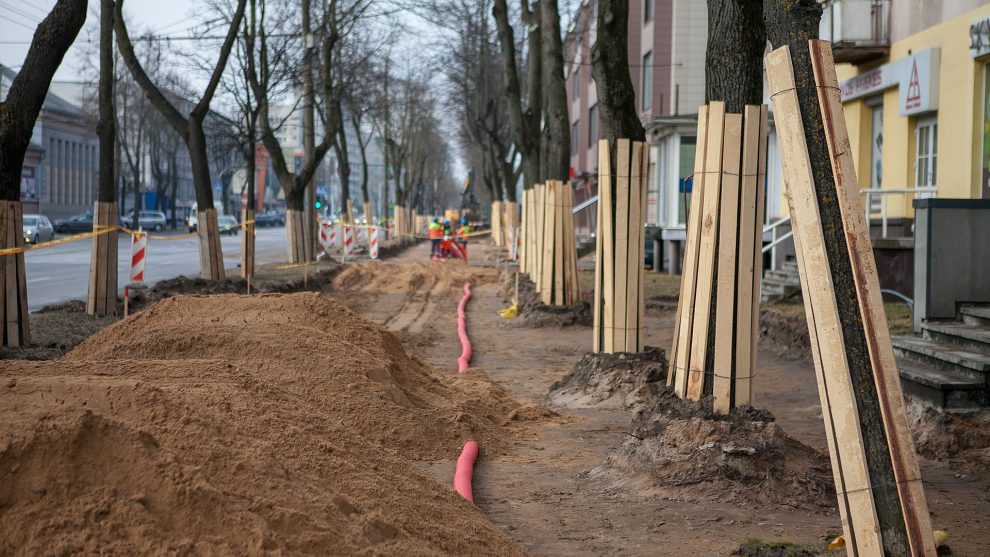 Paskelbta: 2018-04-05 (Thursday)
Reconstruction works have begun in Savanorių Prospect which leads to Kaunas City centre. New pavements and new cycle lanes will be set over the entire prospect by the end of the year. First of all, old asphaltic coatings between Savanorių and Taikos prospects will be replaced. 
The most significant accent of the reconstruction in Savanorių Prospect is the longest two-way cycle lane in Kaunas, continuing to the city border where it merges with Karmėlava cycle lane. The cycle lane will be followed by paving stone based pedestrian walkway.
The longest cycle lane
The length of the new pedestrian walkway and cycle lane will be 6.14 km. The needs of disabled people were taken into consideration while designing the pedestrian walkway and cycle lane. To ensure safety in roads, safety fences and road signs will be set.
The width of the cycle lane will vary from 2 to 2.5 metres, and the width of the pedestrian walkway will be 1.5 metres. The cycle lane and pedestrian walkway will be separated with the barrier.
Reconstruction works in Utenos Street and Tvirtovės Avenue are planned to be over until June.
Protection of trees
First of all, pavements will be reconstructed so that cyclists, parents with children and pedestrians could feel comfortable.
While reconstructing the pavements, a new lawn will be sowed and modern LED lighting will be arranged. The trees will be protected during the reconstruction works.
Basically, the traffic order in Savanorių Prospect will not change; the crossroads will be more visible and safer. Besides, modern controllers will be installed into traffic lights which are going to react to car traffic jams and will help to ensure fluent traffic in the city.
Information of the Division of Public Relations