President Valdas Adamkus : ,,I am very happy today to be here with you"
President Valdas Adamkus : ,,I am very happy today to be here with you"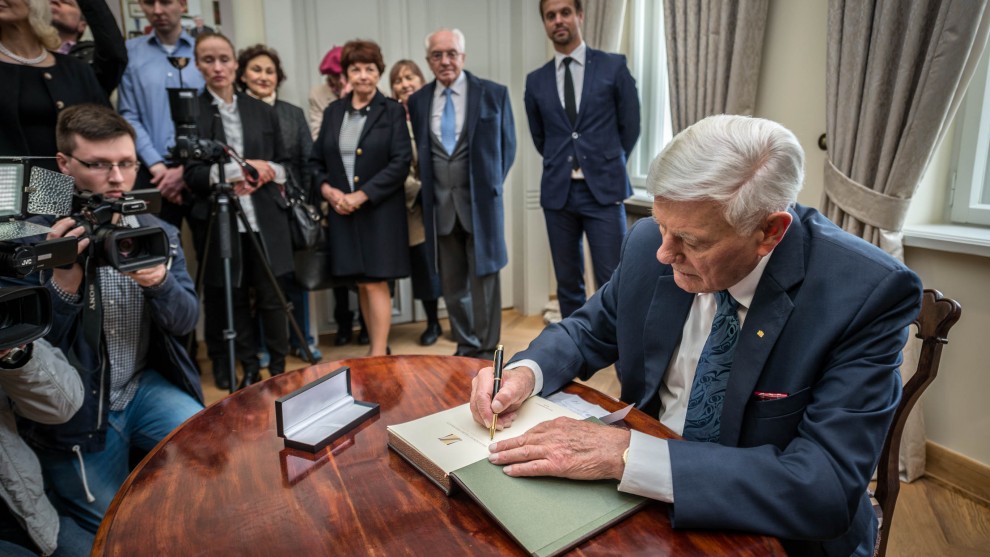 Paskelbta: 2016-05-05 (Thursday)
The library museum of President Valdas Adamkus was opened in the historical building in Kaunas city centre. The high-ranking officials of Lithuania and Kaunas who attended the opening ceremony were all of the same opinion – this was an extraordinary day for Kaunas and Lithuania.
In the building between Laisvė avenue and Vienybės square, Foreign Affairs Office was functioning during the interwar period. Later there was the Vytautas Magnus University entre of emigration studies there. The exhibition of the library – museum exhibition will be made of President's photos, archival documents, awards collection, art works of the Lithuanian emigration.
Valdas Adamkus thanked Kaunas city officials, Prime Minister of Lithuania, VMU rector, the community and all sponsors. President noticed that he would be happy if this museum helped the youth to understand the meaning of nation and freedom.
Kaunas City Mayor Visvaldas Matijošaitis expressed a hope that this library–museum wouls always be vibrant and full of people.
Prime Minister of Lithuania Algirdas Butkevičius and the Chairman of the Restoration Parliament of Lithuania Vytautas Landsbergis emphasized the importance of this building to Lithuania and Kaunas city. They celebrated that country and municipality understood the meaning of the library – museum, as the cultural heritage to Lithuania from the President.
Former President of Latvia Valdis Zatlers, Kaunas archbishop Lionginas Virbalas and others also paid their respect for President Valdas Adamkus.
Public Relations department information