On the occasion of Kaunas and Kava de'Tirenis cities friendship anniversary – exceptional gift for Italians
On the occasion of Kaunas and Kava de'Tirenis cities friendship anniversary – exceptional gift for Italians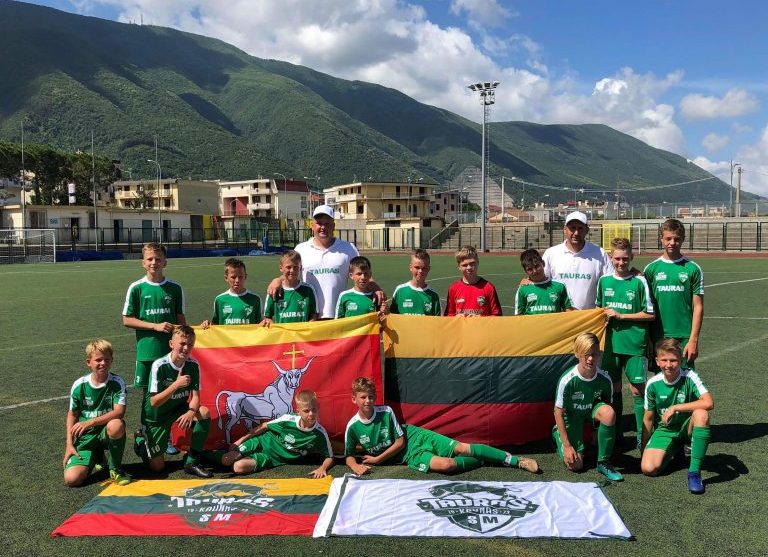 Paskelbta: 2018-06-08 (Friday)
This week twin cities – Kaunas and Kava de'Tirenis celebrate the tenth anniversary of cooperation. The representatives of Kaunas city took to Italy a special gift –  a graphic art piece by artist Egidijus Rudinskas, depicting the most important objects and historic events of both cities.
An official delegation led by Kaunas City Deputy Mayor Rasa Šnapštienė went to Kava de'Tirenis this Thursday. Kaunas Tauras Sport school's pupils are visiting Italy as well.
"It is one of the main twin city we are pleased to cooperate in the fields of culture and sport. I'm glad that Kaunas Tauras Sport school's young footballers have had the opportunity to visit Italy and compete against Italians" – said member of Kaunas City Council Mantas Jurgutis.
Young footballers with the help of the program "Young Ambassadors" went to Italy and won first two matches against local footballers. This weekend all Kaunas City representatives will attend the most important of Kava de'Tirenis event "Montecastello". Brochures "Discover Italy in Kaunas" will be distributed to the local ones. This tourist route was invented when The Italian Days were held in Kaunas in 2017. All the questions regarding the exhibition of Kaunas interwar modernism architecture will be discussed during the meetings.
The cooperation agreement between Kaunas and Kava de'Tirenis cities was signed on June 10th, 2018. One of the most successful example of cities cooperation was The Italian Days in 2017.