March – the month of Francophonie in Kaunas
March – the month of Francophonie in Kaunas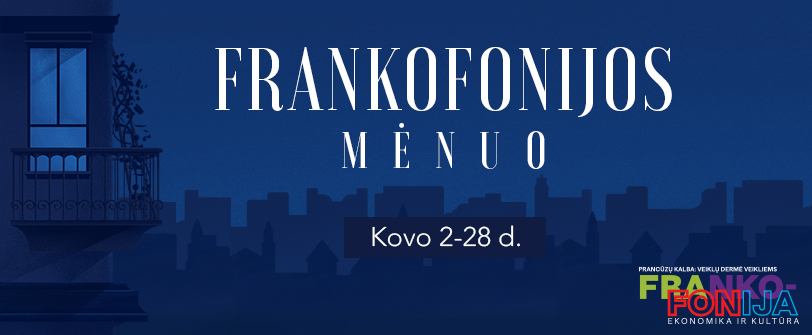 Paskelbta: 2018-02-05 (Monday)
On March 2 – 28, Kaunas invites everyone to get to know the culture of Francophonie countries. Francophonie unites countries and regions where the main or predominant language is French. Throughout March people of Kaunas will have the opportunity to get to know France, Canada, Switzerland, and Francophonie countries of Africa better.
On March 2, the concert of Kaunas City Symphony Orchestra and artists from France will open a month-long event series. A wide range of events will be presented to the residents of the city and will invite them to familiarize with the culture of the Francophonie countries: concerts, lectures, conferences, movie reviews, gourmet dinners and a number of other events will be organized.
"It is very important for all of us to get to know the cultures of other countries. "Sugihara Week", "Italian days" that were organized in autumn 2017 attracted a huge interest from our citizens. Such international events offer great opportunities to fill your time with interesting and useful content, expand your horizons or just have a great time", said Simonas Kairys, Deputy Mayor of Kaunas City.
Francophonie countries are united by the French language; however, there are quite a lot of cultural differences between them. Francophonie – 84 countries in all the continents and more than 890 million people speaking or learning French. The International Francophonie Day is celebrated annually on March 20, commemorating the establishment of the International Organization of Francophonie in the 1970; since 1999, Lithuania is also an observer member.
We are pleased to invite companies and organizations of Kaunas who are willing to offer their events to citizens in the joint program to contact the Head of the Foreign Relations Department of the Kaunas City Municipality Emilija Šakalienė by February 8th, e-mail: [email protected] or phone 8 37 424263.
Event organizers: Ministry of Foreign Affairs, French Institute in Lithuania, Kaunas City Municipality, University Center of Francophonie of Vytautas Magnus University. Also, the programme will be supported by the LSMU, the KTU French Cultural Center, the Canadian, French, Swiss Embassies and other organizations.