Kaunas – Ukraine: new humanitarian consignment, ambulance and police cars
Kaunas – Ukraine: new humanitarian consignment, ambulance and police cars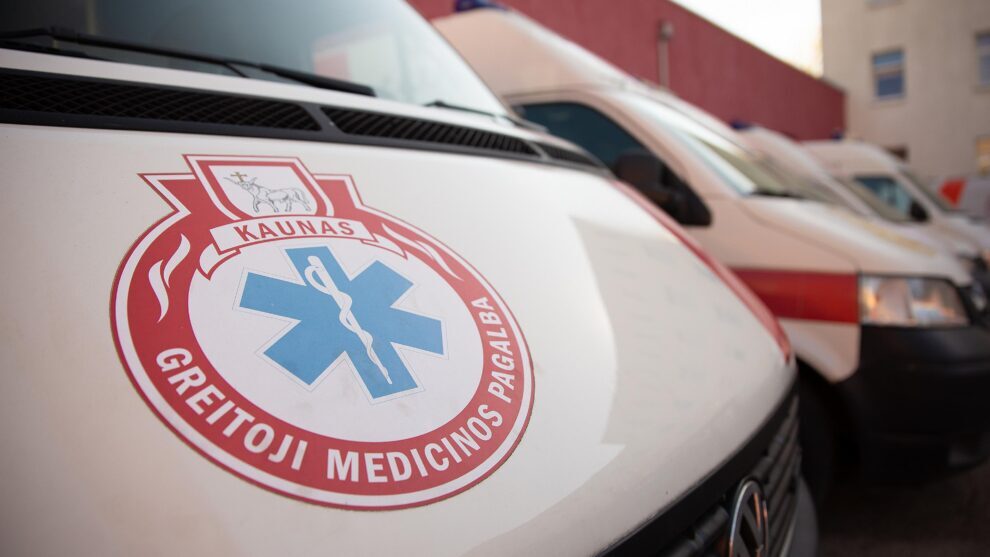 Paskelbta: 2022-05-05 (Thursday)
A week ago, 8 ambulances and 5 police cars loaded with bandages and turnstiles travelled from Kaunas to Ukraine. The humanitarian consignment was supplemented by the support of Kaunas Residents: diapers, hygiene products and toiletries, and other household items. Large quantities of perishable food and other needed medicines are being purchased by the city as well.
Wide geography of assistance
On Tuesday, The Kaunas Council unanimously supported the city's intentions to continue sending support to the people of war-torn Ukraine. This time, humanitarian aid is addressed to Ukrainian institutions in Kharkov, Kyiv, Lviv, and Rivne regions.
"Maintaining constant contact with colleagues in Ukraine, we receive requests not only from our city partners, but also from other regions of the country, representatives of international funds. We try to respond as much as possible to the needs by organizing support for them here and now. No matter how much resources the municipality devotes to this, we must thank and pay tribute to the people of Kaunas. The contribution of people is especially important here,"– said Kaunas Mayor Visvaldas Matijošaitis.
7 Volkswagen ambulances travel to Kyiv for the National Specialized Children's Hospital "Okhmatdyt" of the Ministry of Health of Ukraine. This is the hospital in the capital of Ukraine, to which most of the children affected are transported.
Another ambulance is handed to the international support fund "Ostanij bastion", where Ukrainian armed forces are working.
The medical aid and personal hygiene products purchased through public procurement will be transferred to the Yuri Semeniuk Clinical Hospital in the Rivne region and the Lviv region.
Focus on fraternal Kharkov
Kaunas are handing over a large package of medical equipment (tens of thousands of pieces of various types of bandages and turnstiles) to the city of Kharkov for doctors working in the war zone.
Kaunas municipality is also handing over "Dacia" cars. Vehicles that have served for the Kaunas County Chief Police Commissariat for several years, together with the other support collected by officials, will be sent to fellow Ukrainians.
"We are grateful to the people of Kaunas who do not give in to apathy, contribute and will continue to contribute to humanitarian aid with items or donations. Also for tireless volunteers, especially from the Red Cross. Everyone's contribution here is important" – said Paulius Keras, Head of the Extreme Operations Center of Kaunas City Municipality Administration.
According to him, despite the ungrateful weather, many good people came to donate. In the support campaign for Kharkov, the entire bus was filled with diapers, hygiene and cleaning supplies and other goods.
Money was added to the support bank account for Ukraine as well. Over two thousand euros were donated over the weekend. This money will complement the funds allocated by the municipality for the centralized purchases of medicines and food products.
The aid will continue to be collected
Kaunas plans to continue the uninterrupted supply of deficit goods and equipment to Ukraine, which is fighting the Russian military aggression. Kaunas residents are invited to contribute to the city's help with items, monetary donations or other means. More information: ukraina.kaunas.lt
Residents are welcome at the permanent support collection point in Vilijampolė, in the yard of the company Kauno Energija (Raudondvario pl. 84, entrance from Brastos St.), on work days from 12 noon to 7 p.m. and on Saturdays from 10 a.m. to 3 p.m.
Additionally, Kaunas residents can transfer the cash support to a special account: LT594010042500388593 (Lithuanian branch of Luminor Bank AS; beneficiary – Kaunas City Municipality Administration; purpose of payment: SUPPORT TO UKRAINE).
Public Relations Information