Kaunas twelfth graders' results above the national average: every thirteenth graduate achieves the highest results
Kaunas twelfth graders' results above the national average: every thirteenth graduate achieves the highest results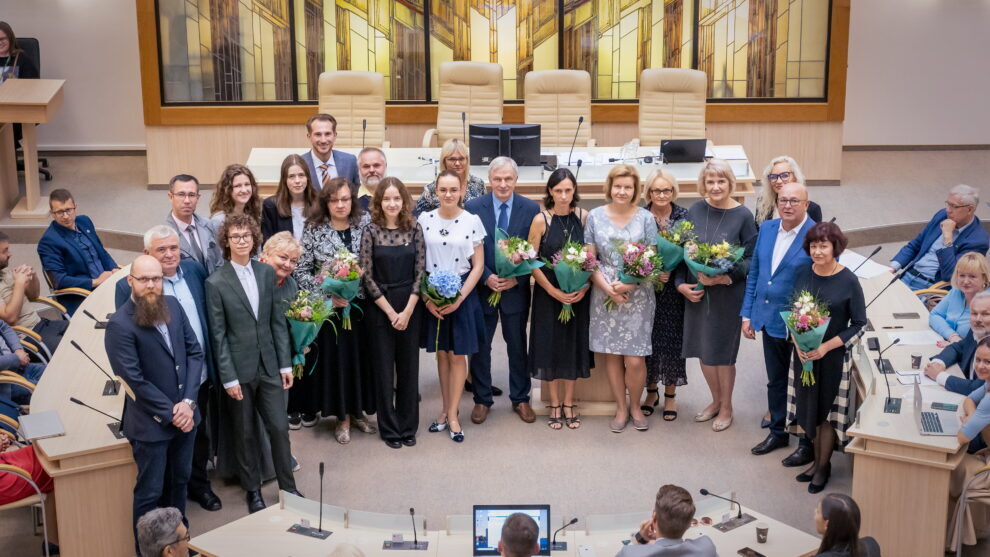 Paskelbta: 2022-07-20 (Wednesday)
For several years, Kaunas has maintained the highest position in the country's educational rankings. The city's leadership was confirmed by 182 twelfth graders from Kaunas who excelled in this year's state matriculation exams. Graduates scored 100 points in 234 different educational subjects' exams and these results are among the best in the country. The most advanced of them were awarded symbolic gifts from the city of Kaunas on Tuesday.
Exceeded the national average
Kaunas students again demonstrated extremely high scores in this year's matriculation exam session. Graduating students' grades in educational subjects were at least 4-10 percent higher than the overall Lithuanian exam passing average. The only exception is Russian language: the average of Kaunas graduates is 63.22 percent, and the national average is 71.31 percent.
2330 twelfth graders took the state matriculation exams in the city of Kaunas this year. 182 graduates are happy with the scores they received – 234 exams were evaluated with the maximum number of points.
One high school student achieved maximum number of points in 6 matriculation exams. Two more graduates from Kaunas are satisfied with extremely solid results – achieving highest scores in 5 matriculation exams. Three high school graduates achieved 4 maximum results from the selected exams. All of them are KTU and LSMU Gymnasiums high school graduates. The rest of graduates scored 100 points in 1, 2 or 3 exams. Among the latter is one pupil from Kaunas President Valdas Adamkus Gymnasium.
This year, graduates from Kaunas were very successful in taking the Lithuanian language and literature state exam. 99 exams were evaluated with the maximum number of points. Following this, 100 points were received in English language (74), information technology (17) and mathematics (16). Graduates also obtained highest scores from chemistry (7), physics (6), history (4), biology (3), Russian (3), German (3) and geography (1) exams.
Gymnasiums of KTU and LSMU prepared their students the best. Pupils of Kaunas Jesuit and Kaunas "Saulės" gymnasiums also received maximum number of points in two dozen exams.
The Mayor invited to come back
The Mayor of Kaunas presented thank you letters, "Kaunastic" gift cards and souvenirs with the motifs of M.K. Čiurlionis' paintings to the most talented twelfth graders who received highest scores in three or more exams, gifts were also presented for teachers of the graduates, at the council meeting held on Tuesday.
Representatives of the Municipality revealed the value of the gift – the monetary expression of "Kaunastic" cards. This year the value was equal to the amount of points collected, adding up all the exams with highest results.
"Let the university admissions be successful, and the studies – fruitful. Whichever country's university you choose, after everything, do not forget to return to your city. This is your home. Kaunas will continue searching for more job opportunities for talented professionals in various fields, so you are and will be much needed", – says Mayor Visvaldas Matijošaitis.
Solid math results
This year, the biggest challenge for Lithuanian twelfth graders was the math exam. The Minister of Education, Science and Sports Jurgita Šiugždinienė singled out the results of graduates from Kaunas as one of the best among all municipalities in the country – three out of four or 75 percent of graduates from Kaunas passed all of the selected exams. Almost a hundred of them scored 86-100 points.
"Children haven't been interested in "dry" tasks and theoretical material for a long time. We can only engage them by showing that mathematical literacy and logical thinking are skills that are needed every day.
The contribution of school head masters, teachers and parents is important here. The involvement of each of them contributes to better results", – said Eglė Andriuškienė, deputy director of Kaunas Municipality Administration.
According to her, Kaunas Education Innovation Center, together with the educational community, has been strengthening the mathematics knowledge of high school students for the third year.
High school students are constantly invited to innovative activities. One such project is "Mathematical Challenge". Here, mathematicians, psychologists and robotics managers educate children. In the auditoriums, students solve mathematical problems, learn to overcome stress, think critically or find creative solutions. In September, a new initiative will start in the city – the mathematics laboratory "MatLab".
Parents and teachers have the opportunity to study together with the children. Various lectures, creative workshops, and consultations are provided for them.
Public Relations Information