Kaunas thanked the benefactors for their support and assistance during the quarantine
Kaunas thanked the benefactors for their support and assistance during the quarantine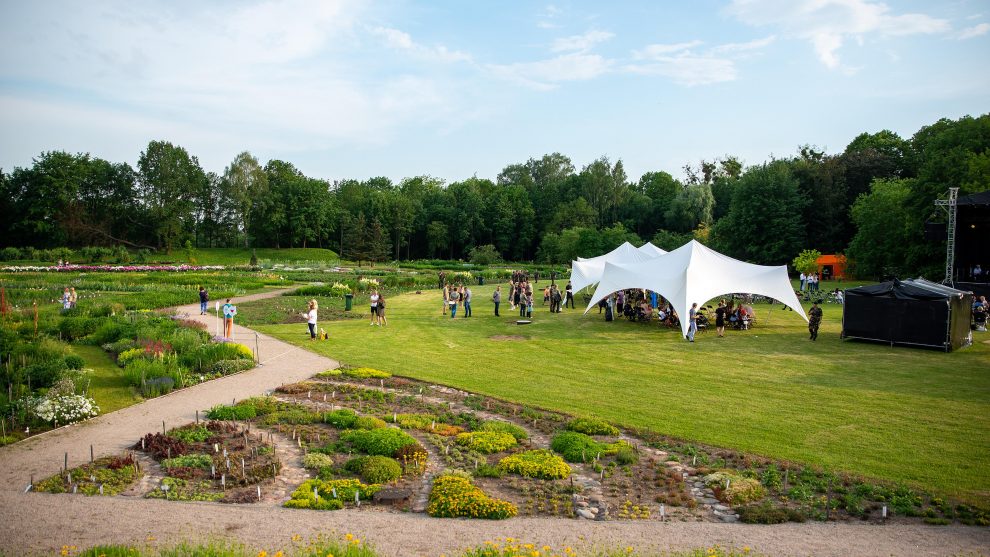 Paskelbta: 2020-07-07 (Tuesday)
Following the announcement of the end of quarantine in the country, Kaunas took the initiative to honor organizations and individuals who decided to help. On Thursday evening, Kaunas City Municipality invited over 600 people – medics, social workers, shooters, scouts, students and other volunteers from Kaunas and representatives of business enterprises to the Thanksgiving evening at Vytautas Magnus University Botanical Garden.
The city is safe and people are calm
"The last three months have shown how much Kaunas, working together for a common goal, can do during an emergency and quarantine. Your sincere efforts and strong support have significantly contributed to managing the threats of the coronavirus (COVID-19) pandemic in our city and throughout Lithuania.
By generously sharing human values, your civic behavior, you are a role model for each of us. I want to sincerely thank you for your help when we needed it the most, so that the city, which was confident in extraordinary challenges, would be safe and people would remain calm," said Kaunas Mayor Visvaldas Matijošaitis.
Nominal thanks were awarded to more than 600 people, and 12 of them have been awarded brass medals by Burmese Jonas Vileitis for exceptional merits. Egidijus Sipavičius' concert with Kaunas Big Band became a musical gift for the participants.
The Mayor of Kaunas mentioned that on July 6, to commemorate the Day of the Coronation of King Mindaugas, several laureates will be honored with Santaka's badges of honor at a solemn ceremony at Kaunas Castle.
COVID-19 statistics in Kaunas
The end of the quarantine is a good opportunity to look back at recent works in Kaunas. The coronavirus pandemic forced a rapid response to the challenges of COVID-19 and the ever-changing situation.
Kaunas City Municipality started preparing for the fight against coronavirus threats in the beginning of March, therefore the decisions and works made during the 92 days of quarantine allowed to better control the spread of the virus in the city and reorganize the municipal administration, health, education, social security and other processes.
During the whole pandemic period, 96 cases of COVID-19 were confirmed in Kaunas, which created only 4.2 percent of all diseases in the country. Most of the cases were brought in: out of 556 persons who returned to Kaunas, 41 were diagnosed with a coronavirus infection, and another 35 cases were caused by direct contact with the virus carrier.
Summarizing all COVID-19 cases registered in Kaunas, the overall coronavirus incidence for 10 thousand people was only 1.69 cases. During the quarantine period, there were weeks when no new cases were detected in the city at all. Currently, the number of people who recovered in Kaunas has already exceeded 85 percent.
Pre-quarantine preparation
On March 13, just before the announcement of quarantine, the corona hotline 1808 started operating in Kaunas. Dispatchers located at Kaunas City Ambulance Station and later at LSMU together with members of the Riflemen's Union, students and other volunteers received more than 466,5 thousand calls from all over Lithuania and spoke over 18.5 thousand hours.
Over 950 shifts, with over 600 volunteers working around the phone 24 hours a day, assessed callers' symptoms, provided information on self-isolation and transportation options, registered for tests at mobile checkpoints, and provided emotional support when needed.
Preparation for pandemic management is also closely linked to ensuring self-isolation. The city has concluded agreements with 7 Kaunas hotels and guest houses. In total, self-isolation places have been prepared, which can accommodate about 1,094 people. According to the latest data, 218 persons who returned from abroad or wanted to safely isolate themselves for a 14-day incubation period from family members and other relatives used the premises offered by the municipality.
During the month, the Kulautuva Children's Tuberculosis Hospital-Sanatorium, which had not been used for 3 years, was also repaired and installed. The city has invested 164 thousand EUR, for which security measures and necessary infrastructure were installed, furniture was purchased, and other preparatory works were performed. Part of beds were donated to the institution by one of the country's largest furniture manufacturers.
In the Kulautuva Children's Tuberculosis Hospital-Sanatorium were created 250 places for hospitalization of mildly ill patients, but this number can easily be increased to almost 800. Recently "Turto bankas" handed over the building to Kaunas and it is planned to establish a care institution for the elderly.
More than 17 thousand tests
In order to protect people working with the sick and at-risk groups, Kaunas joined the country's major hospitals for a large consolidated purchase of protective equipment from China. For 1 million EUR more than 610 thousand units of various goods were purchased: gloves, respirators, surgical masks, booties, goggles, bathrobes and special overalls. About 3 thousand units were donated by Kaunas companies and individual citizens.
All of this reached 11 Kaunas institutions, where medical, social and educational staff work.
Part of the funds from the municipal administration reserve – about 200 thousand EUR – were allocated to the Fever Clinic and the mobile COVID-19 checkpoint for the installation and management, transportation, accommodation and catering of quarantined persons.
It was estimated that in four Kaunas Mobile Checkpoints and the Fever Clinic there were taken more than 17 000 tests for the determination of SARS-COV-2. Among those tested for coronavirus, almost 12.5 thousand were Kaunas city residents.
During this period, bowmen and GMP staff transported more than 400 people to mobile checkpoints and medical facilities who took advantage of the free transportation service offered during the pandemic. About half a hundred returnees from abroad were safely transported to their places of residence in Kaunas or to self-isolation premises.
Effective home help
During the quarantine period, seniors of honorable age, single people, families in deprivation or social risk, and people with health problems or disabilities remained the main recipients of social services. More than 1,500 individuals and about 500 families received home help.
Social workers provided vital services: people's health and hygiene were taken care of, and they were provided with food and medicine as needed.
Over 600 neighbors responded to the city's call to take care of lonely Kaunas residents of respectable age, hard-working families and people with disabilities. NGO organizations also strengthened their forces: they prepared over 500 packages of essential products every month, transported food rations, and voluntarily provided emotional assistance remotely. More than 100 volunteers rotate in organizational work.
Keeping order in the city
At the beginning of the quarantine, a special transport from "Kauno Švara" car park rolled out into the streets of Kaunas. Disinfection of trails in parks has been undertaken, as well as 446 public transport stops, benches in public spaces, handrails and other more frequently touched surfaces throughout the city. More than 1,000 apartment staircases and about 1,000 household waste containers received cleaning and disinfection.
Kaunas residents were disciplined by the employees of Kaunas City Municipality who relaxed and forgot the quarantine recommendations. During the three months of quarantine, they inspected 1452 establishments. 14 warnings were issued for non-compliance with the quarantine conditions and 31 administrative offense reports were drawn up.
The municipal social campaign "Elkis protingai – būk namie!", which started in March, greeted Kaunas residents with one and a half hundred reminders. Posters were posted on major billboards throughout the city. 100 thousand printed special publications ensured that up-to-date information on quarantine and coronavirus reaches even those without Internet access.
Educational processes are ensured
Division of Education of Kaunas City Municipality took survey of parents, pupils and teachers of pre-school education institutions and general education schools and results showed that distance education process was evaluated positively by both parents (82%) and pupils (65%).
In April, all Kaunas city schools reoriented to distance work: 2036 Kaunas teachers prepared detailed curricula and attended distance-learning courses in order to ensure smooth educational processes for 31.5 thousand students. In order for all students to be able to fully learn at a distance, young Kaunas students without computer equipment were provided with tablets and laptops – 1,759 devices.
Educational psychologists and special pedagogical assistance were available throughout the quarantine. 180 consultations were given to children who felt depressed, worried about high school exams, felt stress, emotional or psychological stress.
Benefits for the affected business
"Although the quarantine has been canceled and the virus has been controlled, it is too early to relax. The first wave of coronavirus has been withstood, but we need to prepare for a possible second wave. Now is the best time to review the decisions made, to evaluate the strategy used. We need to find ways to further improve our processes so that we are even better prepared when needed", said Mayor of Kaunas City Visvaldas Matijošaitis.
A number of Kaunas residents, especially businesses, have taken the initiative to contribute financially to the fight against coronavirus. It was decided that the support of benefactors that was collected in the Special Kaunas Fund – over 105 thousand euros – will be used to purchase a mass emergency vehicle with all the necessary medical equipment. This will help to ensure even more efficient medical work.
In order to help quarantined businesses, Kaunas City Municipality initiated tax incentives for companies affected by the COVID-19 pandemic. The goal is for institutions to survive and ensure that they return to normal, and that tax money can be reinvested back into business.
Cafes are allowed to expand the area of outdoor tables in all areas of the city. It is estimated that businesses have saved over 1 million euros by applying incentives for outdoor terrace licenses, renting municipal property, real estate, land and state land. Over 3 thousand companies have used such support by the city.