Kaunas starts the celebration of Christ's resurrection with giant Easter Eggs
Kaunas starts the celebration of Christ's resurrection with giant Easter Eggs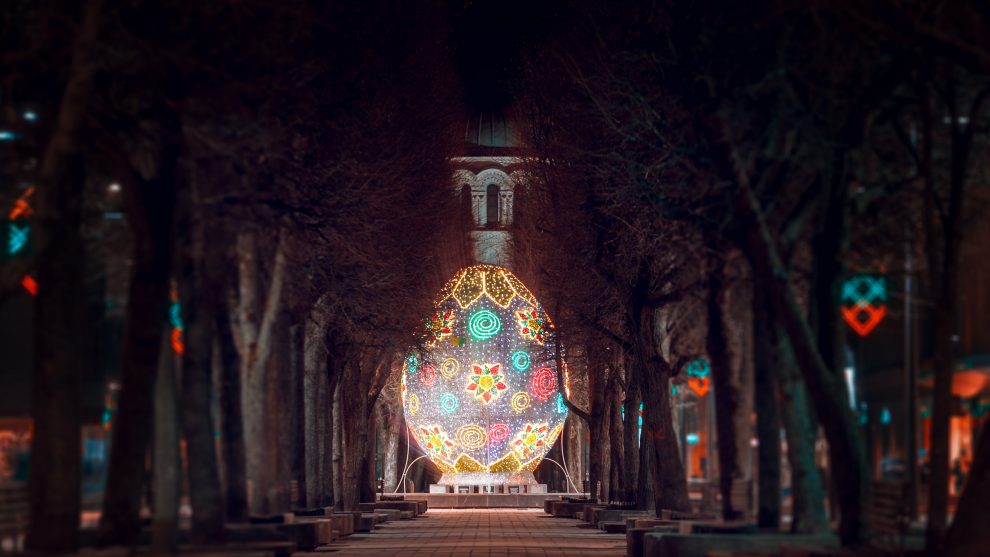 Paskelbta: 2018-03-30 (Friday)
It became a tradition to decorate Kaunas city areas with attributes relevant to this celebration before Easter. The most visited places in the city – Laisvės alėja fountain and Kaunas Castle – attract the attention of Kaunas City residents and visitors with giant and colourful Easter Eggs.
Easter Eggs 6 metres high and 4.5 metres wide are decorated with twinkling LED lights. Both works are decorated with 36 thousand bright lights, so these city decorations look especially vivid in the night time.
"Due to spring weather more and more people are going for a walk, so we seek their beloved city places to contribute in creating festive emotions.  Giant eggs became a tradition, but this year they differ from last year's. Creators constantly renew them with various lighting ornaments", said the deputy head of the Division of Culture of Kaunas City Municipality Nomeda Prevelienė.
According to N. Prevelienė, visitors will notice flax with triangle pennants stretching to different sides from the Easter Egg. Such security measures are taken because of sever wind due to which the massive metallic construction can fall. It is hollow, but covered with single colour polyethylene carpet and because of its size requires special care.
It is being planned that these Easter decorations will satisfy Kaunas City residents and visitors all week until the Sunday after Easter.
Information of the Division of Public Relations