Kaunas says: "No to Drugs!" International Discussion in Kaunas about Usage of Intoxicant Substances by Teenagers and International Prevention Perspective
Kaunas says: "No to Drugs!" International Discussion in Kaunas about Usage of Intoxicant Substances by Teenagers and International Prevention Perspective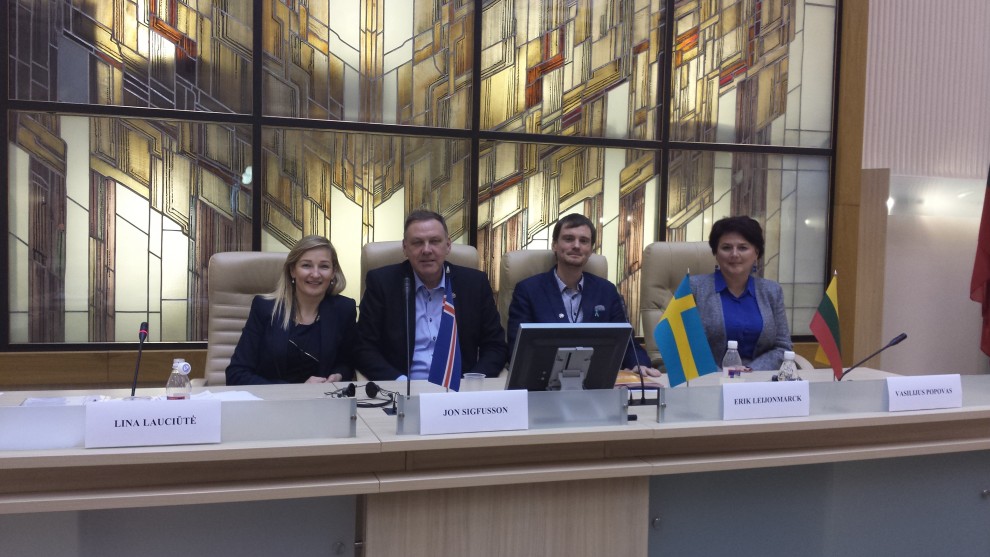 Paskelbta: 2015-12-07 (Monday)
On Wednesday, 18th of November specialists of different areas gathered in extraordinary conference "Usage of Intoxicant Substances By Teenagers, Social Factors in Kaunas and  International Prevention Perspective". International guests of conference were Secretary General of European Cities Against Drugs organization Erik Leijonmarck from Stockholm city (Sweden) and Jon Sigfússon, the current director of Youth in Europe and the Icelandic Centre of Social Research and Analysis (ICSRA), Reykjavik University, Iceland. He has published and lectured extensively "Evidence Based Policymaking in the Field of Drug Prevention" and "Adolescence Substance Abuse Prevention". Kaunas City Municipal Administration was the main organizer of the conference, as well as Kaunas A. Žikevičius Safe Child School and Kaunas in Service Teacher Training Centre.
Participats of the conference were greeted by Kaunas City Deputy Mayor Vasilijus Popovas.
The Secretary General of ECAD Erik Leijonmarck was glad, that Kaunas city is an active member and participates in ECAD activities since 2003.
Jon Sigfusson presented the Icelandic model of new prevention tactics. He talked about the restriction of alcohol and tobacco purchase, laws which forbid usage for kids and teenagers, laws which forbid children or teenagers to stay outside longer than the set time, the promotion of financial youth activities through the city's youth card, parenting skills, initiatives which strengthen family relationship, initiative of child-parent-school relation strengthening, constant research for monitoring of the situation, objective supporting of NVO sector and etc.
Kaunas Algis Žikevičius Safe Child School Director Mrs. Rasa Šerpytienė presented YiE research results of Kaunas city situation (2238 students of 15-16 years old were questioned in Kaunas). The results of this research have shown that there are a lot of spheres in which teenagers relationships with family, teachers, same age kids need to be strengthened and more attention should be paid to sensible leisure time.
Reports about drug prevention activities and challenges have been read by Director of Kaunas Youth Narcological Aid Centre  Aina Adomaityte;  Chief Specialist, Prevention Department, Public Order Board, Kaunas County Police Headquarters Jūratė Stukienė; Director of Kaunas County Addictive Disease Centre Tautvydas Zikaras;  Prof. hab. Dr. Apolinaras Zaborskis of the Lithuanian University of Health Sciences; Public Health Specialist, Kaunas City Municipality Public Health Bureau, Reda Žaromskytė.
Specialists of various institutions discussed various aspects and methods of fighting against addictions. The effective tools and preventions are following:
To resume researches in order to form prevention politics and possible actions;
To create strong organizations of parents;
To support the after school and sports activities;
To support active NGO;
To provide a support for young people in risk group;
To establish working groups, commissions for fighting against drugs;
To make more effective advertising campaign against smoking, alcohol and drugs use;
To organize International ECAD Mayors Conference in Kaunas in the future.