Kaunas residents are gathering to help Ukraine
Kaunas residents are gathering to help Ukraine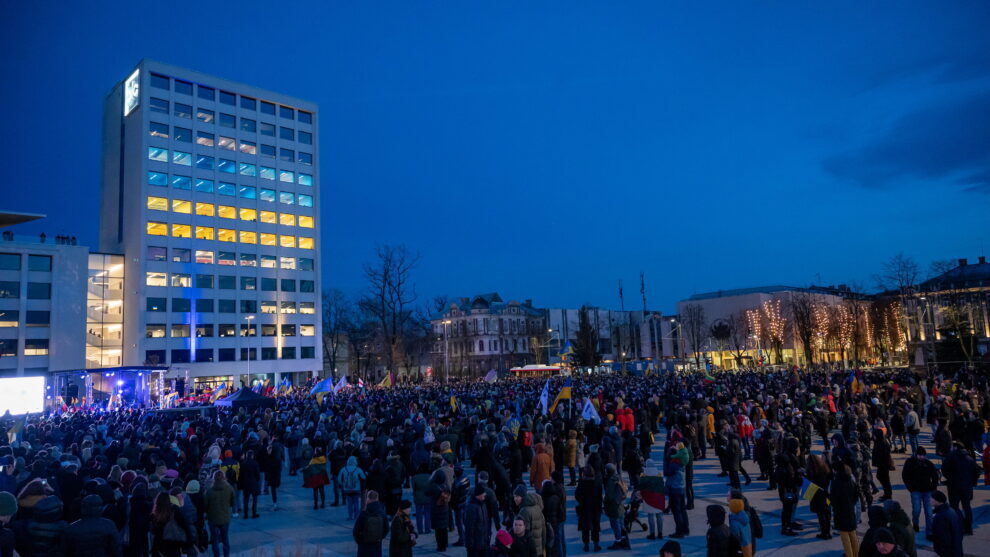 Paskelbta: 2022-02-28 (Monday)
The military aggression against Ukraine has not left anyone indifferent. From Thursday morning, Kaunas residents took the initiative to offer support – about 70 people apply daily. The people who show sincere empathy for the war-torn country are ready to accommodate individual Ukrainians and entire families fleeing the war, contribute to the supply of food, clothing, household items, hygiene and necessities. Transportation and rehabilitation services are also offered.
The common goal is to help
"In Ukraine, Kaunas has three partner cities – Lviv region, Lutsk and Kharkiv. We keep in touch with their representatives on a daily basis, and we stand with the entire Ukrainian nation at this difficult time. While defending their country, they are fighting for the freedom and human values ​​of all of us. We must remain a strong backbone not only in words but also in real action. Lithuania has also experienced several occupations and although we are a small country, we know that we are strong by being focused and united.
Kaunas will take care of the Ukrainian people fleeing the war. The city is dealing with the matter of accommodation, catering, social and psychological assistance, and educational services for children. We have prepared several suitable buildings. Kaunas residents are also ready to shelter families and individuals. Such sincere empathy deserves great respect. " – says Kaunas City Mayor Visvaldas Matijošaitis.
According to him, in the presence of these days, the truth has been confirmed once again: we notice the best people in the most difficult times.
Calling the Hotline
Kaunas residents do not hesitate to join the city's initiative – during a difficult period for Ukraine, the population is concentrating on helping the state overwhelmed by military aggression. Since starting the initiative, emails and calls of benefactors are nonstop. You can reach out by e-mail [email protected] and by phone (8-616 45772).
Residents are determined to shelter and help individual Ukrainians or their entire families in their homes, homesteads and other housing. Several Kaunas residents also offered to employ Ukrainians and were willing to provide qualified services free of charge.
"We have several double beds in the apartment. We would allocate one free room in a residential house for a family with several children. We would accept, take care and feed them. We have planned to release it for rent, but we will refrain from it and wait for information if help is needed. We can offer jobs at the farm or in a rural tourism homestead. " – said Kaunas residents' messages, offering temporary shelter to Ukrainians.
The businesses providing accommodation services is also ready to hand over beds, bed linen, towels, and various hygiene items that may be required. Dozens of volunteers register, as well as those who can contribute food, clothing, medicine, or other essentials.
From rehabilitation to transportation
"Eyes tear up when you think or talk about Ukraine. Like everyone else, we are sensitive and think about how we can help. Both as employees, by accommodating people and providing financial support, and as a company.
We thought we would be the most helpful in working with the wounded: both those fighting at the front line and the civilian casualties. We have every opportunity to lay them down, treat them and rehabilitate them." – said Rasa Petrikienė, Medical Director of Gijos Klinika.
According to her, the clinic could treat long and multiple bone fractures and uncomplicated vertebral injuries at its own expense. Also provide medical rehabilitation after complex surgeries or injuries.
While some focus on accommodating Ukrainians in the city and taking care of their primary needs, others are ready to travel to the Polish-Ukrainian border. Residents offer to mobilize and transfer people to safe places.
Invitation to join
Kaunas continues to expand the choice of premises for the accommodation of refugees, organizes catering and purchases of necessary supplies. At the same time, social, psychological and logistical assistance is provided to ensure the availability of educational services for Ukrainian children in kindergartens and schools.
Those wishing to offer their home or other place for the temporary accommodation of incoming Ukrainians, to provide financial support or to contribute other resources are invited to notify us by e-mail [email protected] or by hotline tel. (8 616) 45772.
Financial support can also be transferred to a special account: LT594010042500388593; Bank: Luminor Bank AS. Lithuanian branch); Recipient: Kauno miesto savivaldybės administracija (Kaunas City Municipality Administration); Payment purpose: PAMAMA UKRAINAI/  SUPPORT FOR UKRAINE.
Public Relations Information