Kaunas repeats successful move: lecturers are again invited to reorient to teachers and supervisors
Kaunas repeats successful move: lecturers are again invited to reorient to teachers and supervisors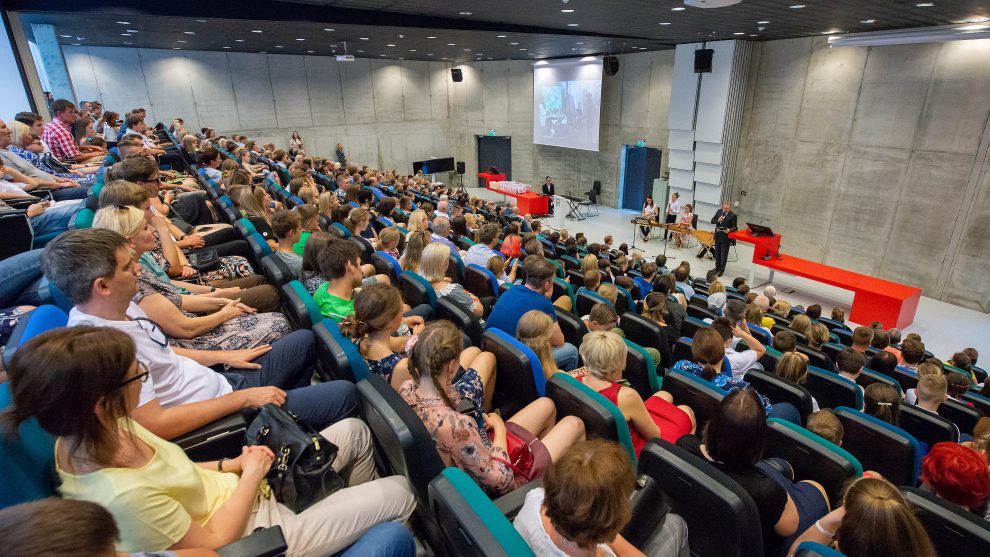 Paskelbta: 2020-04-23 (Thursday)
Today's demographic situation and changes in the education system are dictating new trends. There is a growing need for teaching staff in schools across the country. There is a lack not only of teachers of various subjects, but also of heads of educational institutions. Kaunas City Municipality in the summer of 2018 has made an unprecedented decision, inviting university lecturers to acquire additional competencies, to work as teachers and to seek the position of school leaders. The project was successful, so another group of lecturers is being elected this year.
Additional competencies
For lecturers and school teachers the city provides free opportunities to acquire additional competencies that are needed not only to work as teachers, but also to manage institutions. With such decision Kaunas seeks to reduce the need for missing teachers and managers, and at the same time to attract specialists of the highest competence to schools, to ensure the diversity of personalities.
"Schools are going through processes of change and they need niche and atypical specialization teachers. A unique curriculum is emerging, requiring new pedagogical competencies and additional qualifications. During the internship, students implemented innovative teaching methods and specific knowledge projects in schools.
As we are the pioneers of such a program in Lithuania, it was difficult to predict whether such way to attract new teachers to school would work. However, at the end of the first program, we see that the results delight not only schools and students in Kaunas, but also other cities. Therefore, we see the meaning and the need to continue it", said Kaunas Deputy Mayor Rasa Šnapštienė.
According to her, such decision also contributes to the successful implementation of the school's mission, ensuring not only an effective educational process, but also memorable, meaningful activities.
First group already ended
In December, the first group ended one-year studies in educology – 13 teachers of various specializations. Academicians teaching geography, chemistry, biology, physics, computer science and mathematics have acquired the qualification of a teacher. These are areas where specialists are especially needed in schools of Kaunas today.
They analyzed the topics relevant to the pedagogical profession: pedagogy, didactics, psychology, management of the educational process, special pedagogy and psychology. A particularly important part of these studies is the pedagogical practice performed by students-lecturers in Kaunas schools. Not only the lecturers but also school communities enjoyed this opportunity. Some students are already successfully working in schools and kindergartens, others are planning to start their teaching careers from the new school year.
"Continuously improving teachers' qualifications in one of the priorities of Kaunas city in the field of education. This has a direct impact on the content, quality and, ultimately, the results of their work. The opportunity to grow and strengthen the ranks of teachers, was recently considered as novelty but we see that this initiative of Kaunas has received recognition on a national scale as well. We believe that such an investment by Kaunas City Municipality will give an additional impulse to the activities of the city's schools", said Rasa Bortkevičienė, Director of Kaunas Teacher Qualification Center.
Invites to register for studies
This year, Vytautas Magnus University is once again announcing an invitation to the municipality-funded one-year professional pedagogy studies for higher education lecturers, who want to obtain a pedagogue's qualification. A new group is currently being selected.
The studies are financed by Kaunas City Municipality, after which the graduates have the opportunity to work as pedagogics in Kaunas educational institutions.
Upon completion of the professional study program "Pedagogika", a pedagogue's qualification is awarded and state-recognized Study Certificate certifying the completed studies and qualification is issued.
The studies consist of a theoretical part, the lectures of which take place on weekends (Fridays and Saturdays; during the quarantine period – remotely), and pedagogical practice in general education schools.
The expected start of studies is in May or June of this year. Applications can be submitted online until 10 a.m., May 1, 2020 at https://epasirasymas.vdu.lt/
The application must be accompanied by electronic copies of the following documents:
Copies of higher education diplomas (VMU graduates, who graduated in 2001 and later do not need to submit);
Copies of diploma supplements (VMU graduates, who graduated in 2001 and later do not need to submit);
Copy of the personal passport data page or a copy of the identity card (VMU graduates do not need to submit if the data has not changed);
Document confirming the change of surname or first name, if not all the submitted documents are in the same surname or first name;
Certificate of employment in higher education;
Free-form motivational letter addressed to Vytautas Magnus University.
More information on admission to vocational studies can be found here https://bit.ly/destytojaimokytojai