Kaunas Registration Center for Ukrainians is finishing its work: the government will centralize the reception of new arrivals in Alytus
Kaunas Registration Center for Ukrainians is finishing its work: the government will centralize the reception of new arrivals in Alytus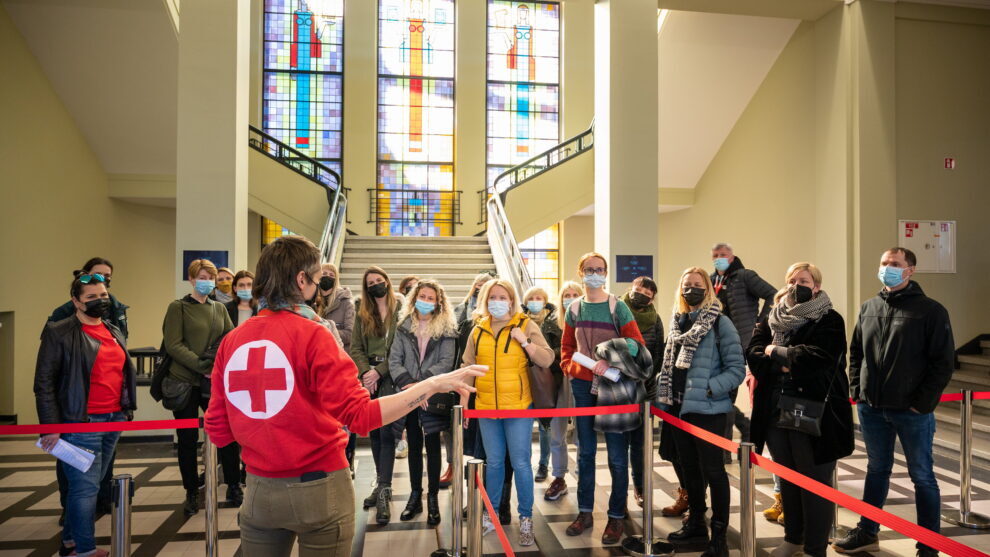 Paskelbta: 2022-08-04 (Thursday)
Kaunas Registration Center for Ukrainians is finishing its work: the government will centralize the reception of new arrivals in Alytus
According to the decision of the Ministry of Internal Affairs, from now on Ukrainians seeking shelter in Lithuania will be taken care of by Alytus Refugee Center and territorial departments of the cities' Migration Department. In mid-March, a registration center for Ukrainians was opened in Kaunas, providing shelter to almost 12.3 thousand people and will officially close on August 8. The activities of Kaunas Cultural Center will return to the vacated premises.
"After closing the registration centers of big cities, Kaunas was operating at full capacity. Now, with the decreasing number of arrivals from Ukraine, the Ministry of Internal Affairs is putting us on "holiday", but if necessary, we will immediately resume activities and assistance of the center.
I want to thank everyone who worked here. Thanks to all of you, people who fled the horrors of war felt safe here," – said Paulius Keras, head of the Emergency Situations and Operations Management Center of Kaunas City Municipality.
According to him, the registration point for Ukrainians located in Kaunas Cultural Center will close on August 8. Starting from August 8, only Refugee Registration Center in Alytus (33 A. Juozapavičiaus Str.) will operate in the country. Territorial departments of the Migration Department will also accept Ukrainians during working hours. Personnel and activities will return to the vacated premises of Kaunas Cultural Center (Vytautas Ave. 79)
Such decision was made due to significantly reduced number of arrivals. In the first operating days of the Refugee Center, about 1.1 thousand Ukrainians were registered per day, now just up to 20 people come to the center per day.
People who have started document processing in Kaunas will be able to complete the registration here. Documents will be issued by Kaunas Migration Department (57 A. Juozapavičiaus Ave.) during working hours. Social workers will provide services through local councils. Ukrainians will be able to contact the centralized information center at number 1808 regarding migration, accommodation, social support and other issues.
It is estimated that since the opening of Kaunas Refugee Registration Center on March 15, 12.3 thousand Ukrainians have been provided safe shelter with temporary accommodation, meals and other services. Most of them are elderly people, women and children. Over 40 volunteers working in shifts took care of them 24 hours a day. It is estimated that several thousand residents of the city joined the volunteering program.
Volunteers of the Red Cross, Caritas, Save the Children, Food bank and members of the Lithuanian Riflemen's Union worked in shifts at the center. The Migration Department, police, Child Rights Protection and Employment Services, Kaunas City Polyclinic and emergency medical services provided assistance here. Specialists of the Municipal Social Services Center and employees of Kaunas Public Health Office also contributed with their help.
Public Relations information