Kaunas Jazz is waiting for 40 thousands visitors
Kaunas Jazz is waiting for 40 thousands visitors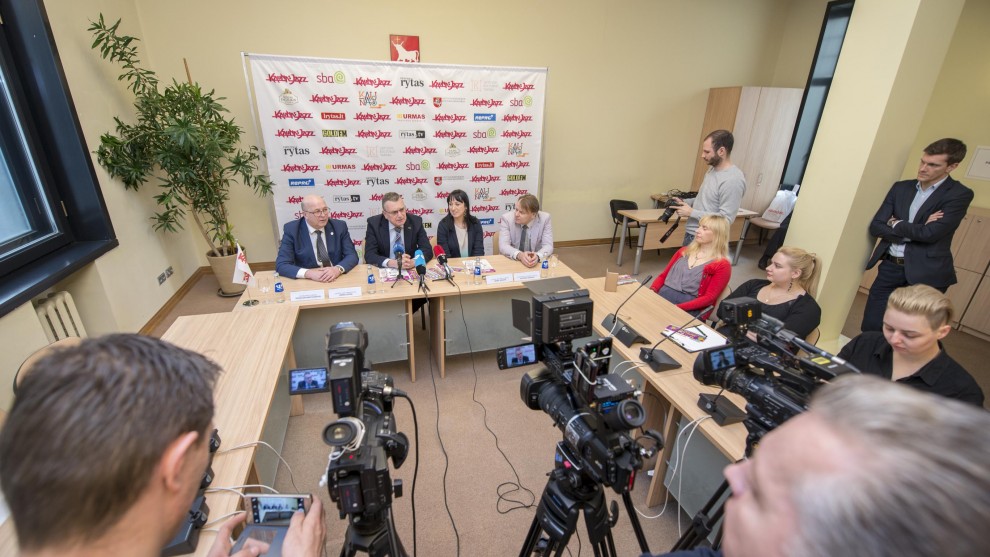 Paskelbta: 2016-04-13 (Wednesday)
The organizers of ''Kaunas Jazz'' welcome all lovers of jazz music from April 25 till May 2 – especially those who are fond of vocal music.
''Kaunas Jazz'' will be organized in 6 cities in Lithuania
Festival ''Kaunas Jazz 2016'' this year will be devoted for commemorating the International Day of Jazz of UNESCO. The organizers of the festival informed that they will expand the borders of ''Kaunas Jazz'' this year, as well, therefore Jazz music will sound not only in Kaunas, but in other cities – Alytus, Vilnius, Panevėžys, Jurbarkas and Palanga.
The honor to open festival will be granted to a young performer – Tamir Grinber who is ''young miracle of music'', "surpasses any hopes'' in his native country. Last year in the festival he enslaved the spectators' hearts, and this year he is performing in Panevėžys Musical Theater on April 25, on April 26 in Alytus City Theater, on April 27 – in Kaunas City mall ''Urmas''.
Women will rule on the ''Kaunas Jazz'' stage
According to ''Kaunas Jazz'' art manager Indrė Jučaitė, this year there will be a lot of exclusive voice performers – women. On April 28,  after the traditional start of the festival in Kaunas Town Hall, the festival will move to Raudondvaris Palace art incubator, where Jazz queen Stacey Kent from the USA will held her performance. She will introduce her new album – "Tenderly". However, the tickets to this concert have already been sold out immediately.
On April 29, Vytautas Magnus University hall will be waiting for the special project by the performer Justė Arlauskaitė-Jazzu, the piano player Petras Geniušas and the violoncellist Justas Kulikauskas, and on April 30 Saedi who is called Austrian music sally will perform in Jurbarkas Exhibition and Concert hall.
On May 2, ''Kaunas Jazz'' festival be crowned by the performance in Vilnius Congress Palace  by the singer from Ethiopia – Ester Rada. This singer has received many good words from the US singer Alicia Keys.
That is why we can say that festival will be ruled by amazing women – singers.
New thing – international Polish Jazz Day.
On April 29 it will be the ''Polish Jazz day'', when two projects from Poland will be introduced – Derrick Mckenzie and Pawel Kaczmarczyk  "Jazz Funk Experience" and "Flue band".
International Jazz day
Kaunas Jazz festival will commemorate the Internation Jazz Day on April 30. There will be performers from Kaunas, Palanga and also Jurbarkas. Jarlies Bernholf music and voice will delight the hearts of jazz lovers – he is a New York resident from Norway, and since 2008 has made a successful solo career. Last year he competed for a Grammy Award in the Best R'N'B album category, becoming the first musician from outside the US included in this prestigious list. The performer's music is compared with Stevie Wonder and Lenny Kravitz. He is a ''Man-Orchestra'' employing not only voice, guitar, keyboards, effects pedals, but he also fascinates the audience with his unique talent and charisma. So Palanga cannot miss this special event.
International Jazz Day in Kaunas will also organize the project "Jazz Street", inviting to enjoy free events in the city centre.
The International Jazz Day will have the final performances in the club "Combo" where you can see the Swedish group ''Koop Oscar Orchestra'' and the famous Lithuanian singer ''Jazzu".
Mother's Day – the group Take 6 Legend
On May 1, ''Kaunas Jazz'' organizers will offer performances by Giedrius Kuprevičius and Liutauras Janušaitis, Jewish jazz improvisation. In Vytautas Magnus church there will be sacral jazz music concert by the guest from Austria "Saed", and in the evening "Kaunas Jazz'' organizers are inviting all mothers of Kaunas to come to ''Žalgiris'' arena for the performance of the group ''Take 6'' – the winners of 10 ''Grammy" statuettes.