Kaunas is ready for mass vaccination: important algorithms have been put together, electronic registration is gaining a momentum.
Kaunas is ready for mass vaccination: important algorithms have been put together, electronic registration is gaining a momentum.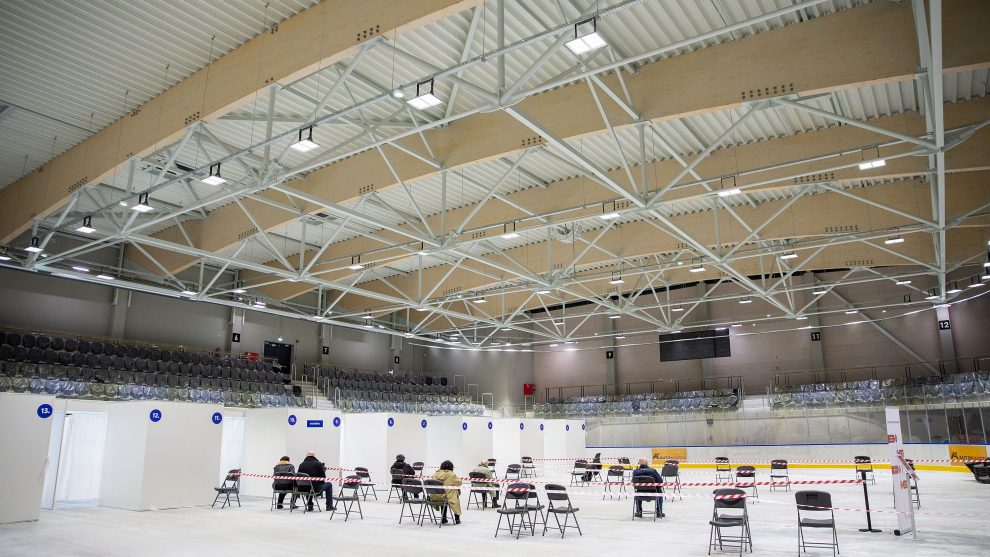 Paskelbta: 2021-04-01 (Thursday)
Each day of a pandemic can present ever new challenges, but systematically planned processes make it possible to step up the fight against COVID-19 threats. Consistent work over the last few months, ensuring a fast, coordinated and safe vaccination process for the population, allows us to state: Kaunas is ready for mass vaccination. The electronic online registration system of Kaunas residents, which started at the beginning of March, will be of special benefit here.
"The experience so far allows us to plan actions well in advance, so we try to prepare 'homework' in advance so that the vaccination of the population in Kaunas would take place continuously. With the current capacity and infrastructure, we are ready for much larger vaccination volumes, so the quantities of vaccines received are currently the only missing component for Kaunas, as well as for other municipalities.
We quickly aligned the necessary algorithms. Thousands of Kaunas residents have already had the opportunity to be convinced of this – a number of positive assessments have been received. Medics, Red Cross volunteers, municipal specialists work together to take care of our city and people," said Paulius Keras, Head of the Emergency Operations Center of Kaunas City Municipality.
Paulius Kibiša, the Head of Kaunas City Polyclinic, is determined to share good experience with other municipalities of the country: "Kaunas has accumulated a lot of experience, which we are ready to share with other municipalities of the country. We have already presented the proven electronic registration system in our city to our colleagues from Vilnius, so the residents of the capital will soon be able to use it as well. Kaunas City Polyclinic, together with the municipality, devotes a lot of resources to the successful vaccination and today's figures confirm it. However, in the face of the pandemic, there cannot and must not be competition between municipalities – only by combining mutual knowledge and experience can we effectively protect the people of the whole country."The interlocutors listed the 10 most important steps that were taken to ensure a smooth vaccination in Kaunas. According to him, this allows us to reasonably claim that the population is fully prepared for mass vaccination.1. At the beginning of March, the first electronic registration system for COVID-19 vaccinations in the country was launched – vakcinavimas.kaunas.lt. About one and a half thousand Kaunas residents have already used the direct registration platform, but these numbers are growing every day. Currently, seniors belonging to the 65+ age group register independently or with the help of relatives, but in the near future the service will also be available to residents with comorbidities and other persons in the priority queue. Here, users can fill in all the necessary vaccination forms, control questionnaires and choose a convenient vaccination time and the vaccine available in Kaunas at that time.2. At the end of February, the largest in Lithuania vaccination center was opened in the new Kaunas Ice Palace (Kovo 11-osios g. 26, next to Girstutis). Here you can usually vaccinate up to 6 thousand people every day, and even more at full capacity. There are currently 16 vaccination booths and a permanent team of at least 100 people: 75 doctors and nurses, emergency medical staff on duty, several dozen volunteers.3. The Ice Palace vaccination center has a special information system that allows direct viewing of visitor flows, duration of vaccination procedures and other important parameters. The data helps to organize work more smoothly and adjust algorithms to the real situation in a timely manner.4. To ensure that vaccines are available to all, social workers help single, elderly people to register and go to the vaccination center. Kaunas residents, who belong to the priority groups and are unable to move independently due to their health condition, are vaccinated at home by doctors.5. In mid-January, a "hot" Vaccination Line was established at Kaunas City Polyclinic (tel. 8 37 401 420). A team of 17 people works here, providing all the relevant information about the vaccination of the population in Kaunas, consulting and providing information about the used vaccines, as well as helping to register the priority population who cannot do it online. In just a couple of months, more than 70 thousand calls have been received.6. Kaunas municipality is the only one in the country that has purchased additional freezers for storing vaccines. Ultra-low (-75 degrees) freezers provide "cold chain" support and ideal conditions for BioNTech / Pfizer vaccine deliveries to the city.7. The optimal use of incoming vaccines is ensured by adjusting the flow of incoming people so that doctors use all the started doses of vaccines on a daily basis. It is estimated that only a few dozen units out of 84,000 doses received have been lost since the start of vaccination. Ten of them are due to a damaged vaccine bottle during transport.8. A centralized database – sveikas.kaunas.lt has been created for medical institutions, companies and various organizations operating in Kaunas. Strictly following the order of priorities set by the Minister of Health, the website provides detailed and secure lists of staff and patients for registration for COVID-19 vaccines, as well as proactive PCR and antigen testing. To date, about 30 thousand residents have been registered through the system. 9. In case of a significant increase in the amount of vaccines received, if the flow of patients in the Ice Palace of the vaccination center exceeds 10 thousand people per day, it is planned to open the premises kept in reserve. The vaccination point in Kaunas Central Post Office was already tested at the beginning of the year. Up to one and a half thousand people can be vaccinated here a day.10. Of the large municipalities of the country, in terms of population size, Kaunas residents have been vaccinated most effectively with all three vaccines available in Lithuania. It is estimated that more than 15% of Kaunas city population have already received the first vaccination, and with the second vaccine, immunity to coronavirus infection should have developed by at least 7% Kaunas residents.
Video link how to register online https://youtu.be/nXq8ikdo85w
Public Relations Information