Kaunas Ice Palace Starts Operating as the Largest Vaccination Center in Lithuania
Kaunas Ice Palace Starts Operating as the Largest Vaccination Center in Lithuania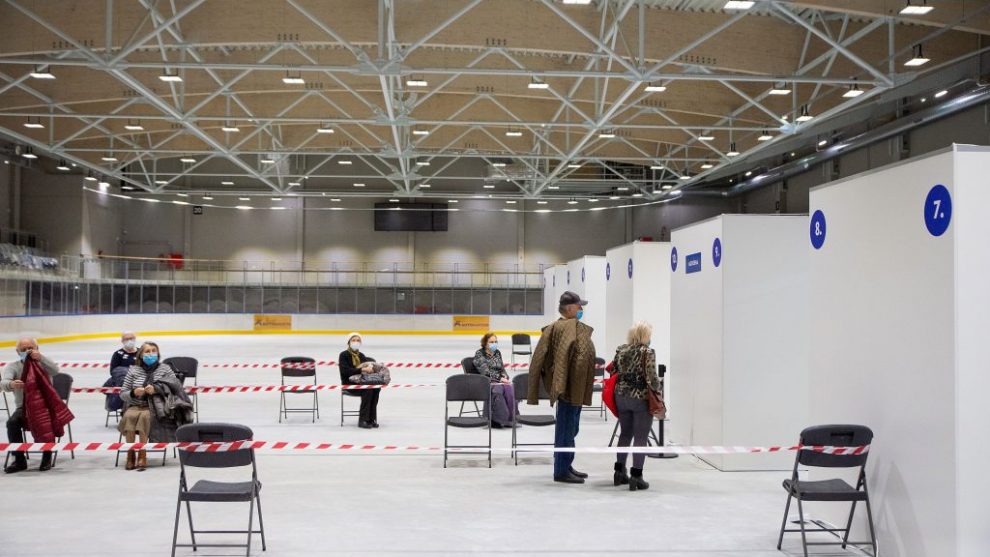 Paskelbta: 2021-02-26 (Friday)
This week, next to the "Girstutis" complex, the new Kaunas Ice Palace has emerged. A modern winter sports arena, which was completed in January, became the largest vaccination center in Kaunas and in the whole country during the pandemic period. Doctors temporarily based here have already vaccinated several hundred seniors against COVID-19. It is estimated that it will be possible to serve up to 10 thousand Kaunas residents.
Instead of Central Post Office – Ice Palace
While gaining momentum for vaccination in the country and preparing for mass vaccination, Ice Palace has emerged in Kaunas. The new arena has been chosen as the main vaccination center due to the well-located large spaces, which will allow smoother and safer vaccination of Kaunas residents.
The team of Kaunas City Polyclinic will constantly work here. It will consist of about 70 people: 20 doctors, 40 nurses and at least dozens of other support staff.
"Until now, the Central Post Office was the epicenter of vaccination in Kaunas, but for the time being we will keep it in reserve. Especially since the quantities of vaccines available are still quite limited. So from March 1, all processes will move to the Ice Palace. Medics have put together an action algorithm to make visitors here feel safe and served as quickly as possible.
It is also symbolic that Kaunas Ice Palace was established with the aim of promoting a healthy lifestyle, and now it is becoming a place that will help us recover faster and return to the pre-pandemic rhythm. Vaccination is currently the best preventive measure against COVID-19. We believe that most Kaunas residents will rely on today's medical science and thousands of them will visit this vaccination center when it is their turn to do that," said Mr. Paulius Keras, Head of the Emergency Operations Center of Kaunas City Municipality.
Kaunas Ice Palace, located in the Dainava district, is easily accessible by public transport, and a parking lot for 100 people is available for Kaunas residents arriving by car. The temporary vaccination center is also easily accessible for people with disabilities, adapted for the elderly who have difficulty moving – the halls are accessible by elevator.
The infrastructure is fully utilized
In the 7.5 thousand sq. m. area, resident flows are proportionally distributed and do not mix with each other. Kaunas residents will enter the vaccination center through one entrance and leave through another. Group of Red Cross volunteers are helping visitors to find their way.
At the Ice Palace, patients will be immediately divided into two streams: one will be sent to a separate hall to fill out questionnaires and forms, and those who filled documents online will immediately move to the arena sites, where the ice will be temporarily replaced by vital medical infrastructure.
One site is a vaccination area and the other can be equipped for rapid serological testing of antibodies if necessary. Currently, 16 vaccination booths are set up here under a special scheme, but this number could quickly double if needed.
Immediately after the vaccination, residents are directed to a 170-seat observatory, where they must spend at least 15 minutes. Emergency medical personnel on duty supervise patients sitting at a safe distance after the vaccination procedure, so that qualified assistance can be provided as soon as necessary.
It is estimated that the new vaccination center can serve up to several hundred patients at a time, and working at full capacity in Kaunas, up to 10 thousand people can be vaccinated per day.
International examples
"Due to the pandemic, the city could not invite winter sports enthusiasts to the opening ceremony of the new Ice Palace, but because of that we have an ideal place to work. Conditions for vaccination are much better here – more space, better lighting, modern heating and ventilation systems, as well as flow management.
All the processes are going smoothly – in just a few days we have vaccinated several hundred seniors, and today we have another 645 patients on the list to be vaccinated. A special information system allows directly seeing the flow of visitors, the duration of procedures and other important parameters, which will help to organize work even better, taking into account the real situation and the analysis of objective data. We are ready to increase the pace as soon as we receive more vaccine," stated Mr. Paulius Kibiša, Director of Kaunas City Polyclinic.
One of the starting points for planning the movement flows and the use of the premises of Kaunas Ice Palace was the work at the Central Post Office. In addition, international practice has served. In Germany, Britain, USA and other countries, large sports arenas are already being transformed into vaccination centers. It is the first center of this scale in Lithuania so far.
Mr. Justinas Dzidzevičius, the head of the Kalniečiai branch of Kaunas City Polyclinic, who coordinates the COVID-19 vaccination and testing processes, admits that the new vaccination center in Kaunas has been created only after in-depth analysis of foreign and local examples. The most proven patient flow and staff management processes, premises allocation and marking principles have been applied in the Ice Palace.