Kaunas culture will 'debut' in Vilnius book fair
Kaunas culture will 'debut' in Vilnius book fair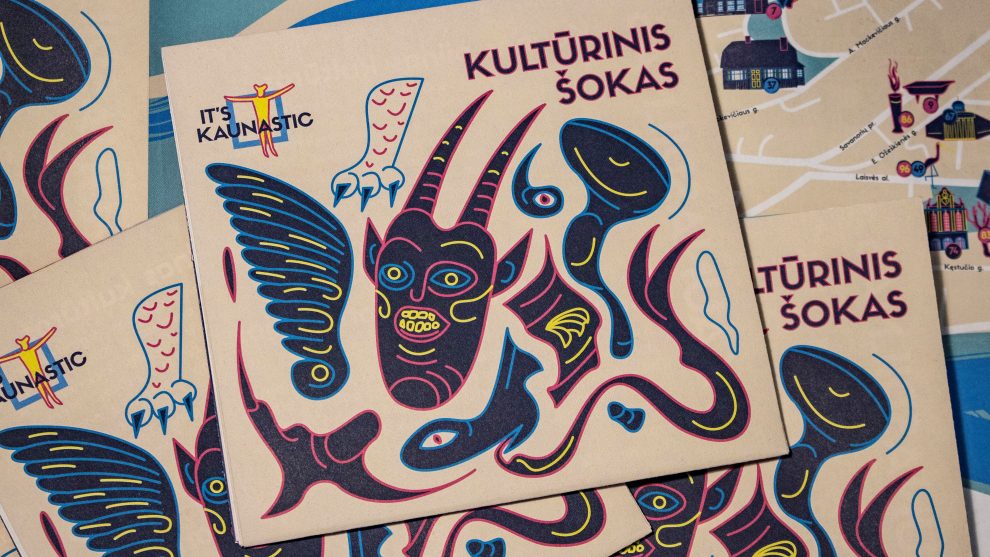 Paskelbta: 2019-02-27 (Wednesday)
Illustrated route in Kaunas series 'It's Kaunastic' was supplemented by a new map. 'Culture shock' – it is more than 100 city cultural institutions, museums, galleries, music clubs, unexpected souvenirs offering shops and other places.
Route 'Culture shock' was prepared by city business development, tourism development and international marketing agency 'Kaunas IN' with Kaunas artists home, who are already counting fifth decade of activity years. Besides, this culture hearth was included in new map – almost every day there are going on concerts, book presentations, movie reviews, discussions, exhibitions and also modern art and theory bookstore 'Six Chair Books'.
In the illustrated map, created by Inga Navickaitė, there are well known city symbols as Kaunas castle, also St. Michael the Archangel Church, which invites everyone to take a walk on dark catacombs. Moreover, there are Pažaislis Monastery, which invites to visit museum of sacred art, also modern art gallery POST and 'Art park', which shapes XXI c. face of city. And lastly, it includes recognition abroad received project 'In city. In streets. Gallery without walls', and jazz academy that are in one of Kaunas part – Šilainiai.
Coincidence, but the first Kaunas culture map from printing house goes to capital – from Thursday to Sunday it will be a possibility to find it, to see it and to take as much as possible in Kaunas art home stand in Vilnius book mart (Nr. 3. 32). In the stand it will be a possibility to find Kaunas art home published monthly magazine 'Kaunas full of culture' and also its 2018 yearbook in Lithuanian and English languages. Visitors also will be allowed to see scalpel Kaunas biennial catalog, also it will be possible to buy debut release by bookstore 'Six Chairs Books', novel by Valentinas Klimašauskas 'Polygon' and also many other interesting stuff, which presents culture face of Kaunas city.
'Culture shock' in organic way extends 'It's Kaunastic' routes, in which there are marked art objects of Kaunas streets, modernistic architectures examples, heritage of Jews in Lithuania, sights of Žaliakalnis. Free publications of routes can be found in 'Kaunas IN' tourism information center (Rotušės sq. 15, Kaunas), Kaunas artist home culture informational center (V. Putvinskio st.  56) and also in many other tourism and culture city places. Besides, they can be also found in Vilniaus book mart. Publications of digital version can be easily found on internet.
Information by communication with society department