Kaunas bus station was opened for the public after reconstruction
Kaunas bus station was opened for the public after reconstruction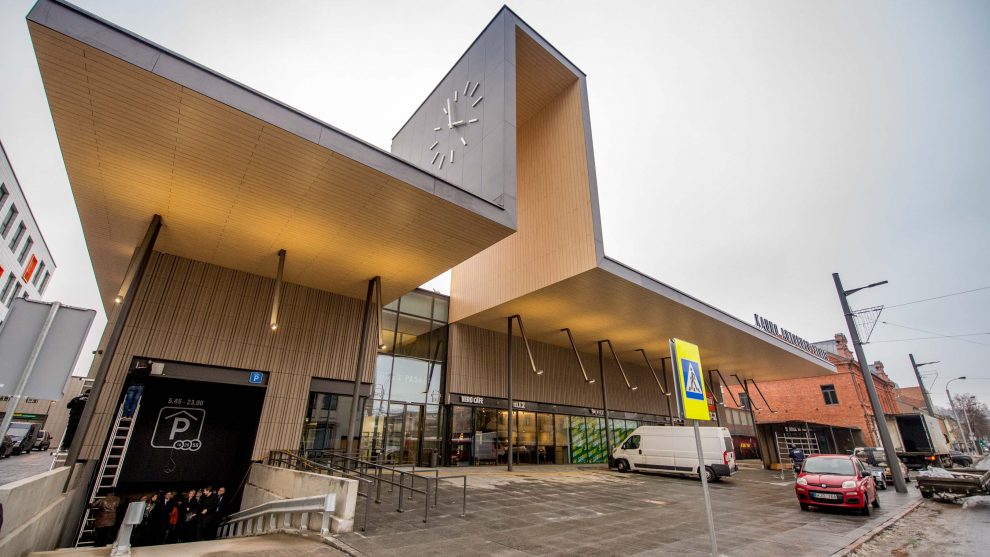 Paskelbta: 2017-01-23 (Monday)
This Monday Kaunas bus station was opened for the public after a year and a half of reconstruction. The station meets people not only with modern building with impressive clock, but also with a lot more spacious waiting room for passengers, modern passengers informing system, underground parking and many other innovations.
"Theatre starts from a cloakroom and a city starts from a bus station. This kind of object for the city was necessary long time ago, that's why we are happy, that the station was built quickly and its architecture is exclusive" stated Kaunas City Mayor Visvaldas Matijošaitis.
There are 21 departure and 3 arrival bus platforms functioning in Kaunas bus station. To inform the passengers'   information displays were installed in the station as well.
"New station is not only more beautiful or modern, but it is also more informative. Passengers can easier find information about bus departures or arrivals. All information is given in real time" talked JSC Kautra Director-General Linas Skardžiukas.
The most modern station
In Kaunas bus station in addition to usual ticket offices self-service terminals will be available, which will ensure fast and convenient ticket purchasing with bank card payments. It is the first self-service ticket selling terminal in Lithuania.
One more interesting and not seen innovation is a parcel shipping drive-in service. From now Kaunas residents who were using shipping by buses services, will give or get their shipments fast and easy without stepping outside of the car. One way road is constructed between the station and the nearby standing hotel for parcel transportation.
"Public buildings of this kind of architecture and design are really necessary for Kaunas. The new bus station has an exclusive face, which creates added value for the city" stated famous Kaunas architect Gintaras Balčytis, who made the reconstruction project.
Passengers and their relatives can arrive more conveniently and leave their cars at underground parking. This free (for the first two hours) public underground parking can accommodate almost two hundreds cars. To enter to the underground parking it is possible in two ways: from Vytautas avenue and from restored Girstupis street.
"We can surely declare that the reconstructed Kaunas bus station is the most modern station not only in Lithuania but also in the Eastern Europe" talked L. Skardžiukas.
The biggest in Lithuania
During twenty-four hours Kaunas bus station shall be visited by more than ten thousand people arriving with approximately 700 intercity and international buses. Total area of the station building is 13 thousand square metres. Station project value is 9 million EUR, construction lasted 1,5 year.
Facts
Bus station platform
10 000 people during twenty-four hours
700 buses during twenty-four hours (international, intercity, suburban routes)
21 departure platforms
3 arrival platforms
Underground parking capacity
187 cars
100 bicycle
Car parking is free for the first two hours
Information provided by Public Relations Subdivision