Kaunas begins the partnership with Ireland's education and science specialists
Kaunas begins the partnership with Ireland's education and science specialists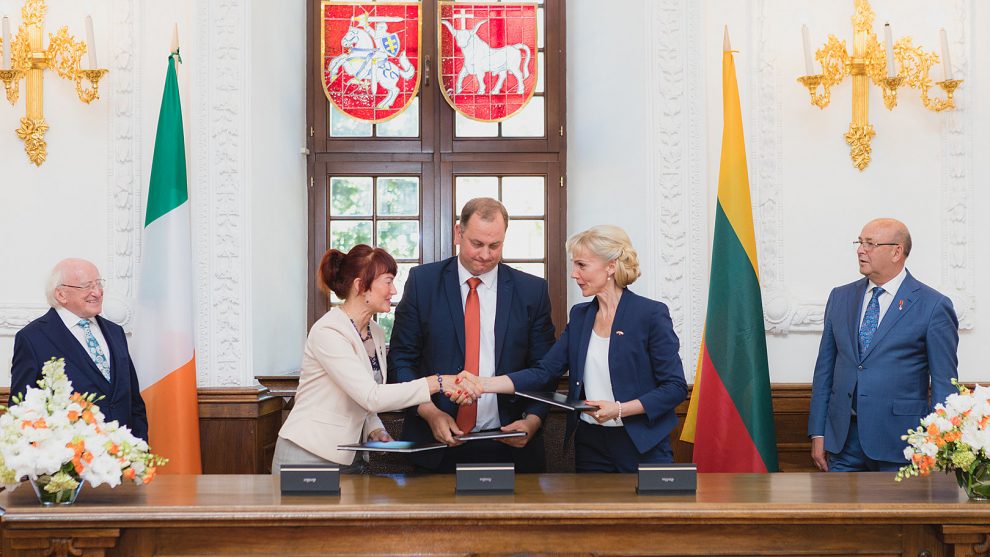 Paskelbta: 2018-06-25 (Monday)
Official visit of Mr. Michael D. Higgins, the President of Ireland Republic, to Lithuania marked a new beginning of the co-operation with Kaunas and all Lithuania. Three cooperation agreements were signed in the field of science and education during the solemn ceremony at Kaunas City Hall.
Lithuanian Health Sciences University with National University of Ireland have begun a co-operation after signing the Memorandum of Understanding. Meanwhile Kaunas Teacher Training Centre established new relations with Cork Education Support Centre. In the meantime, Kaunas "Veršvų" Gymnasium signed a tripartite agreement with Cork Lithuanian School "Banga" and Kaunas Teachers Training Center.
"These agreements – a solid recognition and valuation of our work. While assuring qualification of Kaunas' pedagogues we put efforts to improve ourselves as well. Establishment of connections with colleagues from Ireland will no doubt provide us new experiences which results should reflect on daily work in improving the quality of education service" – said director of Kaunas Teachers Training Centre, Ms. Rasa Bortkevičienė.
"These agreements between Ireland and Kaunas education and science institutions will undoubtedly contribute to development of friendly relations" – assured Kaunas City Mayor Mr. Visvaldas Matijošaitis.
Moreover, Kaunas has close cultural ties with the city of Galway which will become European Capital of Culture in 2020. Kaunas will take this title in 2022.