Kaunas Aid to Ukraine: 4 More Buses Arrive in Lviv, Humanitarian Delivery to Kharkiv is Being Prepared
Kaunas Aid to Ukraine: 4 More Buses Arrive in Lviv, Humanitarian Delivery to Kharkiv is Being Prepared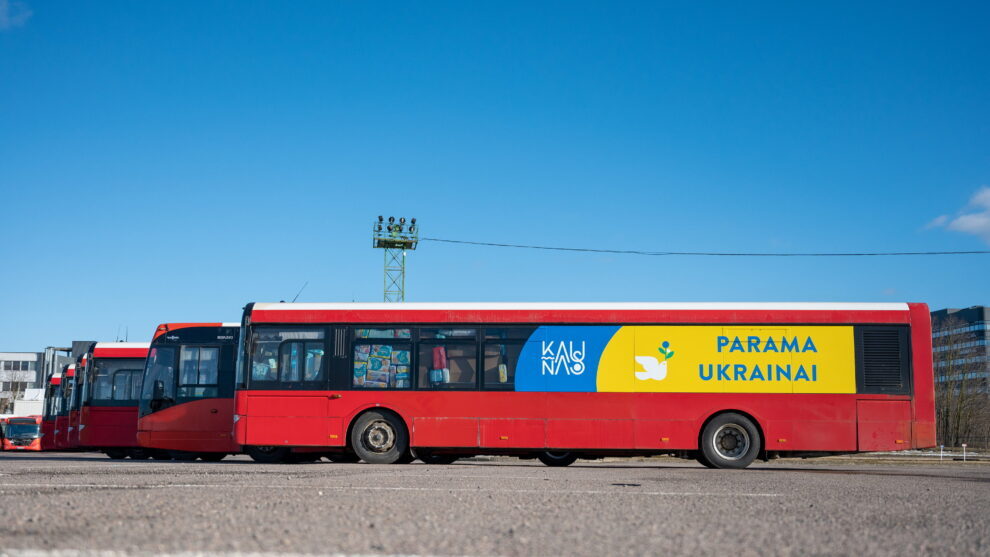 Paskelbta: 2022-03-25 (Friday)
Last night, four buses arrived in Ukraine, successfully transporting humanitarian aid from Kaunas. The support of Kaunas residents gathered near the Carmelite Church with baby and children's food, essential hygiene supplies and medicines was presented to the residents of Lviv this time. In the coming days, another shipment is planned – to Kharkiv. From now on, support is collected at a permanent point in the yard of the company Kaunas Energy, on Raudondvaris highway (entrance from Brasta Street).
"In the face of the war, our city is operating in two directions – it takes care of the refugees who have found shelter in Kaunas and provides humanitarian assistance to the survivors of Ukraine and survivors of military attacks. They are increasingly lacking in basic products. There will undoubtedly be an increase in the number of people coming to Kaunas.
We are grateful to all those who contribute to humanitarian aid. We aim to coordinate the collection of such support as much as possible. It is necessary to ensure that it proceeds in a targeted manner and reaches the Ukrainians exactly what they need most now. We will inform residents about the changing needs," said Paulius Keras, head of the Emergency Operations Centre of Kaunas Municipality.
A week ago, the first 6 buses with humanitarian shipments successfully reached the city of Lutsk. Photographs and a thank you addressed to Kaunas residents appeared on Ukrainian media channels. During this time, Kaunas Buses technically arranged and prepared the remaining 4 buses for a long trip. These "Solars", which have been rolling on the streets of Kaunas for many years, will remain in Ukraine together with all the cargo transported.
For some time now, a permanent support collection point for the Ukrainian people has been operating in Kaunas. All those who wish and can contribute are welcome in Vilijampolė, in the yard of the company Kaunas Energy at Raudondvaris pl. 84 (entrance from Brasta Street) on weekdays from 12:00 to 19:00 and on Saturdays from 10:00 to 15:00.
From there, a tugboat loaded with humanitarian aid will move in the coming days. The shipment will be destined for Kharkiv, which has been severely affected by Russian hostilities.
"We are in constant contact with Kaunas-related cities – Lutsk, Lviv and Kharkiv, and receive their requests for help with clearly stated needs. Currently, various hygiene products, diapers for children and adults, as well as food with a long shelf life are especially needed," said Lina Duobaitė, head of the Foreign Relations Department of Kaunas Municipality.
Food, household appliances, hygiene items and other items shall be accepted at the permanent support collection point. Some of them will be transported to Ukraine, others will be distributed for the needs of war refugees staying in Kaunas.
Benefactors are encouraged to objectively evaluate and present only neat items in perfect condition. Food and hygiene products in the original packaging.
Residents and business representatives are asked to follow the following list:
food (products with a long shelf life, food for babies and children);
diapers (for children and adults) and hygiene products;
personal cleanliness and toiletries;
intimate hygiene goods (packages, pads, tampons);
warm clothing and footwear (only not worn and tidy);
bandage, medicines and other medicines (accepted only from pharmaceutical companies);
well-functioning household appliances (kettles, stoves, refrigerators, washing and drying machines);
furniture (beds, cabinets, shelves, kitchen tables and chairs);
mattresses, bedding, and towels.
When selecting specific products or a group of products from the list provided, they are requested to be delivered only in carefully packaged form. When donating warm clothes or footwear, indicate the sizes on the packages. The list of support collected for Ukrainians is constantly updated on the Internet: ukraina.kaunas.lt
Public Relations Information