Kaunas accepts ,,European Cycling Challenge 2016"
Kaunas accepts ,,European Cycling Challenge 2016"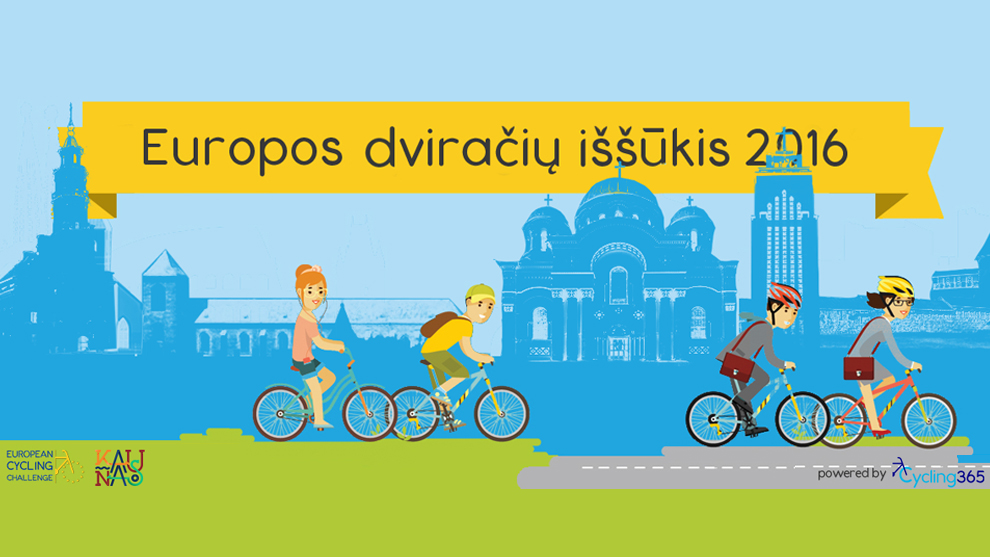 Paskelbta: 2016-04-21 (Thursday)
Kaunas City intends to participate in international initiative ,,European Cycling Challenge 2016" for the 4th time this year. Kaunas has ambitious goals this year. During May, European citizens will take part in the challenge competing which city cyclists will travel the most kilometres.
This year, more than 40 European cities, including 3 Lithuanian cities – Kaunas, Klaipėda and Telšiai, will participate in ,,European Cycling Challenge 2016". Bicycle lovers are invited to register and to participate in the biggest European cycling competition.
,,For the entire month of May cyclist teams of European cities will compete against each other trying to travel more kilometres than other cities. This is a funny and easy way to challenge yourself, your friends, colleagues and other cities. We aim to promote cycling culture in Kaunas and to make bicycle trips an everyday occupation. In this year's challenge, we set the ambitious goal to reach the best result throughout the whole history of participation in the race'', – said Vice-Mayor of city of Kaunas, Simonas Kairys.
So far, Kaunas has accepted "European Cycling Challenge" for three times. Highest place, 5th out of 12 European cities participating in competition, Kaunas took 3 years ago. Meanwhile, the maximum total distance was tread by citizens of Kaunas in 2014, when this number reached the limit of 53.7 thousand of kilometres.
,,Citizens of Kaunas, who are willing to participate in the challenge, should join Kaunas team (http://cyclingchallenge.eu/lt/), download free app "Cycling 365" for their smart phones, and from the start of May, every time while on a bike, not to forget to turn it on'', – said Kaunas team coordinator Kristina Dėdelienė.
Every cyclist who wants to track their trip can choose 1 from 3 ways: to use "Cycling 365" app in their smart phone, to capture trip manually in website cycling365.eu or upload .gpx file with your trip, made while using another GPS tracking system (more information here).
Cyclists, who want to create teams – their work places, schools, university, community or friends group, are invited to reach Kaunas team coordinator through e-mail: [email protected].
Public Relations Department informatio