"Kaunas 2022 Bus" Will Bring a Festive Mood to Kaunas Residents
"Kaunas 2022 Bus" Will Bring a Festive Mood to Kaunas Residents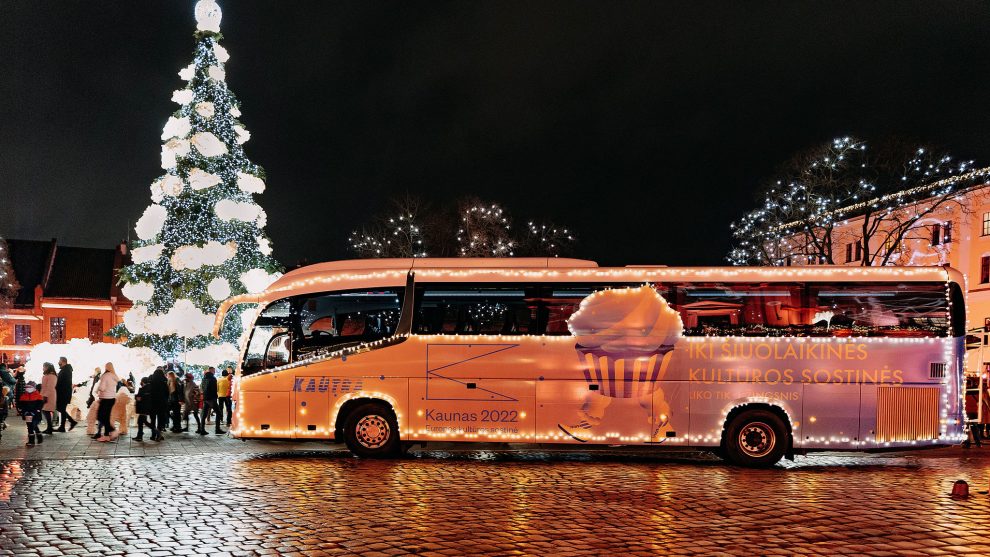 Paskelbta: 2020-12-02 (Wednesday)
This year, the Christmas season will be different: there will be no Christmas towns in the central city squares and some holiday habits, such as buying gifts or parties, will move to the virtual space. However, "Kaunas – European Capital of Culture 2022" team invites citizens to maintain festive spirit, because Christmas mood will come to the residents' yards by Christmas bus.
"Since we cannot attend the usual Christmas concerts this year, together with Kaunas City Municipality and well-known performers we came up with different solution. For two weeks until Christmas, a bus decorated with Christmas motifs will visit different yards of Kaunas neighbourhoods. Christmas bus will play Christmas songs specially dedicated to Kaunas by well-known Lithuanian performers: selected by them from the Christmas repertoire or recorded for this project. We have planned to spread the festive mood in various places of Kaunas – 11 yards of Kaunas neighbourhoods and entrances of Kaunas hospitals in order to express support for  medicine workers," says Ms. Irutė Tumaitė, Marketing Manager of  "Kaunas 2022".
Jurga Šeduikytė, a well-known and loved singer and the ambassador of "Kaunas 2022", will start the festive bus trip. The singer will travel to one of the neighbourhoods  on the evening of December 3, and residents will be able to hear recordings of this artist's Christmas songs. With the "Kaunas 2022" campaign, Jurga shared her own version of the legendary song "Let It Snow! Let It Snow! Let It Snow!"
"On other evenings of December, the Christmas bus will provide a concert of up-to-date Christmas records. Kaunas residents will hear the recorded Christmas music of "Kaunas 2022" ambassadors Linas Adomaitis, "Golden Parazyth", Rūta Mur, groups "Baltasis Kiras", "Antikvariniai Kašpirovskio dantys", "Antis", "Colors of Bubbles" and others. Those who will miss the Christmas bus will be able later to find Christmas records on one of the well-known music platforms, "says Ms. Tumaitė.
The festive mood will be brought by KAUTRA bus.
"We have set ourselves a goal to create something beautiful and festive for this Christmas. I am glad that we were able to communicate with "Kaunas 2022" team because together we will be able to bring a real Christmas mood to the yards of Kaunas residents. We have dedicated the latest and top-class bus for the project, which will have a special design for the project and will undoubtedly strengthen the anticipation of the big holidays," said Mr. Justinas Vadluga, Marketing Manager of "Kautra"
The organizers invite residents to actively wait for the Christmas bus by decorating the yards or windows of their homes with Christmas lights and other festive decorations. If you would like a Christmas bus to arrive, please register here.
On December there will be even more surprises in order to support the festive spirit. This Christmas is special because it is one year away of Kaunas becoming the European Capital of Culture. The "Kaunas 2022" team invites residents to get involved in the social network-initiated campaign "Vienas žingsnis iki tikslo" and to share their goals. "Kaunas 2022" team, together with partners #walk15, will invite you to walk throughout entire 2021 for the ten most community unifying goals.