It's official: the Final Four of the Euroleague will take place in Kaunas
It's official: the Final Four of the Euroleague will take place in Kaunas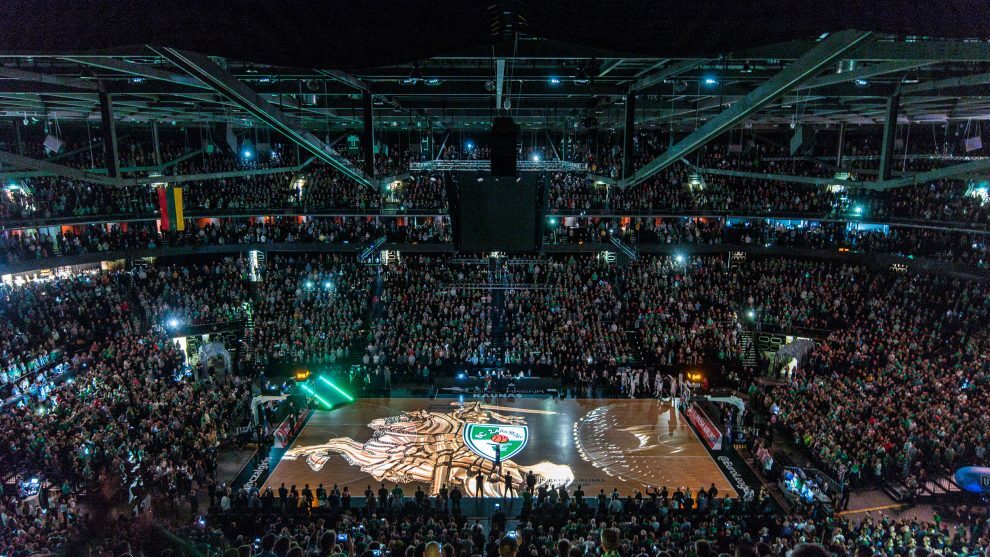 Paskelbta: 2022-12-22 (Thursday)
A historic event – for the first time, the finals of the highest level European clubs basketball will be held in Lithuania. On May 19-21, a historic, for the country and the city of Kaunas, Euroleague Final Four tournament will be held at the "Žalgiris" arena. Euroleague confirmed that in 2022-2023 the season will end in one of the most visited and most modern arenas in Europe. On Friday, May 19, two semi-final matches will be played at the "Žalgiris" Arena, and the duels for the third and first place will take place on Sunday, May 21.
Kaunas City Municipality, which is never indifferent to sports, contributed significantly to bringing such a tournament to Lithuania.
"Lithuanian basketball was born in Kaunas, so it is a matter of honour to ensure that the Final Four of the Euroleague will finally take place here. Kaunas really deserves this prestigious tournament. Let it be a big, beautiful celebration, which will be created together by the strongest clubs of the Old Continent, the people of Kaunas and thousands of fans from all over Lithuania and abroad," – said Kaunas Mayor Visvaldas Matijošaitis. – "Sports in Kaunas have always gone hand in hand with culture – in 2022 we were the European Capital of Culture, and next year we will be happy to host the final matches of the Euroleague."
For several years, Kaunas has been one of the candidates to host the Euroleague Final Four tournament – according to research; even 43 percent of Lithuania residents are interested in Euroleague matches. In the spring of 2023, the residents of Kaunas and other cities will be able to see the matches of the Final Four of the Euroleague live.
"The decision to hold the Euroleague Final Four tournament in Kaunas is a top-level assessment for the entire organization of "Žalgiris". For many years, we have been striving for this prestigious event to take place in our country, so we are more than happy that our work has been appreciated. We thank the Kaunas City Municipality, which supported our aspiration and enthusiastically agreed to contribute to the organization of this tournament, said Paulius Motiejūnas, director of Kaunas "Žalgiris". – A lot of work, communication with the Euroleague awaits, but we are ready for it. We will do everything to make this the best Euroleague Final Four celebration in history."
Euroleague representatives also explained their choice to host the Euroleague Final Four in Kaunas.
"We are very pleased that Kaunas joins the list of hosts of the Euroleague Final Four. In just 6 months, Europe's best teams will fight in front of the most passionate spectators, because Lithuania and basketball are synonymous, – claimed Euroleague President Dejanas Bodiroga. – I want to thank the city of Kaunas and Kaunas "Žalgiris" club for their commitment and desire to organize the Final Four tournament. Working together, we are sure to give all basketball fans another unforgettable event."
Thousands of basketball fans from abroad are expected to visit Lithuania during the Euroleague Final Four, which means that the country's businesses will also feel the financial benefit.
Ticket sales for the Euroleague Final Four will start on January 17 on the website f4tickets.com. Tickets for all 4 matches (the semi-final matches on 19 May, the third and first place matches on 21 May) will be available for public. Tickets will be divided into seven price categories and will cost from 56.25 euros to 128.75 euros for 1 match and from 225 euros to 515 euros for all matches (plus taxes).
A day earlier, on January 16, tickets with a special code (which will be announced in person in January) will be available to "Žalgiris" seasonal ticket holders, EuroleagueTV subscribers and previous Final Four ticket buyers.
Fans who have purchased tickets but are unable to attend the event will be able to sell tickets on the same f4tickets.com website. Tickets purchased illegally will not be valid.
"We are happy that the Euroleague Final Four is coming to such a basketball-crazy market as we have in Lithuania. From May 19 to 21, all basketball fans will be able to become part of the incredible atmosphere in one of the best and most modern arenas in Europe. In addition, fans will be able to enjoy a real celebration of basketball throughout the city, where more than one event will be held in parallel, said Euroleague Executive Director Marshall Glickman. – I want to express my gratitude to both the Kaunas City Municipality and the "Žalgiris" arena for the reception, as well as to the thousands of loyal fans who will come to the Final Four and have a priceless experience here."
By the way, the Euroloeague's Final Four of year 2023/2024 will be enjoyed by residents and guests of the German capital city Berlin.