Important Warning Tables in Entertainment Spaces in Kaunas
Important Warning Tables in Entertainment Spaces in Kaunas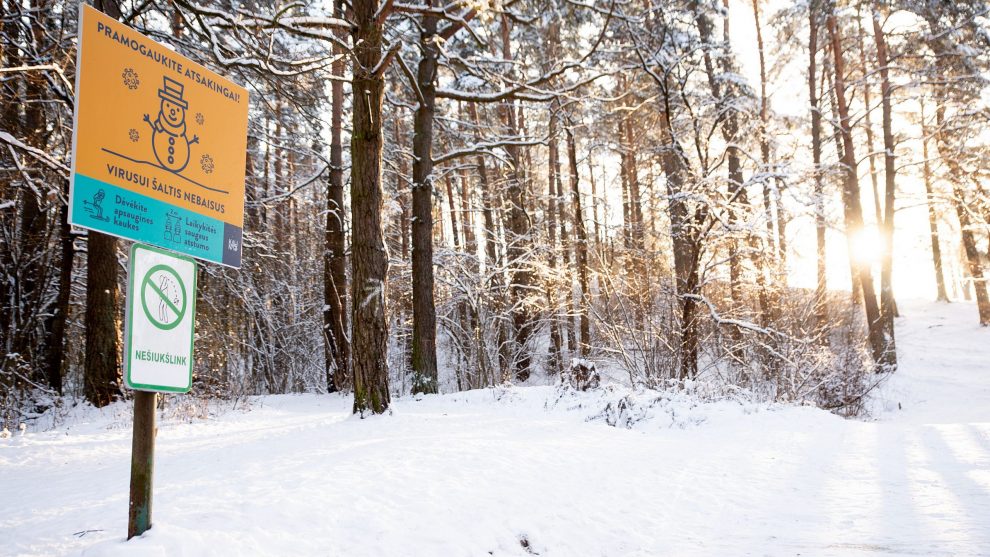 Paskelbta: 2021-01-18 (Monday)
For those who want to enjoy winter in public spaces in Kaunas – important warning tables. In the winter entertainment spaces that have become a mass attractions warnings will remind about essential requirements for quarantine. It is planned to implement such tables in 15 different public places in Kaunas.
"Entertain responsibly. Virus is not afraid of cold weather", – playful tables announce the need to wear protective masks and keep a safe distance.
It has been observed that as soon as snow falls, many have forgotten requests not to gather and to follow quarantine rules.
Until now, specialists of the Public Order Department of Kaunas City Municipality and police officers, who have supervised the order and disciplined the residents with benevolent warnings, have received reinforcement. And the new warning tables will encourage entertainers to wear face shields and keep a safe distance, even when descending or climbing mountains.
"You will not receive a fine for speeding when descending on sledges or skis from the mountain, but a forgotten mask can cause inconvenience, so it is important not to forget the basic rules and diligently follow them," says Mr. Paulius Keras, Deputy Director of Kaunas City Municipality Administration.
Currently it is important to have not only having warm clothes, sleds or skis, but also other important attributes. Residents are urged to wear protective face masks, to avoid gatherings, to keep safe distances from each other.
According to Rimantas Vilimas, Head of the Public Order Department of Kaunas City Municipality, officials and specialists carry out inspections in public places even on weekends: "Recently, we have been working every day, paying more attention to the control of winter entertainers. Citizens do not keep a safe distance at the hills, not everyone wear face masks – so far we are limited to benevolent warnings.
We also remind you about safety recommendations in public places through the loudspeaker. This draws the attention of the population in particular. We understand that people are longing for entertainment, but we encourage them to act responsibly. The quarantine is not over, so compliance is essential."
The first special warning tables in public places of entertainment in Kaunas will be visible already this weekend.
Restrictions on quarantine require that persons over the age of 6 must wear masks that fit snugly and completely cover their nose and mouth in all public places. Exceptions apply to athletes, participants in official competitions, as well as people with disabilities who are unable to wear masks due to their medical condition. They are recommended to wear a face shield.