Global innovator of United States of America about Kaunas: "Things here are going really well"
Global innovator of United States of America about Kaunas: "Things here are going really well"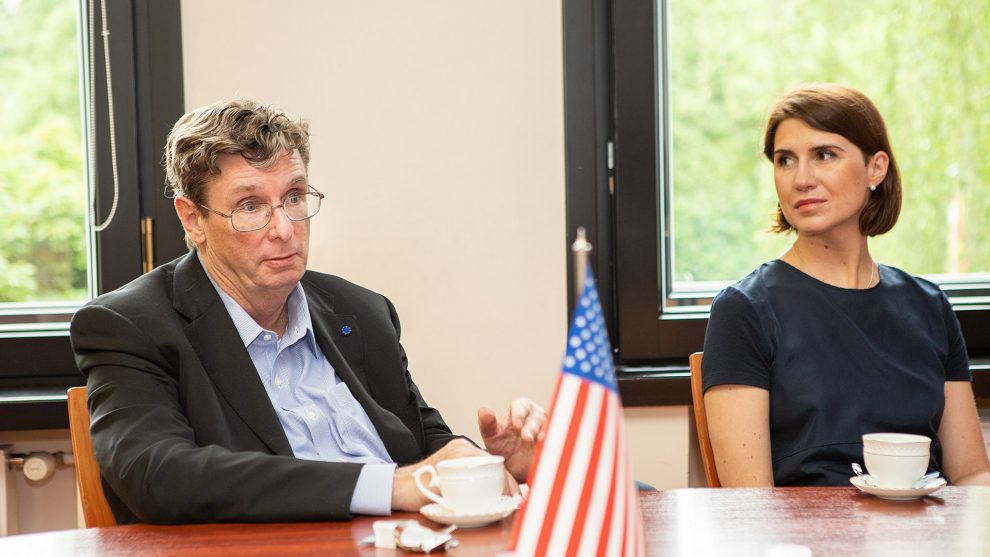 Paskelbta: 2018-05-21 (Monday)
A famous United States of America businessman, innovator and author of several books dr. Curtis R. Carlson, after meeting with Kaunas City Mayor, Visvaldas Matijošaitis, said lots of compliments and advices from his own experience on the prospects for further progress. Assessing the city's progress so far, the visitor shared insights on the interconnections between innovation, education and economics and their importance in today's market.
Curtis R. Carlson is known as the founder and executive director of "Practice of Innovation LLC" and the long-standing president of "SRI International". The company, during his leadership, has become a global example of creating high-value innovation. The most well-known of them is the nowadays high-definition television (HDTV), the Siri technology introduced on iPhone phones, and intuitive robotic solutions for modern-day medical breakthroughs. These and many other world-changing innovations have created a multi-billion dollar value.
"I feel wonderful in Kaunas. Great people, nice environment. I am impressed that I am able to stay here. Obviously, things are going well in your city, but despite this, there is a need to discuss how to bring that prosperity to the next level. In my opinion the key moment is education and the ability to create value in various activities. That is exactly what should be teach at universities. Students will then be able to feel successful in today's world and will be able to create their own future here, rather than going to seek happiness abroad.
Of course, in most cases, without money expenses are inevitable. But even then you need to be able to use the funds productively and creatively. When traveling around the world I often notice that in most cases work is done without creating a clear value. This is also true for America itself, "Dr. C. R. Carlson shared his impressions and thoughts.
During his stay in Kaunas, the guest met with the rectors of the VMU, KTU and LSMU Universities, representatives of organizations working in the field of innovation. Innovators who patented valuable inventions in the field of medicine did not miss the opportunity to visit the Lithuanian University of Health Sciences Clinic, where he met with one of the best cardiology doctors in our country – Rimantas Benečis.
Finally, Carlson completed his visit participating in the discussion about the development of IT technology and the challenges and opportunities facing today's businesses in the Science and Technology Park in Santaka Valley.
"Nowadays, the size of a country or a city is no longer an important and determinant factor. It all depends on how you work and able to co-operate, "the American spoke inspiringly, illustrating his thoughts through his personal example. – I once started to lead the company when it was in a very difficult position. We were left with the same team of employees in the same premises, but we made a fundamental change – we changed our attitude to work. And that was enough to get on our feet and achieve great results. "
At that time, Kaunas City Mayor V. Matijošaitis told the guest about the main activities of the city today: "Kaunas is growing faster, attracting foreign investors. Accordingly, the supply of jobs is expanding, and employers are looking for good specialists. So, we are interested in attracting more people to Kaunas, investing in the fact that it would be good to live not only for individuals but also for families. "
Dr. C. R. Carlson is a member of the National Institute of Inventors. He worked at the Advocate National Advisory Council for Advancement and Entrepreneurship under the US President Barack Obama and is a member of the Advisory Board of the Singapore National Research Foundation and a member of the Advisory Board of the US National Science Foundation. Last year he was awarded with the title of the "Lightning" by the Worcester Polytechnic Institute. In addition, the entrepreneur has four honorary degrees.