From Kaunas to Kharkiv: two trucks of humanitarian aid reached Ukraine within a month
From Kaunas to Kharkiv: two trucks of humanitarian aid reached Ukraine within a month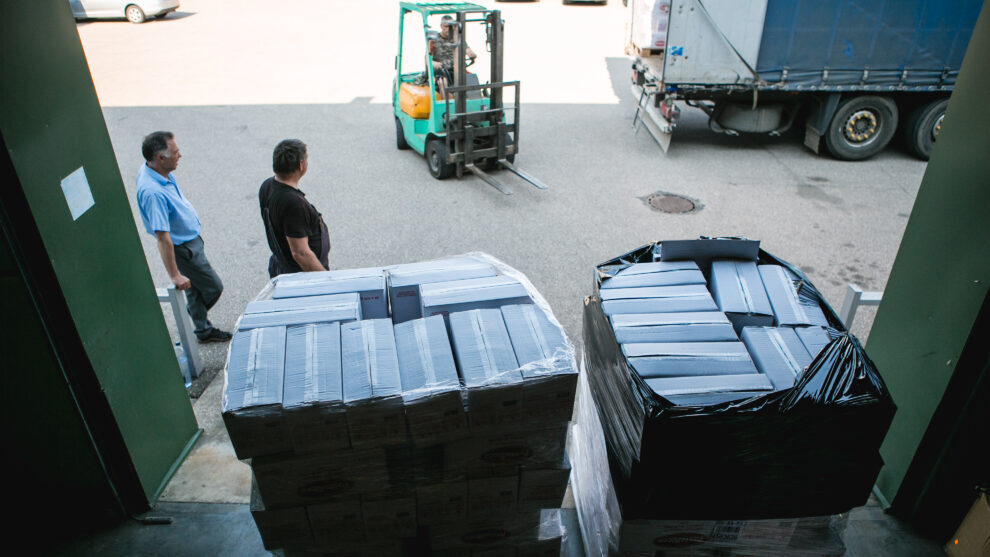 Paskelbta: 2022-07-13 (Wednesday)
Aid to struggling Ukraine continues unabated. In June alone, almost 60 pallets of food, personal hygiene, cleaning and baby products were transported from Kaunas to Kharkiv. Kaunas Municipality together with the Swedish city-partner Växjö and other individual benefactors filled two trucks to its fullest capacity. The next humanitarian shipment is planned for August – Kaunas residents are still invited to help Ukrainians by supplying them with food products and other necessary means.
Gift to Kaunas – support for Ukraine
Continuing the fundraising campaign, "Not with tears, but with efforts", initiated by Kaunas, two more trucks were sent to the fraternal city of Kharkiv with the most necessary goods for the people of Ukraine suffering from the war. A total of 59 pallets of long shelf life products, baby food, diapers, cleaning and hygiene supplies were transported.
The first truck reached Ukraine in mid-June. The second one was soon filled as well – a large amount of food and personal hygiene products were bought by the Kaunas Municipality and the city of Växjö. This Swedish city-partner, which is kindred to Kaunas, decided to contribute to the initiative back in May.
"We invited the representatives of the city of Växjö to attend one of the major events hosted of the European Capital of Culture program. Usually, guests arrive with symbolic gifts for the city. This time, the Vice Mayor of Växjö astounded with a pleasant surprise. The Swedes knew about Kaunas' initiative in providing support to Ukraine and instead of traditional souvenirs, they allocated almost 20 thousand euros, thereby contributing to our aid to the war-torn country," – said Kaunas Mayor Visvaldas Matijošaitis.
Good examples inspire
The latest shipment of humanitarian aid went to a distribution point in Lutsk. From here it reached Kharkiv and its environs. Although the population of this city has decreased by a third – about half a million Ukrainians have left, but about a million Kharkiv residents still need help.
"The desire to help Ukraine unites and transcends the borders of cities and countries. Kaunas city-partner – Växjö Municipality from Sweden came to help Kharkiv. We also get other inspiring examples. Here, one person buys over a thousand chocolates and the next day he is already asking how he could contribute more," – said Paulius Keras, deputy director of Kaunas Municipality administration.
According to him, the contribution of every citizen or business organization is extremely important, especially now that the flow of support is starting to decrease and people feel tired of the flood of information about the war.
New shipment – in August
In July, Kaunas will continue to collect aid packages for Kharkiv. The city continues large-scale public procurement of food, hygiene products and other goods. A considerable part of the future shipment is already prepared in warehouses. The municipality of Växjö also plans to contribute with medical equipment to the next humanitarian aid package.
Those who want to continue to lend a helping hand to the people of Ukraine can contribute with hygiene and cleaning products, diapers and non-perishable food products. The transfer of supplies in larger quantities must be agreed in advance (call: +370 616 45 772) or contact by e-mail: [email protected].
So far, Kaunas has handed over 10 passenger buses, the same amount of ambulance minibuses and five police cars loaded with food products, pharmaceuticals and other necessary items to Ukrainian cities. Three truckloads of various humanitarian aid were also delivered.
The city organizes aid together with the public institution "We care!", which not only contributes with items, but also coordinates customs procedures. Since 2014, the organization has been actively helping Ukraine by sending humanitarian aid and taking care of the people of this country staying in Lithuania.
Information from the Public Relations Department