Francophonie Month in Kaunas: French Accents in Exclusive Virtual Events and More
Francophonie Month in Kaunas: French Accents in Exclusive Virtual Events and More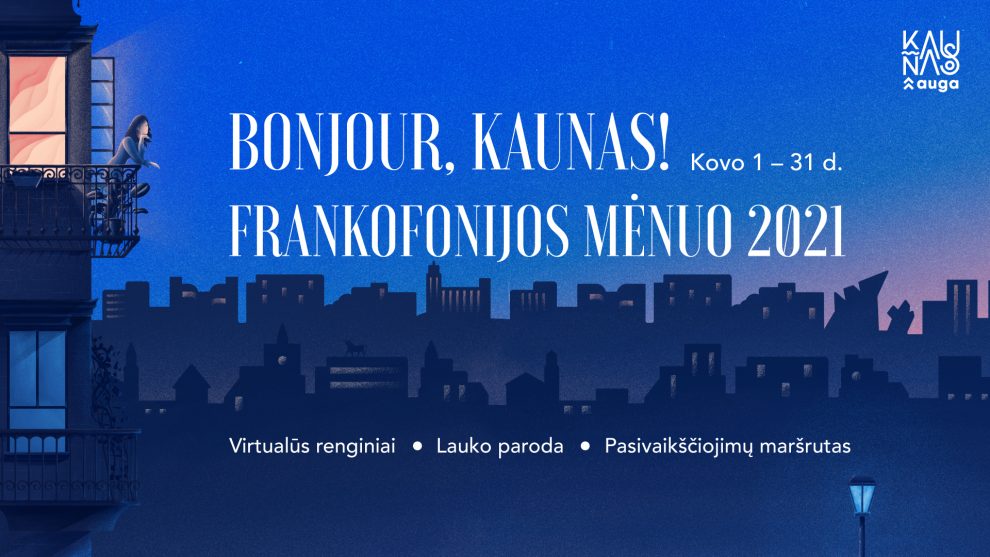 Paskelbta: 2021-03-01 (Monday)
"Bonjour, Kaunas" – that is how Kaunas residents will be greeted by a cycle of Francophonie events throughout March that has become a tradition. Due to quarantine restrictions, most of the program is moving to virtual space to reach everyone's home. Francophiles longing for the spirit of French culture will be able to choose their favourite activities from a rich list.
Adjusted plans
The Francophonie, which unites French-speaking countries and regions, had to visit Kaunas last year as well, but the planned events were unexpectedly interrupted by a global coronavirus pandemic. Due to the quarantine announced in the country, most of the planned activities, exhibitions and other events this year are moving to the virtual space.
"I am glad that we will have another opportunity to learn more about Francophonie countries. With a focus on security, we will watch and attend events from home. However, this will definitely not prevent from feeling the spirit of Francophonie," said Kaunas City Deputy Mayor Mr. Mantas Jurgutis.
From performances to exhibitions
The program, which consists of almost 30 events, will run throughout March. City residents and guests will find remote conferences, lectures, seminars, lessons, reviews and even tastings. For more information, see the special Francophonie Month program online: bit.ly/Frankofonija2021
A specially created virtual route will invite you to get acquainted with the traces of French history in Kaunas, discover legends, tastes and smells. It will be possible to walk remotely or even live using a special digital map "Bonjour, Kaunas" (kaunastika.lt).
Kaunas City Municipality together with Kaunas City Chamber Theatre will present the premiere of Naubertas Jasinskas – "bowel" – performance on a virtual platform, where the characters will try to escape from the routine of life and at the same time seek to live with it.
The accents of the Francophonie Month will also be noticeable in Laisvės avenue – it will be decorated with an outdoor exhibition of Kaunas City partner Grenoble City. The French city has received exceptional recognition – in 2022 this city will be awarded the title of European Green Capital. Therefore, Kaunas residents and guests of the city are invited to get acquainted with this city, its landscape, architecture and authentic atmosphere.
"Little Paris"
Even more French accents will await at the international scientific conference "Culture and Politics of the Francophonie World", which will be organized remotely on March 4-29 by the Center of Francophonie Countries of Vytautas Magnus University. Honourable guests from Canada and France will speak in the virtual lectures, as well as presentations on the topic of Francophonie will be given by the representatives of VMU.
The Francophonie Month, which greets every year together with spring, is a symbolic historical sign for Kaunas. The city, which became the temporary capital during the interwar period, stood out for its elegant architecture, political life, western restaurants and salons. Kaunas was called "Little Paris" because of its lifestyle and fashion example.