European Heritage Label: mobile app "Kaunas of 1919-1940"
European Heritage Label: mobile app "Kaunas of 1919-1940"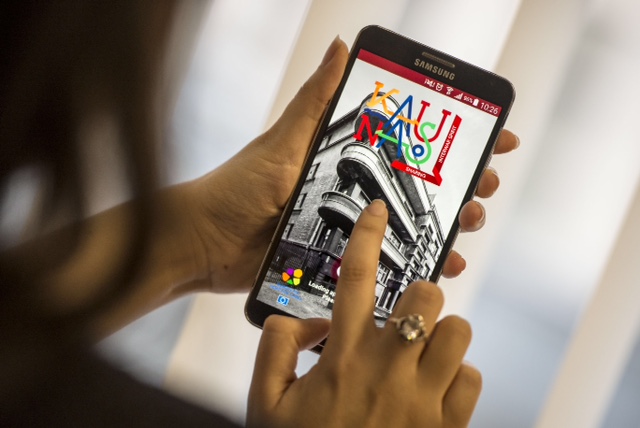 Paskelbta: 2016-02-03 (Wednesday)
In March of 2015 Kaunas has received a solid award – European Heritage Label. The new mobile tourism route app "Kaunas of 1919–1940" is dedicated to introduce Kaunas interwar modernism architecture heritage. In order to ensure the dissemination of multilingualism, the mobile app was created in 4 official languages of the European Union – Lithuanian, English, German and French.
The application introduces the history of 44 objects of Kaunas interwar modernism architecture that were inscribed into the European Heritage Label list this year. The mobile app offers different routes in Kaunas, including the city centre, Žaliakalnis, Gričiupis, Aleksotas, and Šančiai. The free mobile app can be downloaded from "Google" play and the App Store.
Kaunas of 1919–1940 had an urban landscape exuberantly reflecting Europe's interwar modernism architecture. Today it represents the outstanding heritage of a flourishing golden period when the city of Kaunas was the temporary capital of Lithuania. It stands out on the European Union's list of European Heritage sites because of the significant role it has played in the history and culture of Europe.
Lithuania of 1919–1940 was one of the new states slicing out their territorial boundaries on the basis of nationality in Central and Eastern Europe after the First World War. It lost its historical capital, Vilnius, and made an effort to accelerate integration into the socio-political and cultural context of interwar Europe, which lasted several decades.
 In 1920–1939, Kaunas was the temporary capital of Lithuania and the most important city. At that time, a new era started for the European existence of the city, an existence in Europe, and the entire country altogether: the breakthrough of freedom opened the gates to fast development and improvement. Government institutions, all international organizations and states, which had diplomatic relations with Lithuania, had their missions in Kaunas, which gradually developed into a city aiming to become a modern and fully-fledged European capital.
All this was clearly reflected in cultural movements of that time: the urban architecture and people's worldview. The spirit and style of the temporary capital's formation period was then materialized in buildings that were erected on the basis of local material and intellectual resources.