Director of the movie "Chernobyl" J. Renck: " Kaunas has a unique character"
Director of the movie "Chernobyl" J. Renck: " Kaunas has a unique character"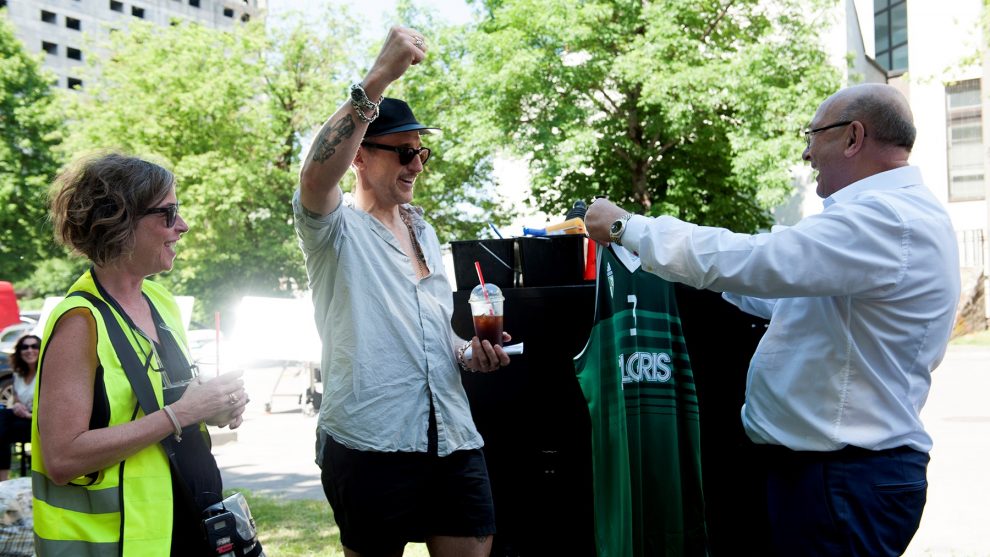 Paskelbta: 2018-06-04 (Monday)
Currently ongoing filming of the movie "Chernobyl" in Kaunas is one of the largest cinema projects ever filmed in Lithuania. The creators of the film says that they have found unique locations in Kaunas for the main scenes of the movie which is going to allow the viewer to go 3 decades back in time when the world was shook by the disaster in Chernobyl nuclear power plant.
The director of the movie, Johan Renck, who produced video clips for world-renowned stars like Madonna, Robbie Williams, Kylie Minogue and David Bowie claimed to have found Lithuania unexpectedly when last year in October he visited the country, looking for potential locations to film the movie.
Recreation of Moscow hospital
Last Tuesday the citizens were able to witness Soviet era vibe as the Moskvich and Lada cars were driving in the street, actors wearing this particular era clothing and 27th building formerly known as Kaunas Technology University Mechanical faculty was renamed in a Russian sign which suggests that the 6th Moscow clinical hospital is now established here. That is the hospital where the workers and firefighters who suffered the most from radiation in Chernobyl disaster area were placed to recover. This time the hospital was recreated in Kaunas.
Kaunas as the location choice for the movie
"We were looking all around Lithuania but it was Kaunas that sparked the biggest interest for us, there was an extraordinary feeling in the city. In Kaunas we see unique historical context and a much more vivid character. It is usual in many countries that while the main city of the country is the capital but there is another city in which the real cultural life flourishes, for example: In England the capital is London but cultural centers are considered to be Manchester or Liverpool. Those other cities usually feature unique energy which expresses the identity and cultural accents of the whole country. We found Kaunas to be that city here in Lithuania." said J. Renck.
The movie will reveal new stories
5 Episodes of TV series "Chernobyl" will remind the viewers about the disaster in Chernobyl power plant. The drama based on real events will not only revive the already known fact but will also describe the shocking stories of people that were touched by the disaster. The true heroes of the story – scientists, power plant workers, firefighters, medics and volunteers. The touching "Chernobyl" story is produced by the well-known company HBO, which produced award earning works like "Game of Thrones", "Big Little Lies", "True Detective" and others.