Christmas time for kindness: Kaunas residents are invited to give the warmth of home to children
Christmas time for kindness: Kaunas residents are invited to give the warmth of home to children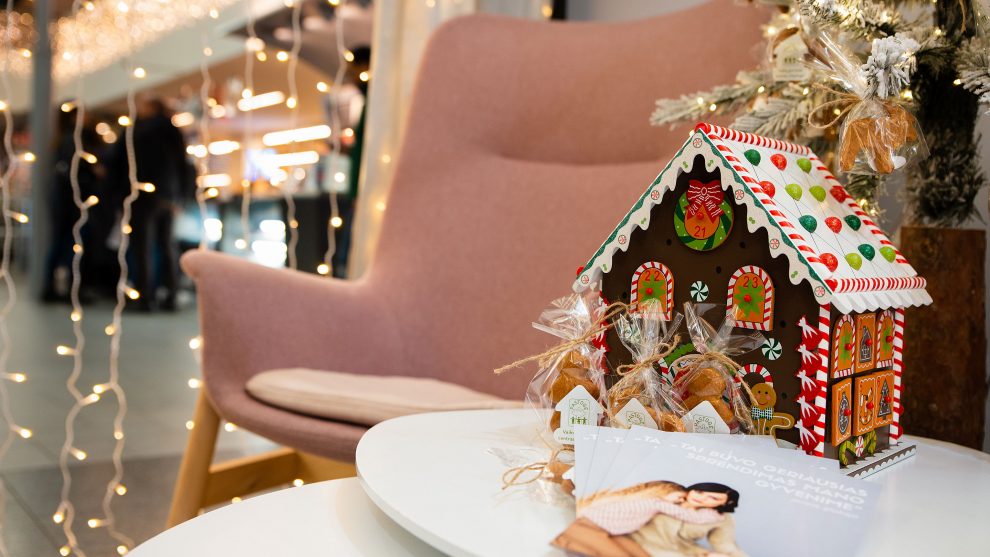 Paskelbta: 2019-12-04 (Wednesday)
"That was the best decision in my life" – this is the message by the Kaunas Municipal Social Advertising Campaign that aims to encourage people to become caregivers for children. During the Christmas season, the "Akropolis" shopping and entertainment center has a cozy home-like consultation space. It is open for everyone that wants to help somebody that needs help the most.
A gift to yourself and others
The social advertising campaign that was launched in spring was renewed from December 2nd. The campaign invites everyone to learn about possibilities to help destitute children. The consultation booth will be staffed by the Children's Welfare Center "Pastogė" employees, and occasionally the real heroes of the campaign, that have become caregivers and motivated many families with their stories, will come to live chat with Kaunas residents.
"This time we are waiting for visitors at the most beautiful time of the year. We will invite you to think of special gifts, that are not only for others, but also for yourself.  In care of a child you must give a lot every day, but believe me, everything comes back with a hefty amount. While being caregiver, I discovered the meaning of life and was able to express myself. When I saw the obvious changes in children, I realized that the effort was not in vain. Everything has more meaning than it may seem at first glance" – says social caregiver Violeta.
Mission – to deny the myths
The purpose of the consultation space on the ground floor of the "Akropolis" shopping center is to stimulate public interest in long-term childcare. This unconventional approach has been used for the second time this year.
Gražina Didžbalienė, Director of the Child Welfare Center "Pastogė" admits that the spring campaign was especially successful in finding new applicants for becoming caregivers: "We had as many as 9 families inspired by our published caregiver stories. In our day-to-day life and work we face the most unexpected questions not only about the care procedures but also about the caregivers and the children growing up in their homes. There are so much unjustified myths in society that are completely unrealistic. It is our duty to deny them and make as many people as possible to become aware of changes in the childcare system."
For over a month the consultation space will have dedicated professionals ready to answer any questions you may have, interested people will learn more about the different forms of childcare, the opportunities to become a caregiver, the stages of preparation, the training and the benefits of becoming a caregiver.
"Today we are different: we go where people likes to gather. We believe in what we do, and we strive to have as many happy children as possible in a caring and loving environment. Professionally trained caregivers and their homes are an incomparably better environment than that of a government care homes. At the same time, we help children's parents to solve their problems so that the kids can return to their safe homes and cohesive families" – says Gražina Didžbalienė.
It's important to decide
After changes in childcare system several years ago, Kaunas popularized the idea of becoming a caregiver with the proposal of "Best Work". This year the campaign has been updated, emphasizing everyone's responsibility and the importance of this decision to become a caregiver.
"First and foremost, we wanted to promote the professionalism of future caregivers as this is a job that requires effort, skills and articulation. We spent a fair amount of time communicating with caregivers, analyzing each case, and almost always getting a common denominator – a solution. We are sensitive and socially responsible community, but we are often afraid or reluctant to take necessary steps. Therefore, this Christmas time Kaunas seeks to help people to make a really important decision and to think about real gifts" – said Kaunas City Deputy Mayor Rasa Šnapštienė.
Have you ever thought of becoming a caregiver? Call 8-611 08114 or just come to the "Pastogė" consultation space in "Akropolis" (ground floor, next to the Information booth) and learn more about the possibilities of becoming a caregiver. Maybe this will really be the best decision in your life.
The consultation space will be open throughout December till January 5th: Monday till Friday 5 p.m. – 8 p.m., and every weekend from noon till 8 p.m.
More information is available online:  http://sprendimas.kaunas.lt
Information form the Public Relations Department