Bicycle train connects the City of Kaunas with the District of Kaunas
Bicycle train connects the City of Kaunas with the District of Kaunas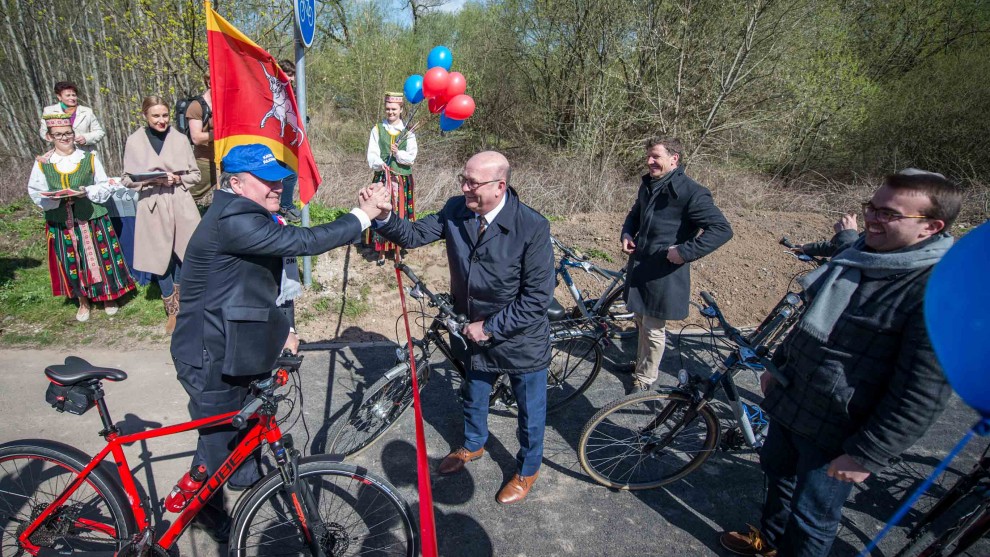 Paskelbta: 2016-04-28 (Thursday)
The new bicycle train was opened officially at the borderline of two administrative units – Kaunas City and Kaunas District. The bicycle trail goes through the scenic route, which lets residents enjoy the most beautiful places of nature of the city and the district, cultural values and coasts of the Nemunas river.
This bicycle trail, which connected Kaunas City and Kaunas District, is only a start. According to the Mayors of Kaunas City and Kaunas District, it is important to work together and to pay more attention to making cyclists' life in the city easier.
 Bicycle trail to Garliava
This year, paving works of bicycle trail on the right side of Veiveriai street (when driving in the Garliava direction) will start. Almost along the entire street, the bicycle trial will be separated from the footway – only in some places, where the sidewalk is very narrow, a joint bicycle and pedestrian trail will be installed. The bicycle trail will be asphalted, and the footway will be lined pad, a new lighting will be installed.
In preliminary estimates, installation of bicycle trail of Veiveriai street will cost about 1.08 million of euros. Electricity networks reconstruction and installation of the new lighting should cost about 500 thousand euros. These works will be financed by the European Union and Kaunas City Municipal budget.
6.5 kilometre length bicycle trail in Savanorių pr.
Currently, a technical project of Savanorių prospectus bicycle trail is under preparation. The works are expected to start at the end of this year. On the left side  of  Savanorių prospectus (when driving from the city centre) there is a planned bicycle trail length that will last for about 6.5 kilometres, it will start from the city centre and will continue until the crossroad with Pramons prospectus. It is planned to install the trail while reconstructing the sidewalk and using free spaces between the road and the sidewalk.
In the near future, Kleboniškis trail connection with Jonava street bicycle trail will be developed. Kleboniškis bicycle trail connection will be finished this summer.
Public Relations department information