Additional Help for Patients with COVID-19: Mobile Medical Teams Started to Work in Kaunas
Additional Help for Patients with COVID-19: Mobile Medical Teams Started to Work in Kaunas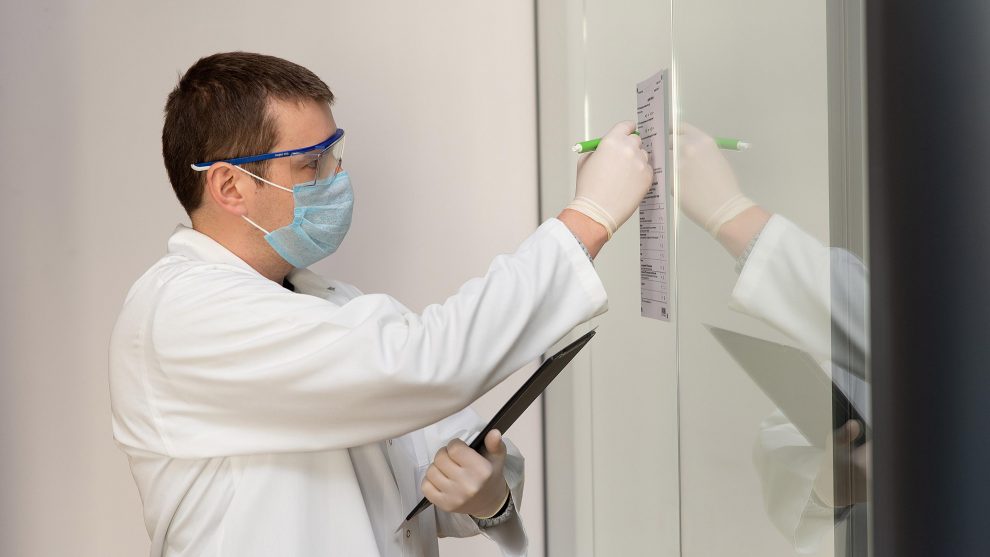 Paskelbta: 2020-11-25 (Wednesday)
As the number of people infected with coronavirus increases, Kaunas mobile medical teams will now be helping to Kaunas residents who are at risk and receive treatment at home. A specially assembled brigade from Kaunas City Polyclinic will help to ensure high-quality and uninterrupted supervision of specialists. In addition, it aims to reduce the burden on doctors working in ambulances and hospital receptions.
For those who are treated at home
"Given today's workload of medics working in the ambulance and hospital admissions departments, we had to find ways that would allow them to respond only to the most critical calls. That is why mobile medical teams have been formed. They will monitor health status of Kaunas residents (for groups at risk) of coronavirus treatment at home or in a care institution and make appropriate decisions. This will allow residents to feel safer," said Mr. Paulius Keras, Head of the Emergency Operations Center of Kaunas City Municipality.
A patient with COVID-19 who is at risk group should contact their family doctor immediately if their health deteriorates or they develop new symptoms. Doctor will be able to send a mobile medical team to the patient's home or care institution to see if a contact consultation is needed. It will consist of a family doctor, a general practice nurse and a nursing assistant. Specialists will visit patients on the same day they seek help.
During the visit, the family doctor will assess the person's state of health and decide whether the patient can continue to receive outpatient treatment at home. Direct monitoring will be provided if necessary. This means that the mobile medical team or its individual specialists will be visiting periodically and constantly monitoring the condition.
Seeing a deterioration in health, patients may be offered to go to the Fever Clinic in Žemieji Šančiai. The latter has been operating without interruption in Kaunas all year round, and a few weeks ago, it doubled its capacity.
Constant contact with a family doctor
The mobile medical teams of Kaunas City Polyclinic are formed from the medics of the Home Help Service.
All people at risk group can apply for a visit to the family doctor from the mobile medical team: patients aged 65 and over, those with chronic illnesses or pregnant women. A team of specialists, on the recommendation of a family doctor, will be available daily from 8 am to 8 pm.
"It is important to emphasize that everyone who faces this disease should keep in constant contact and consultation with their family doctor – not only those in the high-risk group. Kaunas City Polyclinic addressed all primary health care institutions of the city, informing about the need to form mobile medical teams and provide them with the necessary equipment. Some of them will be assisted by our doctors, and the largest private clinics have ensured that they will perform this function independently," said Mr. Paulius Kibiša, the Head of Kaunas City Polyclinic.
The following institutions have approved the mobile medical teams formed on their own: "Aušros medicinos centras", "Marių klinika", "Romainių šeimos klinika", "Inmedica klinika", "Sveikatos projektai", "Ave Vita klinika", "Signata", "Ars Medica", "Diagnostikos laboratorija " and "Kalniečių šeimos klinika".
If you experience symptoms – register for the test
"We all understand the conditions under which doctors are currently working. We mostly see representatives of hospitals in public, but Kaunas residents have already had many opportunities to appreciate the contribution of the polyclinic. Since spring, the staff of Kaunas City Polyclinic has been working at a mobile testing site, conducting tests for thousands of people in Kaunas City and surrounding municipalities. Through their efforts, the Fever Clinic is constantly operating, and from now on, operative assistance more quickly will reach patients fighting coronavirus at home. We must be grateful to those dedicated professionals for the fact that they do not close in their offices, but go where real medical help is especially needed at that time," emphasized Mayor of Kaunas City Municipality Mr. Visvaldas Matijošaitis.
The mobile testing site operating in Kaunas (Jonavos St. 51A) operating at full capacity. The average of the tests conducted over the past month on the four lines installed here is over a thousand per day.
Residents who may have been in direct contact with the patient or who have experienced symptoms of coronavirus infection are encouraged to register for the COVID-19 test at a mobile testing site. This can be done by calling the Corona hotline 1808 or online: www.1808.lt.
Kaunas residents who do not have the opportunity to go to the mobile testing site or Fever Clinic by their transport can apply for transportation by calling 8-677 94119 or by e-mail [email protected] everyday from 8 am to 8 pm.
For more information about the coronavirus situation in Kaunas, please visit: http://svarbu.kaunas.lt/.